| | |
| --- | --- |
| | Newswatch |
---
BASKET CASES: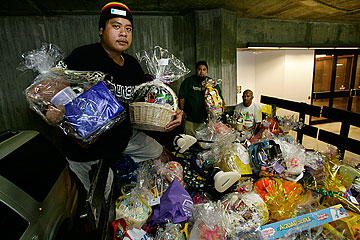 State coin design open to vote
The public is being invited to weigh in on the design for Hawaii's commemorative quarter.
Soliciting public opinion is part of the process being undertaken by the Hawaii Commemorative Quarter Advisory Commission before it makes a final recommendation to Gov. Linda Lingle.
The five quarter designs submitted to the U.S. Mint were approved last week by Treasury Secretary Henry M. Paulson Jr., Lingle's office said in a news release.
The designs, finalized by the state commission late last year, are a surfer with Diamond Head in the background; a hula dancer with the Hawaiian island chain; and three with the statue of King Kamehameha I and other island motifs.
Designs have received mixed reviews from organizations that review states' proposals for their quarter designs.
The Hawaii quarter would be the last to be minted through the 50 States Commemorative Coin Program.
A public opinion poll is accessible through the governor's Web site.
Army testing its missile defense
BARKING SANDS, Kauai » The Army will use the Navy's Pacific Missile Range Facility to test its ballistic missile defense system tonight.
The second test of the Theater High Altitude Area Defense system off Kauai is scheduled to use the ground-based system to shoot down a Scud-type missile launched from a ship off Kauai.
The U.S. Navy has been testing its Aegis sea-based, ballistic missile defense system at PMRF for several years, but it is the second scheduled test of the Army's system at PMRF. The first test, in January, successfully shot down a nonseparating missile just inside Earth's atmosphere.
THAAD testing began in November 2005 at the White Sands Missile Range, N.M. Three successful tests were conducted there before moving to Kauai.
---
SHINING STARS
---
UH marching band wins national honor
The
University of Hawaii
Marching Band
is one of five bands chosen for top national honors by the College Band Directors National Association. The UH band entered a tape of its Nov. 11 performance of Latin music and dance, staged at the Rainbow Invitational Band Festival at Aloha Stadium.
---
Dr. Elaine Leilani Madison, an associate professor of English at Hawaii Pacific University, spoke March 22 at the 2007 Conference on College Composition and Communication Annual Convention in New York City.
Her topic was "Negotiating Conflicting Identities: A Model for Nonviolent Classroom Communication."
---
Shelby Isham of Kailua, an eighth-grader at St. Anthony School, won the Hawaii State Championship in the Reader's Digest National Word Power Challenge, which tests a student's understanding of word meanings. Isham will compete next month in Orlando, Fla., for the national title and $50,000 in scholarships.
---
Veteran newspaper columnist Eddie Sherman donated $1,400 to the Rehabilitation Hospital of the Pacific, the first royalty check for his book, "Frank, Sammy, Marlon & Me: Adventures in Paradise with the Celebrity Set." All future royalties will go to REHAB.
---
"Shining Stars" runs Mondays through Thursdays.
| | |
| --- | --- |
| | Police, Fire, Courts |
---
Blown circuit hurts HECO worker
A 48-year-old Hawaiian Electric Co. employee was in serious condition at Queen's Medical Center yesterday after a circuit breaker blew at HECO's Archer substation, according to city Emergency Services Department and HECO representatives.
The employee was one of two workers doing some switching in the substation, when the circuit breaker blew at 4:43 p.m. and caused a steel door to fly open, hitting them. The force also caused batteries to leak a small amount of acid onto the employee who was taken to the hospital.
The other employee was treated at the scene.
The blown circuit breaker caused an initial power failure for 5,000 residential and business customers in the Piikoi Street, Ward Avenue and Makiki areas, HECO spokeswoman Lynne Unemori said. But about 100 to 200 customers were without power for hours.
The nearby Honolulu Police Department began experiencing delays with its 911 system at about the same time as the start of the outage yesterday.
Unemori said HPD's main station lost power but only momentarily as it automatically transferred from one circuit to another. Unemori said she was not sure what the problem was, but it did not appear related to the outage.
Police asked the public to limit use of 911 to emergencies only. Police said callers would hear a ring tone until they hung up.
WINDWARD OAHU
Search for body comes up empty
Fire rescue officials discontinued a search yesterday for what was reported to be a man's body.
At about 4 p.m. Tuesday, two California tourists were swimming at Malaekahana Beach near Kahuku when they saw what appeared to be a man's body underwater.
Police and fire helicopters conducted an aerial search while Honolulu Fire Department rescue personnel searched underwater. The search yielded no results.
NEIGHBOR ISLANDS
Pickup driver dies in highway crash
KAILUA-KONA » A Big Island driver was killed yesterday when he lost control of his pickup truck on the Mamalahoa Highway leading from Kailua-Kona to Waimea.
The victim was identified as Timothy Fernandez, 39, of Kealakekua.
Police said Fernandez was heading toward Waimea at about 7:25 a.m. when his 2004 pickup passed another vehicle, then ran off the road, hit an embankment and overturned. The site was a relatively straight stretch of road in the Puuwaawaa area.
Fernandez was pinned in the truck by the crash.
Police said they believe speed was a factor. The death is the 12th traffic fatality of the year on the Big Island, the same number of people killed in accidents by this time last year.