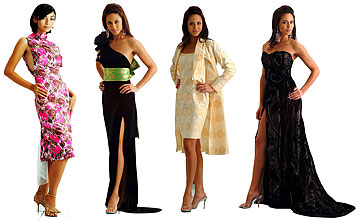 COURTESY 2COUTURE
Left to right, Cathy Roberts wears an updated qi pao by newcomer Ron Kayano; Miss Hawaii USA Chanel Wise is the picture of glamour in a gown of black velvet and obi fabric by Takeo; One of F.A.C.E. of Honolulu's Most Promising newcomers, Alan Carrell, designed this architectural ensemble; Wise also wears a gown of painted velvet by Eric Eugene Kamakahia'ai Chandler.
CLICK FOR LARGE
Takeo puts sass in show's designs
Takeo created the F.A.C.E. of Nuuanu fashion event last fall with the intention of helping young designers get their first break, while sharing his expertise and connections in the fashion industry.
He found inspiration in return, seeing the exuberance and sense of abandon the younger designers injected into their work, resulting in clothing with plenty of attitude.
While he takes a more languid, poetic approach to his designs, look for a touch of sass in his latest, to be revealed during "Cherished Heritage," a fashion show hosted by the Chinese Women's Club of Honolulu April 14 at the Royal Hawaiian Hotel Monarch Room to benefit its scholarship program.
This is not to say Takeo's abandoning elegance. He said he doesn't want to scare anyone with drastic changes. But look for Chinese-inspired brocade jackets paired with jeans for an updated urban approach to elegance, plus soft feminine dresses that embrace the silhouette while utilizing fabric of mixed weights and textures.
The show will also feature new designs by Takeo's 2 Couture partner Eric Eugene Kamakahia'ai Chandler and two designers who participated in the F.A.C.E. competition: Alan Carrell, who shared the Most Promising Newcomer award, and Ron Kayano.
The show will be highlighted by Chinese-American icon Nancy Kwan. The actress will model a special couture gown by Takeo.