| | |
| --- | --- |
| | Newswatch |
---
PASSOVER BEGINS: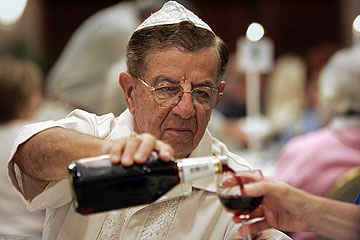 Applicants sought for campaign committee
Applications are being accepted to fill vacancies on the Campaign Spending Commission, which oversees campaign contributions and expenditures.
People selected by the governor will be appointed to a four-year term and may be reappointed one time.
Commissioners may not participate in political campaigns or contribute to candidates or political committees.
To apply, submit an application along with a resume and three letters of recommendation attesting to the applicant's character and integrity.
Applications must be submitted no later than the close of business on April 13 to: Judicial Council, Hawaii Supreme Court, 417 S. King St., second floor, Honolulu, HI 96813-2902 .
Application forms are also available online at www.courts.state.hi.us ; by calling 539-4702 ; or at the public affairs office, room 206-C, Aliiolani Hale, 417 S. King St., Honolulu 96813.
Lights to stay lit at Capitol
The lights will stay on in state government buildings because Gov. Linda Lingle has signed into law a bill granting a $626,000 emergency appropriation to pay electricity bills.
The governor said the funding was needed because of "budgetary shortfalls in electricity payments."
The state's monthly electricity bills for buildings operated by the Department of Accounting and General Services have increased 33 percent since fiscal 2005, going from $460,000 a month to $614,000.
Isles contribute to egg display
Sylvia Piper of Honolulu was selected to decorate an egg to represent Hawaii for the State Egg Display at the White House Visitor Center.
The American Egg Board selects artists from each state to decorate eggs for the exhibition in recognition of the White House Easter Egg Roll.
In 1878, President Rutherford B. Hayes opened the White House grounds to local children for egg-rolling on Easter Monday. Successive presidents continued to host the event.
The State Egg Display tradition began in 1994. The White House Visitor Center holds the public exhibit. The display will run through April 24.
Parks go on summer schedule
State parks on Oahu are now on a summer schedule.
Entrance gates at the parks will remain open an hour later, until 7:45 p.m., because daylight is lasting longer, according to the state Department of Land and Natural Resources. The parks affected are:
» Keaiwa Heiau State Recreation Area, Aiea
» Malaekahana State Recreation Area, Kahuku
» Pu'u Ualaka'a State Wayside on Tantalus
» Sand Island State Recreation Area, Kalihi
» Waahila Ridge State Recreation Area, St. Louis Heights
» Wahiawa Freshwater State Recreation Area, Wahiawa
» Ka Iwi State Wilderness Area, East Oahu
Astronomy center hosts lecture
"The Secrets of Galaxies: The Invisible Ingredients" is the subject of a lecture by Submillimeter Array astronomer Glen Petitpas at 6 p.m. Saturday at the Onizuka Center for International Astronomy, Visitor Information Station on the Big Island.
Petitpas will show surprisingly big differences in images of nearby galaxies (including the Milky Way) taken with optical telescopes and with new telescopes with much longer wavelengths.
The Universe Tonight is a free presentation on the first Saturday of every month. For more information, call 961-2180 or see www.ifa.hawaii.edu/info/vis.
---
SHINING STARS
---
Hui Malama gets operating funds
Hui Malama
, a Maui-based nonprofit agency that provides learning alternatives mostly for Hawaiians or part Hawaiians, received $20,000 from the
Dowling Co
. The funds are seed money for a matching donation, with a goal of $100,000, to cover operational expenses.
The organization offers culturally based education alternatives for sixth- to eighth-graders, including Hawaiian language, paddling and traditional farming; preparation for high school diplomas, tutoring, job skills and English instruction; and a multimedia learning center for adults to learn basic reading, writing, math and computer skills.
---
A class led by Oscar Ramiscal, a social studies and media productions teacher at Campbell High School, recently won the grand prize at the Island Movie Contest. The annual event, featuring videos created by students, was sponsored by the state Department of Education's Advanced Technology Branch and several companies.
Campbell won first place in the "Tell Me a Story" category, and the overall prize for best video in the state.
---
Chaminade University students Chelcy Reyes and Crystal Weseman were recognized by the Hawaii Pacific Islands Campus Compact for service to the community last month at the fifth annual Statewide Service-Learning Conference.
---
"Shining Stars" runs Monday through Thursday.
| | |
| --- | --- |
| | Police, Fire, Courts |
---
Missing Laie man found alive
Volunteers found yesterday a partially clothed 71-year-old Laie man who had been missing since Saturday.
Tevita David Mohetau was found at 5:30 p.m. about three-quarters of a mile into the Koolau Range.
Mohetau was "found wrapped up in bushes, alive and well," said Phil Camero, investigator for the police Missing Persons Detail.
He was treated at Kahuku Hospital for exhaustion.
Camero said Mohetau's initial response as to what happened was "he was walking to the mountains."
A volunteer search group of friends and family led by Kahuku fire Capt. Bobby Chang, along with the Honolulu Police Department's helicopter and canine unit, searched a one-mile radius from the last sighting. Mohetau, who has suffered from symptoms similar to Alzheimer's disease, was last spotted at Pounders Beach on Sunday about 5 p.m.
A witness who saw newspaper articles about the missing man called police yesterday at noon with the tip.
Police and fire personnel investigated bodyboarders' reports of spotting something in waters off Malaekahana that may have been a body. Police and fire conducted an aerial search while fire rescue divers searched underwater from 5:30 p.m. until sundown.
Nothing was found.
NEIGHBOR ISLANDS
Weapons suspect turned over to feds
Big Island police have arrested a Hilo man for allegedly firing a firearm at another man just before midnight Thursday outside a bar in the Hilo Industrial Area.
A 23-year-old man reported to police that he was threatened by a man who brandished a firearm and then fired a single shot near him. Other bar patrons were in the area, but no one was injured in the shooting. The suspect was said to have fled on foot.
On Sunday, acting on a tip from an acquaintance of the suspect, South Hilo patrol officers arrested a 23-year-old man for investigation of first-degree terroristic threatening.
Detectives assigned to the Criminal Investigations Section continued the investigation and conferred with federal law enforcement officials to seek federal prosecution. Yesterday afternoon, police relinquished custody of the man to special agents with the Bureau of Alcohol, Tobacco and Firearms.
He will be taken to the federal detention center on Oahu and will appear before a federal magistrate on a federal weapons violation, police said.
HONOLULU
Driver, 15, steers into legal trouble
Police arrested a 15-year- old boy early yesterday who allegedly drove around a block several times in a stolen car attracting attention to himself.
Police said that about 3:45 a.m., a patrol officer saw a car driving slowly around the block of Liliha Street and Liliha Access Road several times. The officer checked the license plate of the car and learned that it had been reported stolen. The officer then arrested the boy for investigation of auto theft.
Weekend of abuse lands man in cuffs
Police arrested a 35-year-old man who allegedly hit his girlfriend and attacked her with a knife.
The 34-year-old girlfriend accused her boyfriend of various forms of abuse over the weekend starting Saturday at his Kalihi home, police said.
The man allegedly punched her during an argument, and poked her in the ribs with a knife without breaking skin. He also allegedly punched and slapped her on Sunday and Monday in Waikiki.
He was arrested Monday for investigation of first-degree terroristic threatening and two counts of abuse of a household member.
Forgery attempt fails to land boat
Police arrested a 46-year-old woman who allegedly forged documents to gain ownership of a boat.
Police said that about noon Monday, the woman submitted vessel registration forms to transfer ownership of a 29-foot sailboat to her from a 43-year-old man.
After checking on a tip that the forms were forged, the U.S. Coast Guard, Department of Land and Natural Resources officers and state harbor police found the boat at Keehi Boat Harbor.
The woman was found hiding in the boat and was arrested for investigation of second-degree theft, second-degree forgery, and a drug violation after illegal drugs were also found on the boat, police said.
The boat was later returned to its rightful owner.
WINDWARD OAHU
Suspect allegedly assaults officers
Police arrested a 30-year-old man who allegedly attacked two police officers.
Police said that about 6 p.m. Monday, officers responded to a possible violation of a temporary restraining order at a home on Kamehameha Highway in Kaneohe.
The suspect allegedly assaulted the first responding officer, and then the second officer who was attempting to arrest him.
The suspect was subdued, and arrested for investigation of two counts of first-degree assault on a police officer, resisting arrest and abuse of a household member.