---
RUGBY RULES!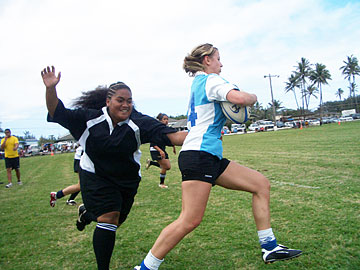 Be a the next new fashion star
New faces are needed to grace the Star-Bulletin Style pages, so we are launching a model search for those who want to be discovered -- male, female, young and not so.
Those without agency affiliation can submit a headshot and full-body shot true to your current appearance by e-mail to nkam@starbulletin.com. Friday's the deadline. Or send photos by snail mail to: Model search, Honolulu Star-Bulletin, 7 Waterfront Plaza Suite 210, Honolulu 96813. Photos will not be returned.
Include height, dress or shirt size, availability, and phone number.
Those selected will be invited to a casting call, where the local designers behind Fighting Eel will also be seeking a female model for the company's Spring 2008 catalog.
The Fighting Eel winner will receive a photo shoot with Rona Bennett and will be featured in this paper, the Fighting Eel Web site, as well as receive a five-piece Fighting Eel wardrobe valued at up to $750. We'll be watching for you!
---
[ MORSELS ]
West-side flavors
The Rotary Club of Kapolei offers an evening of food, wine and premium beers on the west side of the island April 13.
"Evening at Lanikuhonua," an annual fundraiser for the Rotary Foundation, takes place from 6 to 9:30 p.m. at Lanikuhonua at the Ko Olina Resort. Food will be prepared by Roy's Ko Olina and Outback Steakhouse Kapolei. Wines and beers will come from M&S Brokerage. Entertainment will be by H20.
Tickets are $40. Call 674-2500 or 228-4499, or visit www.kapoleirotary.org.
Turtle Bay taste
Chef Hector Morales of Turtle Bay Resorts and his culinary team will hold a free cooking demonstration, "A Taste of Turtle Bay," 6:30 p.m. Tuesday at Kahuku Public & School Library.
Call 293-8935.
Cooking classes
Windward Community College offers a pair of cooking classes. Cost is $20, plus $28 lab fee, per class. Call 235-7433.
» All About Chicken: Robert B.T. Fong teaches how to make Lemon Chicken, Thai Chicken Panag and Chicken Noodle Soup; 6:30 to 8:30 p.m. April 24.
» Eclectic Gourmet: Robert Fong features Seared Ahi Lilikoi Prawn Salsa, Steamed Cambodian Fish Amok and Oxtail Chinese Herb Pho; 6:30 to 8:30 p.m. April 27.
Choco-champs
Melanie Boudar of Sweet Paradise Chocolatier and chef Amy Ota of O's Bistro took top honors at the Kona Chocolate Festival's Chocolate Taste-off.
Boudar's World Flavors Bon-bons claimed the prize in the professional sweet category, while Ota's Tamales with Mole won the top savory prize in the competition on March 24.