---
FAST FACTS HAWAII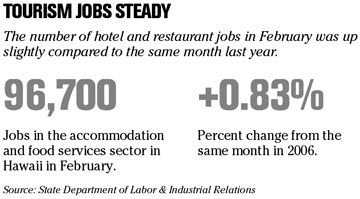 ---
Rooms averaged $203 in February
Despite a statewide decline in occupancy rates,
Hospitality Advisors LLC
reports that the average daily rate rose to $203.27 in February, up by 6.7 percent compared to the same month in 2006.
But the higher rates were not enough to offset the 3 percent drop in revenue per available room, which fell to $161.39, according to figures released yesterday by Hospitality Advisors.
Hotel occupancy continued to decline during the first quarter, falling by 7.9 points in February to 79.4 percent.
Statewide room demand also fell by 10.8 percent to just under 1.3 million room nights, the lowest level for the month since 1991.
Occupancy rates dropped across the board, from budget to luxury hotels, on all islands, reflecting a decline in visitor arrivals as well as visitor hotel use.
ML Macadamia delays financials
ML Macadamia Orchards LP
notified the Securities and Exchange Commission yesterday that it needs additional time to compile its year-end and fourth-quarter results because the Big Island grower said it is analyzing the impact that an unrecorded liability for severance pay had on previously filed financial statements.
The Big Island company said the liability was assumed on May 1, 2000.
ML Macadamia, which is in the process of closing its merger with MacFarms of Hawaii LLC, said it intends to file its year-end statement by April 15.
[ HAWAII INC. ]
BOARD ELECTIONS
» Kahi Mohala chief executive officer
Dr. Mark Mitchell
has been elected as board president of Ho'omau Ke Ola, the Hawaii Behavioral Health Coalition and the National Association of Rural Mental Health.
» Mark Glickman, resort marketing director for Mauna Lani Resort, has been elected to the Hotel Sales & Marketing Association International's national resort marketing advisory board.
NEW HIRES / PROMOTIONS
» HSI Electric has named
Bruce Smith
as president. He will oversee the company's expanding nationwide commercial and military maintenance operations. He joined the company in September 2006 as vice president of marine operations and is a retired U.S. Navy captain.
» Morgan Stanley has named Janis Akuna as wealth advisor in its global wealth management group office in Honolulu. She will provide customized investment strategies for affluent clients. She has been a financial advisor with the firm since 2002.
» Pacific Bridge Companies has hired John Kwee as financial advisor. He will be responsible for developing personal financial plans for U.S corporate executives working in Japan. He has served Hawaii-based clientele in the areas of investment, insurance, retirement and estate planning for more than 17 years.
» Bank of Hawaii has announced the following new vice presidents: Leticia C. Lee , vice president and portfolio manager, responsible for loan approvals and portfolio management; Carlos "Paris" Scott, vice president and fiduciary officer in the international client banking department, who will manage off-shore trust vendor operations and administer consumer credit transactions; and Corazon "Mario" Subia,* vice president and business banking portfolio manager.
» YMCA of Honolulu has announced the following new hires and promotions: Kristi Paul, to executive director of the Kaimuki-Waialae branch from associate director of the Nuuanu branch; Jen Townsend, to executive director of the Atherton branch from associate executive director at the Central Branch; Sonya Chung-Hirano, as director of philanthropy at the Metropolitan office, who previously was fund development executive at the Platte County Memorial Hospital and Nursing Home in Wyoming; Susan Nakamura, as director of marketing and communications at the Metropolitan office, who previously was marketing manager at the Hawaii Convention Center; and Diane Tabangay, as director of childcare at the Metropolitan office, who previously was deputy director of operations of Good Beginnings Alliance.
---
Nasdaq to create China index
NEW YORK »
Nasdaq Stock Market Inc.
, the world's largest all-electronic exchange, will introduce an index tracking Chinese companies traded in the U.S. as part of an effort to lure more international listings.
The Nasdaq China Index will initially comprise 30 companies listed on any U.S. exchange, including China Mobile Ltd. and Baidu.com Inc., Steven Bloom, Nasdaq's senior vice president of financial products, said in an interview.
Chief Executive Officer Robert Greifeld traveled to China earlier this week to persuade more Chinese companies to list on Nasdaq. Nasdaq had 38 companies from China on its exchange with a market value of about $30 billion as of last month.
The benchmark will compete with a series of indexes disseminated by FTSE/Xinhua Index Ltd., including the China 25 Index that's used as a basis for an exchange-traded fund with $4.7 billion in assets.
Hybrid sales boost Toyota's total
DETROIT » Toyota's U.S. sales jumped 11.7 percent last month, boosted by record hybrid sales and strong overall car sales, and
Honda Motor Co.
and
Nissan Motor Co.
both reported solid gains. But GM's sales fell 4 percent while
Ford Motor Co.
posted a 9 percent decline and
DaimlerChrysler AG
fell 4.1 percent.
Despite its decline, Ford still held off Toyota for the No. 2 U.S. sales spot for the month, and Ford regained from GM the claim to having the nation's top-selling pickup truck.
In all, Toyota Motor Corp. sold 242,675 light vehicles in the U.S. So far this year, Toyota has sold 61,635 hybrids in the U.S., up 68 percent from the first three months of last year.
Detroit-based General Motors Corp., which saw its fleet sales drop for the month as it works to cut low-profit sales to rental car companies, sold 345,418 light vehicles.
Boeing passes 500 orders for 787
EVERETT, Wash. »
Boeing Co.
has sold more than 500 of its new fuel-efficient 787 passenger jets and is looking for ways to speed production rates, the company said yesterday.
Just last week, Boeing disclosed orders that put the 787's sales book at 491. Several unnamed customers have now been added to the total, taking the order tally to 514. The 787 is scheduled to make its first flight in late August, and enter commercial service in 2008. It is designed to burn 20 percent less fuel than comparable airplanes by using more lightweight composites.
The actual sale that pushed the 787 past 500 was an order for five 787-8 jets from Japan Airlines International Corp., adding to its previous order for 30 of the new jets.
---
BUSINESS PULSE