---
FAST FACTS HAWAII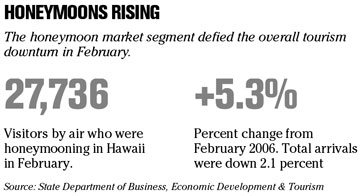 ---
Starwood CEO resigns
NEW YORK »
Starwood Hotels & Resorts
said yesterday that Chief Executive Steven Heyer has resigned after he and the company's board clashed over his management style, surprising analysts who say the company's overall strategy is sound.
The change at the top suggests the company could be sold, given the favorable buyout environment and the sector's strengths, analysts said. Shares in Starwood, which operates hotels under the Sheraton, Westin and W Hotel brands, rose 4 percent in early afternoon trading.
Chairman Bruce W. Duncan was named to serve as interim CEO while the board searches for a successor.
Heyer took the top post at Starwood in October 2004. Heyer, who is 54 years old, also will step down from Starwood's board. Heyer leaves Starwood without severance pay, unusual for the head of such a large company.
The company said in a news release that differences in opinion regarding Heyer's management style led the board "to lose confidence in his leadership."
Subprime lender bankrupt
LOS ANGELES » Subprime lender
New Century Financial Corp.
, once the nation's second-largest provider of mortgages to high-risk borrowers, filed yesterday for bankruptcy protection and immediately fired 3,200 workers, or 54 percent of its work force.
The company said it intends to sell off its major assets.
"The Chapter 11 process provides the best means for selling our servicing and loan origination operations to financially sound parties," president and chief executive Brad A. Morrice said in a statement.
"It is our hope that potential buyers will be in a stronger position than we are to employ many of our associates on an ongoing basis," he said.
New Century made the move after exploring a variety of possible ways to stay in business, he said.
New Century was the latest subprime lender to fall on hard times amid a spike in mortgage defaults caused by borrowers unable to make payments.
Credit card processor going private
DENVER » Credit card transaction processor
First Data Corp.
said yesterday that it is being acquired by an affiliate of private equity firm
Kohlberg Kravis Roberts & Co.
for about $25.6 billion in cash.
The $34 per share deal is an approximately 26 percent premium over First Data's closing price on Friday.
Under terms of the agreement, First Data can solicit third party proposals over the next 50 days and the company said it plans to actively solicit proposals.
It has about 754 million shares outstanding. The company put the total value of the transaction at $29 billion, but was unable to say how much of that was debt being assumed by the buyer.
Closings, job cuts at Hoover's HQ
NORTH CANTON, Ohio » The
Hoover Co.
's new owner said yesterday it will close the main campus and some manufacturing operations of the vacuum cleaner business by fall, resulting in 750 job cuts in Ohio.
Hoover has been based in this northeast Ohio city for nearly 100 years. Its union unsuccessfully sought to form a plan for employees to buy the company last year as a way to secure their jobs.
The closings will affect about 650 union manufacturing positions and 100 salaried jobs, said Kathy Obert, spokeswoman for Hong Kong-based Techtronics Industries Co. Ltd. The company acquired Hoover earlier this year from Whirlpool Corp.
Beam me up, Scotty
Rogers Wireless says it is the first and only wireless carrier in North America to offer video calling, and it has hired actor William Shatner to promote it. At left, Shatner, famous for his years as Capt. Kirk in the science-fiction series "Star Trek," looked at a handset yesterday while demonstrating the service at an event in Toronto.
---
BUSINESS PULSE