Crash kills motorcyclist and injures driver
Neighbors heard what they thought was a huge explosion, but the noise turned out to be a sedan smashing into a concrete barrier.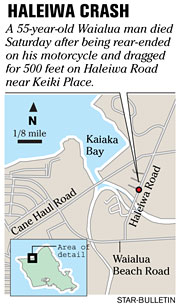 Three men who live at Haleiwa Road and Keiki Place in Haleiwa came out and saw a car flipped onto the passenger side with flames coming from the engine. They heard a scared voice inside the car screaming for help.
Down the road, other neighbors spotted a motorcycle helmet, then the broken motorcycle and finally the motorcyclist, motionless.
Valaile Fuiava Jr., a 55-year-old Waialua man, died at about 10:20 p.m. Saturday after being rear-ended on his motorcycle and dragged underneath a car for about 500 feet on Haleiwa Road, according to police.
The driver of the car, a 26-year-old woman from Kapolei, was critically injured and taken to the Queen's Medical Center.
She faces charges of negligent homicide. It is unknown whether alcohol was a factor, though speed was, police said. The speed limit there is 25 mph.
As other neighbors ran to get a fire extinguisher and to call 911, Richard Hutter stayed with the woman in the overturned car to keep her calm. She was hysterical, he said.
"She kept yelling, 'I need God,' and 'I want my mother,'" said Hutter, 44.
Karen Atwood, a resident at Haleiwa Road and Smiley Place, said she was the first to find Fuiava and checked for a pulse. His navy blue shirt had half come off and covered his face. He was wearing a white sweatshirt underneath, she said.
"There was no sign of life at all," said Atwood, 63. "When the paramedics came, I told them I don't think he needs their help, but the driver of the car down the road does."
Fuiava was pronounced dead at the scene. His autopsy is scheduled for today. His death is the 25th traffic fatality this year, compared with 23 at this time in 2006.
Fuiava was returning from work at the Kahuku Range Control. He normally took Haleiwa Road to avoid speeders on the Haleiwa overpass -- a cruel irony, family members say.
Residents along the street said speeding is common, and plan to rally for warning signs, such as speed bumps and flashing lights.
Family members described Fuiava as a jokester. He loved to play volleyball and the card game hearts.
He was born in Samoa and grew up as the eldest of nine in Hilo. He was a retired Marine who fought in the Vietnam War. He had four children, one of them deceased, and seven grandchildren.
"His grandchildren were the total apple of his eye," said nephew Kaulana Pakele.
Earlier on Saturday, Fuiava had gone to the grave site of his son, who died four years ago.
For the past month, Fuiava had been planning a big 50th-birthday party for his wife. The party was yesterday.
"Everyone is together for her surprise party, except he won't be there," said Fuiava's sister-in-law, Zipporah Fore. "He was really excited for it, too."
"What's so sad is that Val died only one mile away from home," she said.