---
FAST FACTS HAWAII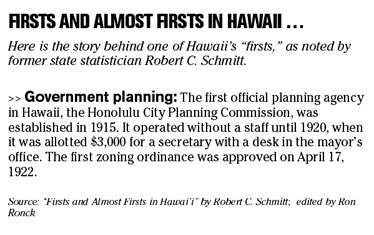 ---
NATION
Going long may be wise after all
Hiring managers and recruiters consistently reiterate one piece of advice: Limit your resume to one page.
You've diligently spent years whittling down objective statements, rewording job descriptions and even resorting to 10-point font and single-spacing -- but now it could all prove for naught.
More executives are willing to review two- and three-page resumes, anxious for more data before investing time and money into a new employee, a new survey indicates.
Of those polled, 44 percent said they prefer two pages, compared to 25 percent a decade ago, according to the survey, developed by Accountemps, a staffing service for temporary accounting. More than half, or 52 percent, still sought one-page resumes, down from 73 percent 10 years earlier.
Don't use it as an excuse to wax poetic about your racquetball hobby or participation in Civil War re-enactments, however. The information you choose to include should accurately describe your work experience and key contributions, said Jon Zion of Robert Half International Inc., a specialized staffing firm.
Whatever you do, don't use the same resume for different positions, he said.
"The notion that you can have one boilerplate resume that you can apply to all things is a mistake," he said.
The survey included responses from 150 senior executives in human resources, finance and marketing departments with the nation's 1,000 largest companies.
Get out and flip some burgers
Hey executives: Try flipping burgers at fast-food joint, you might learn a thing or two.
That's exactly what a University of Buffalo professor did at seven french fry franchises across the country, and he came away from the 14-month, undercover experiment with a few McManagement principles.
"Fast food does a lot better job than people think," said Jerry M. Newman, author of "My Secret Life on the McJob: Lessons from Behind the Counter Guaranteed to Supersize any Management Style."
Fast-food managers deal with reality, such as telling new employees up front that the lunch rush will test their Whopper wherewithal, but that learning to work under pressure will prove a lifelong asset, he said.
They also understand the value of relationships and cultivate camaraderie in order to reduce turnover and hire employees who fit in, Newman said.
"We drastically underestimate how important it is to like the people you work with," he said.
The best managers he worked for provided positive, immediate feedback and explained the reasons behind seemingly arbitrary processes, Newman said.
For example, one supervisor explained that four pickle slices must go on every burger because customers expect the same product at every store, whether in Pittsburgh or Paris.
Now, would you like fries with that?
Many looking at greener pastures
If you're like most of us, a career change is in on your mind, but for reasons other than just the bottom line.
Nearly 60 percent of people have or are considering switching jobs, according to a survey conducted by Money magazine and Salary.com, which researched the best jobs for those of us looking to make a change.
"A lot of people find that their first career may not be the right career," said Bill Coleman, senior vice president of compensation at Salary.com.
Passion for the work was cited as a common priority across four groups: Early career changers, parents returning to work, military retirees and workers over 50, he said. Among the best jobs for members of those categories were product or brand manager, executive recruiter, intelligence analyst and nonprofit executive.
Aside from the paycheck, workers also sought quality health care benefits, child care and flexible scheduling, Coleman said.
The survey polled more than 12,000 people, 7,000 of whom indicated they were planning or had recently initiated a career change. That group was surveyed further to identify their career goals and interests.
---
BUSINESS PULSE