2007 ALL-STATE GIRLS SOCCER TEAM
Warriors sweep top honors in the state
Kamehameha senior Mari Punzal is the runaway choice for the girls Player of the Year honor
The 'r' in Mari Punzal's first name is pronounced with a gentle roll, like the 'r' in karate.
Her game is no different, smooth and tough. Punzal, Kamehameha's clown princess off the field and a clutch performer on it, was a runaway selection by coaches and media for honors as Star-Bulletin girls soccer player of the year.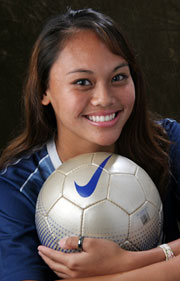 Mari Punzal
Player of the Year

Kamehameha Senior Midfielder
"She's a great player who could affect the game even when she didn't touch the ball," said Ryan Shinkawa, whose Kalani squad lost in the state final to Kamehameha.
With Punzal helping to lead the way, the Warriors won their second state title in a row despite the graduation of several starters from last year's squad.
"In the state championship game, it was (Meleana) Shim who scored, but it was Mari who made a run across the goal and froze the goalie," Shinkawa said. "Then the header on that second goal -- she's just a good player."
Pearl City co-coach Tracee Kono agreed.
"Oh man, she was basically the total package. She controlled the center. She could play the center, take the long throw-ins, take the ball in the air and take it down to her feet. She was a weapon by herself," Kono said.
Punzal, of course, wasn't alone in Kamehameha's unbeaten run (11-0-2) to the championship. Joining her on the All-State first team were Warriors Jennifer Eugenio, Kylee Ann Ah Choy and Kanani Taaca.
Eugenio led all forwards in the voting and Ah Choy paced all fullbacks.
Mililani standouts Stephanie Yoro and Natalie Wong were voted to the first team. Yoro, who excelled at forward and midfield, was selected as an all-position player, while Wong was second in the midfielder voting. Both are two-time All-State first-teamers.
Panelists also voted fullback Chaney Lopez and midfielder Chyanne Alejado of Kapolei to the first team, as well as Iolani teammates Jesi Sasaki (forward) and Caroline Tamayose (fullback).
Aside from Taaca, a junior, the only other underclassmen to make the first team were junior forward Meghan Fuller of Pearl City and sophomore forward Tani Costa of Kalani.
Pac-Five senior fullback Ashley Medcalf, who led the Wolfpack to the Division II state title, rounded out the first team.
Voters also praised Kamehameha coach Michele Nagamine and honored her as coach of the year for a second season in a row. She was a narrow pick over Kapolei coach Brian Beck.
"If you asked people at the beginning of the season, I don't think they would've picked Kamehameha to be the top team in the ILH or the state," Iolani coach Chris Nied said.
"Last year, they had such dominating seniors. I think everybody thought this wasn't gonna be a slam dunk, an automatic championship for them. Any time you can go back to back, it says she's built a program there that year after year is going to generate great teams."
The coach had plenty to say about her standouts.
"(Punzal) got up pretty high in the air and headed the ball in for the winning goal against Kapolei. She hit the game-tying penalty kick that tied us against Punahou. All the kids are looking at each other, and all the coaches are looking at each other, and she walked right up to the ball and did it," Nagamine said.
"Jenny's pretty much the enforcer on our team. She's such a fierce competitor and she hates to lose. We call her 'Jenny from the Block' because she's our enforcer," the coach said.
"I told the new players, whatever Kylee says to do on the field, you do. She basically runs everything for us in the back. I trust her blindly. I don't think I've ever had a player defensively that I've trusted as much as her," Nagamine said.
Taaca, who was the outstanding player of the state tourney, earned her coach's admiration.
"She's the epitome of hard work. I couldn't be more proud of Kanani. Everything she got, all the accolades, she earned it. She did her job, paid her dues and never let go of her starting position. I remember a lot of tears, a lot of lessons that she had to learn, and that's why I'm so proud of her right now," she said.
Stephanie Yoro
Mililani Senior All-Purpose

The two-time All-State selection split time between forward and midfield. She scored 10 goals to rank among the leaders in the OIA West. "If I had a team that I was gonna build players with, she would be one of them," Iolani coach Chris Nied said. "She's extremely intense and competitive. Very physical, very athletic and she finishes very well, with a lot more consistency than most people. She brought a lot of leadership to that team."
Jennifer Eugenio
Kamehameha Senior Forward

Eugenio's scoring ability was a key part of the Warriors' state title machine. "She has that athletic ability above a lot of players," Mililani coach Ray Akiona said. "She's got the whole package and she's a good girl to begin with. She's always had speed, but she's also very aggressive. She has that strong desire to be there and won't back down from a challenge."
Tani Costa
Kalani Sophomore Forward

Costa led the OIA East with 12 goals. "I call her the specimen because she's got the right combination of strength and size and speed," Kamehameha coach Michele Nagamine said. "She's very crafty and has one of the most clean and incredible shots I've seen in a long time. She's one of those players who can kind of combine a good physical game, she's not afraid to mix it up. She'll shoot from anywhere and she's pretty deadly at it."
Jesi Sasaki
Iolani Senior Forward

Sasaki overcame a knee injury suffered two years ago to become a prolific offensive weapon. She had 14 goals and 10 assists as a senior. "She started the season as a starter, but she ended up being our leading scorer and leading assist person, which was a surprise," Raiders coach Chris Nied said. "She kind of struggled early on at Iolani because of a knee injury. Even when people started picking up on her, she kept scoring and started laying balls off."
Meghan Fuller
Pearl City Junior Forward

Fuller scored 10 goals in 12 OIA regular-season games. "She's really aggressive toward the ball, has that instinct to move to the ball quickly," Mililani coach Ray Akiona said. "She has a good persistence to gain the ball. She'll give it all her effort to finish. A lot of forwards have skills, but Meghan has a strong desire to finish. We had one of our better defenders on her side, but Meghan's got really good speed, so that makes it very difficult to defend against her."
Caroline Tamayose
Iolani Senior Fullback

"She was probably my biggest surprise this year," coach Chris Nied said. "A lot of teams didn't score a lot against us, and she was one of the biggest reasons. At the beginning of the season, I never thought I'd be playing her at that position. By the end of the season, I couldn't imagine playing anyone else there. She's a fighter, warrior type of person. Always gave 100 percent and never complained. I think she played above her natural abilities the whole season and was spectacular."
Kanani Taaca
Kamehameha Junior Goalkeeper

Taaca capped off a fine season with most outstanding player honors at the state tournament. "She has great technique, all of it is great," Castle coach Mark Kane said. "I didn't realize she's only a junior. I thought she was going to college. Kamehameha is in great shape. She directs the defense, reads the game. If you're down on the field with her, she's picking up all the details, directing and playing defense. And she did such a great job on penalty kicks."
Natalie Wong
Mililani Senior Midfielder

Like teammate Stephanie Yoro, Wong is a two-time All-State first-team selection. "She's dependable, distributes well, can finish from the back," Castle coach Mark Kane said. "She's their team leader. She does it all. You always need somebody who can run the middle, kind of like a point guard. Her distribution is terrific. She can move the point of attack nicely."
Chyanne Alejado
Kapolei Senior Midfielder

"She has the ability to never give up and make sure that our team would never give up, to keep their faith in every single circumstance," coach Brian Beck said. "She didn't have all the individual glory, but ultimately, she fulfilled the goals she had for the team. She's so solid. Being our only captain, when things weren't going well, it was up to her, and she grew a lot as a captain and a person."
Kylee Ann Ah Choy
Kamehameha Senior Fullback

Ah Choy is a two-time All-State first-team selection. "Her patience as a last defender is great, and her lateral movement allows her to cover a lot of ground," Mililani coach Ray Akiona said. "She has confidence because she has great skills. She's straight-up playing off the ball and doesn't take anything personal. Her composure is what keeps her focused in every game."
Chaney Lopez
Kapolei Junior Fullback

Lopez was lauded by many coaches. One was current Castle coach Mark Kane, who coached at HPU for many years. "That girl, I can't believe that girl is only a junior," Kane said. "She's one of the more mature defenders in the state. In 30 years of watching high school soccer, she's one of the best. The combination of athleticism and soccer ability, she's a Natasha Kai type of player on the defensive end. Her strength, speed, her technique, she's the real deal."
Ashley Medcalf
Pac-Five Senior Fullback

"If you're gonna find the top 11 players to put on the field, she's a dominant force," Iolani coach Chris Nied said. "A lot of what Pac-Five did this year was because of her presence. She's athletic, skilled. Every single team that played Pac-Five made her their major focus. One of the things she's deadly on is free kicks. The last thing you wanted to do was give them a free kick from 30, even 40 yards out."
Michele Nagamine
Kamehameha Coach of the Year

The tireless coach guided the Warriors to their fifth state crown. Four of them have come with Nagamine at the helm, including the past two. "Michele has so much knowledge of the game, players will respect whatever she says," Mililani coach Ray Akiona said. "She has their respect, yet she's not overbearing. You're not going to find that in too many people. With the amount of talent she has, she utilizes it well."
First Team
AP
Stephanie Yoro
Mililani
Sr.

F
Jennifer Eugenio
Kamehameha
Sr.

F
Tani Costa
Kalani
So.

F
Jesi Sasaki
Iolani
Sr.

F
Meghan Fuller
Pearl City
Jr.

MF
Mari Punzal
Kamehameha
Sr.

MF
Natalie Wong
Mililani
Sr.

MF
Chyanne Alejado
Kapolei
Sr.

FB
Kylee Ann Ah Choy
Kamehameha
Sr.

FB
Chaney Lopez
Kapolei
Jr.

FB
Caroline Tamayose
Iolani
Sr.

FB
Ashley Medcalf
Pac-Five
Sr.

GK
Kanani Taaca
Kamehameha
Jr.

Player of the Year
Mari Punzal
Kamehameha
Sr.

Coach of the Year
Michele Nagamine
Kamehameha
Second Team
Forwards
: Meleana Shim, Kamehameha, So.; Jaqueline Ho, Kamehameha, Jr.; Liana Gualdarama, Kapolei, So.; Jocelyn Enrique, Kapaa, Jr.
Midfielders
: Nicole Ha, Iolani, Sr.; Brit Sanford, Punahou, Jr.; Carisa Calpo, Pearl City, Sr.; Marisa Schoen, Punahou, Sr.; Jayann Gabrio, Punahou, So.
Fullbacks
: Nicole Akiu, Kamehameha, Sr.; Nestle Yamaguchi, Pearl City, Sr.; Jasmine Pratt, Mililani ,Sr.
Goalkeeper
: Ashley Dela Cruz, Kapolei, Jr.