Homeowner tax burden re-examined
The City Council is looking at several initiatives being to bring down residential property tax rates and lessen the shock of soaring property values.
But Council Budget Chairman Todd Apo said that first there needs to be a new policy on how much residential property taxpayers pay versus commercial and other taxpayers.
With increasing property values, there has been a shift upward in the portion homeowners contribute to the city's coffers. Apo said there needs to be a shift in the other direction.
Apo said the mayor's current $1.64 billion operating budget request assumes that residential property taxes will account for 57 percent of tax revenue.
Apo is proposing that that the homeowner's share should be reduced to 55 percent.
"We all know real estate cycles and at some time down the road, this policy is going to provide eventually some significant protection to commercial, industrial and hotel properties. Because if residential valuations start to drop, without this policy the nonresidential group will begin to pick up a larger percentage of the city's budget," Apo said.
Apo said that the policy provides a basis or "equitable framework" for adjustments in the property tax rate each year.
"Otherwise, every year you're just sort of pulling numbers out of a brew, sort of what feels right to make that change," Apo said.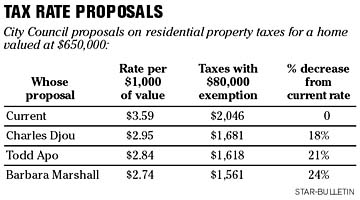 "The political will is never to lower non-residential rates because those technically aren't directly your voters," Apo said.
"Our whole system is set up so that if the assessments go up, the tax rate goes down If assessments go down, the tax rate goes up. The reason it's never gone down us because the politicians are scared to death that at some point they're going to have to raise taxes and, yes, indeed that may very well happen if we reduce them," Council Chairwoman Barbara Marshall said.
Marshall said she sees "a great deal of sense" in Apo's revenue allocation proposal although she's not sure what the percentages should be.
"Where I want to see us go is with simple rate reduction. A lot of what's before us is very convoluted, very complicated," Marshall said of the proposals.
"I think we need to take (the rate) down as much as we can take it down," Marshall said. "If we don't reduce the tax rate then property taxes are going to go way up."
Marshall so far is proposing the lowest rate at $2.74 per $1,000 in valuation or nearly 24 percent off the current rate.
Budget Chairman Todd Apo said he is aiming for a residential rate of $2.84 as he prepares the first set of proposed changes to the budget for an April 12 hearing.
And Councilman Charles Djou said the cuts he is proposing for the budget would realize a rate of $2.95, although he said he could probably bring that number down even lower.
What could that mean for tax bills?
A home valued at $650,000 with an $80,000 owner-occupant exemption, for example, had taxes of $2,046 under the current rate. Under Marshall's proposal, taxes for the same house would drop to about $1,562.
The Council is also looking at taking about $60 million that the administration is saving to pay for a yet unknown amount future retirement benefits as another way to reduce taxes.
"I understand the mayor's logic to it, but I think it comes down to a policy choice. Should the money stay in the bank account of the people or in a city bank account. And I think as a matter of policy, it's better to keep that money in the people's pocketbook," Councilman Charles Djou said.
"Certainly I don't want to not be prudent, but I also don't want us to take money away from the taxpayers before we have to," Marshall said.
The Council is already cool to the mayor's proposal for a $150 one-time credit for low-income renters. Not funding the tax credit could mean another $11 million to reduce taxes.
To further cut costs, Apo also said he will propose salary cuts, particularly in vacant funded positions.
Apo said that while he understands that departments are having difficulty recruiting for specialized positions like engineers, he has not yet seen a plan of action for things like salary increases to attract people to those positions.