YOUR VACATION

Hitting the big 5-0? Hit the road again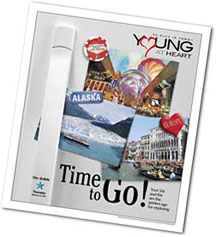 The best age to travel is when you are in your 50s and 60s "because you are still mobile enough to do what you want to do," according to Danny Ching, president of Non-Stop Travel.
If you haven't walked down the strip in Las Vegas, climbed the Great Wall of China, backpacked through Europe or stopped at the Sapporo Snow Festival in Japan, it's not too late.
Top 10 Travel Destinations
Non-Stop Travel
1. Las Vegas
2. Alaska
3. Central Europe
4. Eastern Europe
5. Australia
6. New Zealand
7. China
8. Japan
9. Korea
10. Mediterranean
AAA Hawaii
1. Alaska
2. Las Vegas
3. Western Europe
4. Vancouver
5. New England States
6. San Francisco
7. Reno/Tahoe
8. Orlando
9. Australia/New Zealand
10. Arizona
Royal Adventure Travel
1. Las Vegas
2. Central Europe
3. Alaska
4. Australia
5. Japan
6. East Coast
7. Eastern Europe
8. Mediterranean
9. Canadian Rockies
10. Western Canada
Popular Tourist attractions
Non-Stop Travel
» Sydney Opera House
» Great Wall of China
» Saporro Ice Festival
» Korean soap opera tour in Seoul
Royal Adventure Travel
» Cherry Blossom Festival
» Denali National Park
» Niagara Falls
» Yellowstone National Park
» Mount Rushmore
AAA Hawaii
» Napa Valley
» Disneyland
» The strip in Las Vegas
» Leaning Tower of Pisa
» Eiffel Tower
» Grand Canyon
» Lake Tahoe
Richard Velazquez, regional manager for AAA Hawaii, agrees. "Travel now, especially if you're healthy and if it's something you've always dreamed about doing," he said. "Part of traveling is about family memories and the experience we can talk about for a long, long time."
While that experience may be memorable, it also may be too costly for some. Air travel can easily add up when you take into account airfare, hotel, transportation, food and entertainment. Cruises, however, are often an affordable alternative because of the services offered on-board. "It's like a floating resort," Ching said. "The ship has spas, multidining rooms, activities, gyms, casinos -- just about everything anybody would want."
It seems Las Vegas, Alaska and Europe are the top three popular destinations for the 50-plus crowd. According to Ching: "Europe has always been a good destination for us because most people are not familiar with it so they want to see it, especially as they get older. Las Vegas is still No. 1 only because it's easy to get to and people are familiar with it."
Among the more popular tourist attractions are the glaciers in Alaska, Eiffel Tower, Grand Canyon, Niagara Falls and, of course, Disneyland for those with grandchildren or young at heart. And for all of you Korean soap opera fans, there's a soap opera studio tour in Seoul, Korea, where you just might catch a glimpse of your favorite actor or actress.
If you would rather not travel alone, group traveling is a safe and easy way to travel. Sharon Matsushima, travel consultant at Royal Adventure Travel, said a group tour offers "the added security of having a travel professional and the value of having all the coordinating for meals, attractions and transportation. Everything is taken care of -- you just need to show up at the lobby of the hotel in the morning."
No excuses. Now that your kids are grown, you have established seniority at your job or are retired, and your mortgage rate is either set or your home is paid off, it's time to be adventurous. Many travel companies also offer special rates for seniors.
Europe
Non-Stop Travel:
Europe, 14 nights with 8 stops starting at $3,500
AAA Hawaii:
Western Europe, 10 nights with 7 stops, starting at $1,899 for AAA members and $2,099 for non-members
Royal Adventure Travel:
Central Europe, 18 nights with 8-10 stops starting at $4,000
Las Vegas
Non-Stop Travel:
4 nights, non-stop flights starting at $499
AAA Hawaii:
3 nights, non-stop flights starting at $1200
Royal Adventure Travel:
4 nights, non-stop flights starting at $500
Alaska
Non-Stop Travel:
7 nights with 4 stops starting at $1,600
AAA Hawaii:
7 nights with 4-5 stops starting at $1,200 for AAA members and $1,300 for non-members
Royal Adventure Travel:
7 nights with 5 stops starting at $2,000