| | |
| --- | --- |
| | By Request |
---
Book features oxtail soup, Filipino style
For years I've believed that what this place really needs is a locally written Filipino cookbook. Something that would guide us through local-style versions of basic Filipino home cooking.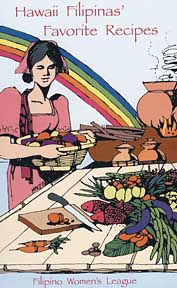 Ever tried to hunt down a recipe for a Pianomo Roll? Or Tambo-Tambo? I tell ya, it's hard.
Turns out there was such a cookbook, published by the Filipino Women's League in 1999. "Hawaii Filipinas' Favorite Recipes" is available again (find it at Borders Pearlridge or send a check for $19.05 to P.O. Box 419, Pearl City 96782-1999).
The book contains an answer to Jack Reis' request for a recipe for Kari-Kari, or oxtail stew.
Kari-Kari (or Kare-Kare) comes in endless variations, sometimes including stew meat or even tripe. The basics, though, are oxtails, eggplant and green beans, in a gravy flavored with peanuts -- traditionally ground peanuts, but these days chunky peanut butter will do. Banana flower is also an option.
Some special techniques are required, which the cookbook will walk you through. You'll need to make achiote oil out of achiote seeds (also called achote, achuete and annatto) and you'll need to toast and grind rice. Both provide subtle flavor and color; the rice also acts as a thickener.
By the way, Pianomo and Tambo-Tambo? They're in this cookbook, too.
Kari-Kari
5 pounds meaty oxtails, fat-trimmed
2 quarts water
1-1/2 tablespoon salt
2 cloves garlic, crushed
1 medium onion, sliced
1/4 cup achiote oil (see notes)
1 pound green beans, in 2-inch lengths
3 small eggplant, in 2-inch wedges
1/2 cup toasted ground rice (see notes)
1/2 cup chunky peanut butter
Simmer oxtails in water and salt until tender, about 2-1/2 hours. Skim excess fat. Remove oxtails. Strain and reserve stock.
In large pot, sauté garlic and onion in achiote oil until onions are translucent. Add oxtails and reserved stock; bring to boil. Add vegetables, reduce heat and simmer 10 minutes. Add ground rice and peanut butter, stirring until broth is slightly thickened. Serves 10.
Notes: To make achiote oil, heat 1/4 cup achiote seeds in 1/2 cup vegetable oil until oil turns deep red (achiote is sold in the spice section of Asian groceries). To make ground rice, toast rice over medium heat in a dry skillet until golden. Grind in a coffee-grinder.
Approximate nutritional analysis, per serving: 350 calories, 20 g total fat, 5 g saturated fat, 65 mg cholesterol, 200 mg sodium, 20 g carbohydrate, 4 g fiber, 4 g sugar, 24 g protein.
Send queries along with name and phone number to: "By Request," Honolulu Star-Bulletin, 500 Ala Moana, No. 7-210, Honolulu 96813. Or send e-mail to
bshimabukuro@starbulletin.com