Mera Pharmaceuticals' quarterly revenues fall 62%
Mera Pharmaceuticals Inc., a Kona-based producer of nutritional products from microalgae, posted a wider loss in its fiscal first quarter as revenue plunged 62 percent.
The company reported in a Securities and Exchange Commission filing that it had a net loss of $158,647 in the quarter ended Jan. 31, 2007 compared with a net loss of $113,588 a year ago.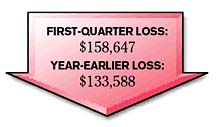 Revenue fell to $50,689 from $134,214, primarily due to the termination of a technical services contract that ended in January of 2006.
Formerly known as Aqua-search Inc., Mera makes three AstaFactor products consisting of astaxanthin, which is an antioxidant and anti-inflammatory. Sales of its AstaFactor products fell 11.4 percent in the quarter to $71,234 from $80,381 a year earlier.
Mera, which has lost $5.8 million since coming out of bankruptcy in September 2002, listed $23,978 in cash and cash equivalents at the end of July.
Gregory Kowal, chief executive of the company, said Mera continues to be strained by lack of working capital and is still seeking to raise $500,000 to $1 million. If it does, then Mera could be profitable by the end of this year, Kowal said.
"We're talking to people but so far no one has written a check," he said.
Nevertheless, Kowal said Mera already has generated more revenue in its current quarter that ends April 30 than it did in its fiscal second quarter a year ago.
"We had a couple of sales that were deferred from the first quarter," Kowal said.
---