---
FAST FACTS HAWAII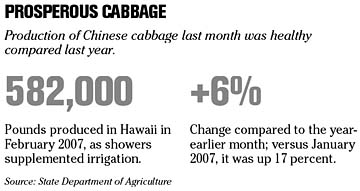 ---
HawTelcom, union reach deal
Hawaiian Telcom
said yesterday it has reached a tentative agreement with the electrical workers' union to extend for one year the collective bargaining contract for about 1,100 employees.
The current five-year contract for roughly two-thirds of the company's total employees is set to expire on Sept. 1.
The company began negotiations with the International Brotherhood of Electrical Workers Local Union 1357 on March 14.
Details of the extended agreement, which is subject to approval by union members and Hawaiian Telcom's board, weren't released.
IBEW members are expected to take a ratification vote by April 17. Hawaiian Telcom's board hasn't yet scheduled a meeting on the tentative agreement.
J.D. Power lauds isle homebuilder
Centex Destination Properties Hawaii
has earned kudos for customer satisfaction from
J.D. Power and Associates
as part of the marketing company's new-home builder certification program.
To earn the certification, Centex achieved benchmark scores that were representative of the top 20 percent of new-home builders surveyed. Results were taken from interviews with 65 Centex Destination Property homeowners in Hawaii.
"Customers of the Hawaii Division note particular satisfaction with home readiness, which looks at the condition of the home during the walk-through, the timeliness of home completion, and the interior and exterior of the home when it's time to move in," said Jim Howland, a senior director at J.D. Power.
MLP in pact with distiller
Maui Land & Pineapple Co.
, which has been exploring opportunities with its money-losing processed pineapple business, said yesterday it has reached an agreement with
Hawaiian Islands Spirits Inc.
that will allow the local distiller to use MLP's new warehouse facility adjacent to the Kahului Cannery.
Under the 12-month pilot project, MLP will supply Hawaiian Islands Spirits with pineapple juice for development of a range of products, including premium vodka, alcohol blends, non-alcoholic juice blends and "other than standard wine."
"This agreement marks the next step in realizing our vision for a modern processing facility that can support a variety of homegrown Maui products," said David Cole, chairman and chief executive of MLP.
Citigroup may cut 15,000 jobs
NEW YORK »
Citigroup Inc.
expects to have completed its corporate cost review by mid-April, company officials said yesterday, as published reports suggested the nation's largest bank was considering cutting about 15,000 jobs.
The Wall Street Journal said the job cuts -- which would amount to about 5 percent of Citigroup's worldwide work force -- were part of the New York-based bank's restructuring plan, which was disclosed late last year and is aimed at improving the bank's financial performance.
Citigroup's chairman and chief executive, Charles Prince, who currently is on a trip to India, told reporters he would not comment on the Journal's report.
Earlier, Citigroup spokesman Michael J. Hanretta said results of the cost-cutting study would be made available "on or before earnings on April 16."
Slower growth forecast for Asia
TOKYO » The Asian Development Bank said today it forecasts developing Asian economies to grow by 7.6 percent in 2007, contracting from the 8.3 percent growth last year.
ADB also said Chinese economic growth will moderately slow to 10 percent in 2007, from 10.7 percent in 2006 while India's economic growth will slow to 8 percent from 9.2 percent.
ADB released the forecast in its annual Asian Development Outlook launched today in Tokyo.
Despite the slowdown forecast, the bank overall painted a mostly upbeat picture of a more sustainable growth rate for the region with inflation under control and overheating pressures gradually easing.
Inflation in developing Asia is expected to ease to an average 3.0 percent this year from 3.4 percent last year.
---
BUSINESS PULSE