ON ASSIGNMENT
Voyagers help to build clinic
MOGMOG, Ulithi » Big Island resident Max Yarawamai hopes to help his native Micronesian island of Fatherai recover from a typhoon that destroyed the medical clinic 15 years ago.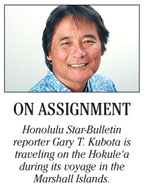 Yarawamai, a crew member on the double-hulled canoe Hokule'a traveling through Micronesia, said the community has drawn up the design for the new building.
"The community is so happy. They're eager to build it themselves," said Yarawamai, whose parents live on Fatherai. "All we need is wood, cement, tin roof and hollow tiles."
As the crews of the sailing canoes Hokule'a and Alingano Maisu voyage through the Yap region of Micronesia, they are working with Yarawamai's nonprofit Oceania Community Health to help in planning the clinic project.
To Donate
Contributions to Oceania Community Health may be sent to P.O. Box 2366, Kailua-Kona, HI 96745. For more information, visit its Web site, oceaniahealth.org.
The Hawaii-based Aloha Medical Mission is also working with Oceania Health in looking at how physicians might be able to promote public health. Dr. Vernon Ansdell, a Mission organizer, said the Polynesian Voyaging Society's sail to Micronesia was an opportunity to create a partnership with islanders and a couple of clinics, including one on Fatherai.
"The key is the community taking care of their own health," Ansdell said. "All of that fosters that strength."
Mission volunteers planned to work yesterday at a clinic on Falulap, visit Fatherai today to look at the site of the new clinic and work on Mogmog island tomorrow.
Yarawamai sees the clinic project as a new beginning.
"The idea is to build this one and see if it can also be a model to follow on another island," he said.
Hokule'a navigator Nainoa Thompson, a volunteer board member for Oceania Health, said providing medical care is just one aspect in promoting health and that an important part of well-being is cultural identity and self-worth -- part of which can be achieved by the community being involved in building the clinic.
The voyage of the Alingano Maisu and Hokule'a through Micronesia also places an emphasis on honoring islanders' traditions, including their contribution to way-finding navigation.
"Health begins with the spirit and soul," he said. "With the Alingano Maisu and Hokule'a, we have the opportunity to bridge cultural identity and self-worth with modern and improved health practices."
Ulithi Atoll, more than 100 miles northeast of Yap island, is the fourth-largest atoll in the world with 341 square miles of lagoon and some 40 low-lying islands. Fatherai, an island in Ulithi Atoll, has an average elevation of about 15 feet and has about 75 residents.
Thane Hancock, a physician who now lives on Yap, is an organizer with Yarawamai on the clinic project.
Yarawamai said Yap has a medical clinic but that many of the outer islands lack similar facilities.
He said the lack of medical help and early diagnosis is contributing to Micronesians becoming seriously ill before receiving care.
One example is the problem faced by renowned navigator Mau Piailug, who had difficulty receiving help to treat his diabetes and now has poor eyesight. At one point, insulin had to be dropped by airplane on Piailug's island of Satawal.
"When Mau was really sick, we had a hard time reaching out to help," Yarawamai said. "If we get an early diagnosis, maybe we can get to the sick people before it's too late."