---
FAST FACTS HAWAII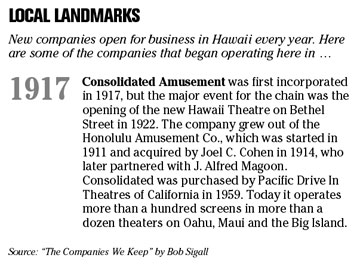 ---
NATION
Youth and women hate long hours
Employees younger than 44 have less tolerance than their older counterparts for workweeks that reach 60 hours and beyond, a study found. The dislike among women was even more prevalent.
From 30 to 36 percent of the younger employees holding those high-pressure "extreme jobs" expected to leave in the next two years, the study found. That compares with 19 percent of older workers, according to the study, published in the December issue of the Harvard Business Review.
Sixty-five percent of those surveyed across all age groups would decline a promotion if it were more demanding of their energy.
The findings suggest that companies will have difficulty filling top positions when the older generation retires, the authors said.
"The ultimate price may be paid in succession planning if maxed-out professionals stop striving for top jobs," the authors, Sylvia Ann Hewlett and Carolyn Buck Luce, wrote.
"A clear majority" of the women -- 57 percent -- said that they don't want to continue at such an extreme pace for more than a year. Less than half, or 48 percent, of men expressed the same sentiment.
Women in the U.S. were less likely to work long hours, perhaps because "they seem particularly tuned into -- and pained by -- the fallout on their children."
Deception at work is common
Ever flashed a rude customer your best smile while you seethed inside, or told a caller your boss wasn't in while she sat 10 feet away in her office?
You're not alone. Most of us lie at work, and that's not necessarily bad.
Deception ranging from white lies to fibs about sales numbers can help maintain employee harmony and efficient workplace operations, according to David Shulman, author of "From Hire to Liar: The Role of Deception in the Workplace," and a professor at Lafayette College in Easton, Pa.
"Lies are not necessarily evil, unethical lies," he said.
Blurting out your true feelings about a slacking co-worker or an incompetent boss, while truthful, can disrupt the workplace, most of us recognize.
When it comes to social etiquette, as well as maintaining a good personal image, many workers have few qualms about fudging the truth, according to Shulman's study of employees in more than 30 workplace environments.
People draw the line at illegal behavior, however, particularly in the case of financial crimes, Shulman said. And while it won't land you in prison, lying on your resume isn't a good idea, either, he said.
Who you know really does count
Wallflowers take note: A job well done may not be enough to land you a promotion.
Available jobs drop off as you climb the corporate ladder, so who you know can become as important as what you know, according to Fran O'Brien, a networking instructor and chief underwriting officer at Chubb Insurance. For networking newbies, start schmoozing with these tips.
» Don't box yourself in by limiting your career goals. Informing colleagues that you want to become vice president of sales, for example, indicates you lack desire to grow beyond that position, O'Brien said.
» Develop a specific 5-year plan that focuses on specific business aspects you enjoy but allows room for growth.
» Schedule face time with higher-level executives. One conversation over paninis won't guarantee you a promotion, but it will give you a leg up, O'Brien said. Be sure to have ready a 30-second pitch outlining your goals for the year.
» Network with supervisors who manage the job you want instead of relying on your immediate boss to make connections for you.
Most want to know if they're sick
Most Americans would want to know decades ahead of time if a serious disease will strike them.
Nearly three out of four people would take a test that could identify a disease 20 years before symptoms appear, according to a survey conducted by Directive Analytics for Siemens Medical Solutions.
Another 35 percent would want to know now if they will someday be diagnosed with an incurable disease, the survey reported.
The online survey polled 1,111 adults nationwide.
---
BUSINESS PULSE