Work on rec center lasts 4 years
Residents wait as the city works to fix electrical problems
Wilhelmina Rise residents used to use Maunalani Recreation Center I for children's birthday parties, meetings and other community activities.
Now, wooden boards cover the windows, and graffiti marks some of the building's exterior.
The city closed the park building so it could be renovated after electrical problems made it unsafe, said Eugene Lee, director of the city's Department of Design and Construction.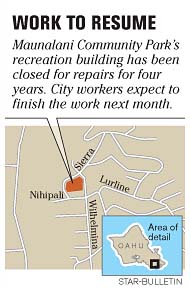 That was more than four years ago.
Now $1.3 million later, construction on the rec center -- which is also the only public restroom for the park and its tennis and basketball courts -- is finally scheduled to be finished next month.
"Should be a nine-month job," said Charlie Schuster, a licensed civil engineer who lives below the park. "There have been times there wasn't any action up there for weeks. There's nothing fancy going on up there. It's carpentry, electricity, plumbing, roofing and HazMat."
However, Lee said the project's timeline was "one of the faster ones."
"The whole process for this kind of project takes a minimum of three to four years," he said in an e-mail.
The city began the process of funding the renovation in 2003, Lee said. Two years later, the contractor was selected, and construction on the $1.17 million project began in October.
The electricity and plumbing were redone. Asbestos was removed and lead paint addressed. The building was treated for termites, and the roof, flooring and walls are being replaced. Crews are installing new sidewalks and making the building handicapped accessible.
Two unexpected repairs, a faulty water pipe and an electrical transformer that needs replacement, are expected to cost an additional $150,000.
But Lee said the $150,000 has yet to be secured. Bad weather also could delay the project's completion.
"We're hoping it's going to be open soon," said Eduardo Hernandez, a member of the Kaimuki Neighborhood Board. "The park is widely used by the community."