DRAWN & QUARTERED
Supernatural manga make divine sense
Supernatural events are usually at the core of horror films, those silent and not-so-silent things that usually are accompanied by a cacophony of horrible music and end with equally horrible death.
But hey, just as there are all kinds of people in the world, there are all kinds of spirits. (If you believe in them, at least.) And the supernatural isn't always scary and serious. In fact, since we really don't know much about it, we can make it into whatever we want. These series from publisher Tokyopop show that humor is sometimes the best way to help deal with things you don't fully understand -- even if your life is threatened in the process.
» "Genju no Seiza"
Rating:



Teenager Fuuto Kamishina has always had a sixth sense. Not only can he "see" how people will die, he can also sense auras and spirits and get glimpses of events in people's lives just by touching items they've handled. But the commotion he's caused with his powers from when he was a child have forced his mother to move the family 12 times, so now he hides them.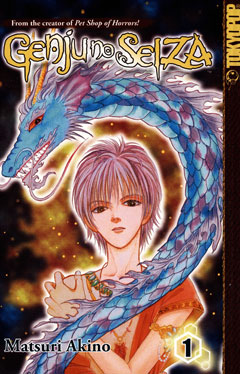 Fuuto is starting anew at yet another school in Japan when a large bird starts harassing him. The bird eventually reveals himself as Garuda, one of the beast protectors to the king of a tiny Asian country called Dhalashar -- and Fuuto is the reincarnation of the king and the rightful ruler of Dhalashar.
Garuda is here to convince Fuuto to ascend to the throne. But not only is the boy having none of it, there are also politics involved with China placing a puppet ruler on the throne and assassins dispatched to kill the real king. Meanwhile, Fuuto's powers are manifesting in stronger ways, and he's unable to control them.
"Genju no Seiza" brings the "hero" around with the usual tool: empathy. Fuuto discovers that his powers can ease pained souls, both in this world and the afterlife -- but he's still not convinced that he's the king of Dhalashar, and even if he were, he's not willing to give up the luxuries of Japan for a life in some nowhere desert land. A wheelchair-bound girl named Mayu, who can see Garuda's true form while everyone else cannot, is another enigma.
Whether Fuuto will be persuaded to rule Dhalashar is anyone's guess, and the political side is also still undeveloped. For now the appeal is in seeing Fuuto slowly break out of his shell through the same abilities that once caused him so much grief.
» "Platinum Garden"
Rating:



When Kazura Enomoto's grandfather dies and his will is read, it reveals a strange request: He has promised to give his granddaughter to a young man named Mizuki Magahara to repay a large debt. The shocked Kazura envisions a hard life of slave labor ahead, but when she's sent to live at his house, she's in for an even bigger shock: The 15-year-old is actually there to become Mizuki's wife.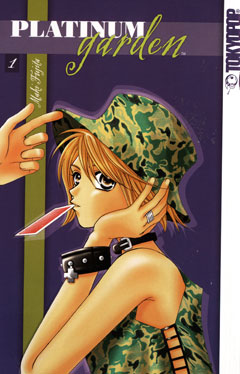 But the Magahara family is a rich and influential one, and Mizuki's relatives aren't too happy with the 16-year-old boy suddenly taking a nobody girl as his fiancee. Kazura must navigate the vicious world of the wealthy, learn proper Japanese women's ways and attend a posh high school reserved for the rich -- and if she doesn't, Mizuki threatens to demand that her family pay back her grandfather's debt with cash that they don't have.
It's obvious that the 16-year-old Mizuki has an ulterior motive in having Kazura pose as his fiancee. Equally obvious is where the story and the teenagers' relationship are headed. But there are family secrets to unravel, romantic rivals to deal with and elitist high school girls to feed a few doses of humility to, all of which could make for a nice stroll through "Platinum Garden."
» "Mugen Spiral"
Rating:



High-schooler Yayoi Suzuka comes from a family of mystics, and with her mother's death, she is now the 78th mystic and head of the Suzuka clan. Yayoi regularly fights evil spirits and has incurred the wrath of more than a few.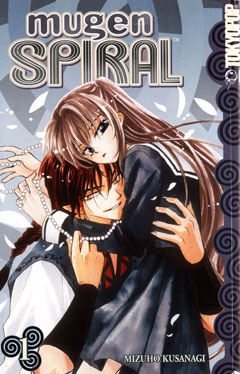 Her latest conquest is of the demon prince Ura, whom she's sealed away using a rosary of 54 prayer beads into the body of a black cat, which she now keeps as a pet. After the girl is targeted by yet another demon, it is revealed that there is a war in the demon world: The king is ill, and the most powerful demon will be the new king. Demons gain power by devouring the souls of humans with strong spirit energy. The Suzuka clan possesses the highest spirit power. You make the connection.
Other demons are after Yayoi's powers, while Ura wants them for himself, but naturally she isn't about to give up her life. So the two come to a kind of arrangement: She allows him to regain his demon form and strength when necessary by removing the rosary and breaking only one prayer bead, then quickly tosses the rosary back onto him after the fight to turn him back into a cat. What will happen when Yayoi finally destroys the last bead?
While the attraction between human and demon is inevitable, and it will certainly be interesting to see how their cross-species romance develops, that's more of an aside to their secret motivations. "Mugen Spiral" has a surprise in the first story and a few twists later on that infuse some -- dare I use the term? -- humanity to Ura's power-hungry quest.
This short series has only two volumes, so hopefully the story won't have time to drag out and become repetitive, with Yayoi systematically getting into fights and being forced to break beads one at a time. Expect more development of Ura's and Yayoi's feelings -- and the requisite conflict arising from such -- in the second book, due out in August.