| | |
| --- | --- |
| | Wood Craft |
---
Beeck-Umemoto wedding at Royal draws diverse crowd
Charlie Beeck Jr.
, who has put a roof over many residents' heads as owner of Tropical Roofing and Raingutters, married Tokyo architect
Otsuko
Umemoto
Sunday at the Royal Hawaiian. Charlie's dad,
Charles Sr
., was part of the Phoenix contingent and gave the blessing. Charlie's showbiz friends performed in the Monarch Room reception and dinner for 250 people, including
Dog
and
Beth Chapman
.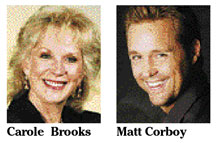 Dean & Dean
, last names
Lum
and
Shimabukuro
, with
Andy Sexton,
made up the house band. Singers included
Kristian Lei, Mihana Souza
and
Kimo Kahoano
, who was also emcee. Italian jeweler
Paolo Migotti
was a surprise crooner. A highlight was Charlie's 9-year old daughter,
Kealoha
, giving the couple a congratulatory message in Japanese and English. The bride's family members and friends from Japan especially applauded Kealoha's linguistic skill. Kealoha and her sister,
Lei
, 18, danced hula together. They have the goods as their mom is former Miss Aloha Hula
Kaula Kamahele
. Members of
Germaine's
Luau show performed. Chart House boss
Scott Okamoto
and
David Leong
clobbered Charlie in a skit. He survived -- but after getting his party and wedding-related bills, his wallet may not ...
Speaking of putting a roof over people's heads, Genshiro Kawamoto welcoming homeless and lower income Hawaiian families Thursday into his million-dollar Kahala homes rent free is an astonishing story. It will long be remembered in these parts. CNN reported on Kawamoto's incredible generosity Friday ...
Carole Brooks says aloha to Hawaii, friends
BYE BYE CAROLE: Realtor
Carole Brooks
, one of the town's best-dressed, relocates to Olympia, Wash., Wednesday to take care of her 98-year old mom,
Alma Wilson
. Carole worked last for
Pat Choy
. She has been given party after party by the many friends she has made in her 40 years here. Carole has been the bailli (leader) of the ancient eating society Chaine des Rotisseurs' local chapter for the past six years ... Hawaii's
Matt Corboy
is cohost of The Travel Channel's World Poker Tour. Matt is a 1991 Punahou grad and was the state kayak champ for three years. He won 10 athletic letters at Punahou. Matt is the son of Dr.
John Corboy
, an ophthalmologist, and
Mary Jo Corboy
...
Ben Wood
, who sold the Star-Bulletin in the streets of downtown Honolulu during World War II, writes of people, places and things in our Hawaii. E-mail him at
bwood@starbulletin.com