---
FAST FACTS HAWAII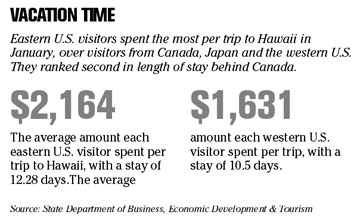 ---
HAWAII
Hoku signs Pocatello lease
The
Hoku Scientific Inc.
subsidiary that plans to build a plant in Pocatello, Idaho, to make polysilicon for solar panels said yesterday it had signed a 99-year lease with the city for the 67-acre factory site, with rent of $1 a year.
In addition to the 67-acre lease, Kapolei-based Hoku signed a separate agreement granting it an option to lease 450 additional acres of city land that Hoku may use for future expansion.
"The land we are leasing in Pocatello is more than enough space to accommodate our planned 2,000 metric ton polysilicon plant, and is conveniently located adjacent to major interstate highways and railroads," said Dustin Shindo, Chairman and CEO of Hoku Scientific. "We look forward to breaking ground in the next several weeks."
Hoku, in the midst of a transition from a developer of fuel-cell technology to a producer of solar-panel components, already has buyers lined up to buy polysilicon, the largest of which is a $370 million deal with Sanyo Electric Co. Ltd.
BBB picks ethics finalists
The Better Business Bureau of Hawaii has chosen 13 finalists for its 2007 Torch Awards for Business Ethics.
The following are the finalists:
» Business Individual: Dr. Cecile Sebastian.
» Small Business (99 or fewer employees): Graham Builders, DTRIC Insurance and Laser Eye Center of Hawaii.
» Large Business (100 or more employees): Jamba Juice, Outrigger Enterprises and First Insurance.
» Small Non-Profit (99 or fewer employees): Special Olympics Hawaii, Honolulu Board of Realtors, and Adults Friends for Youth.
» Large Non-Profit (100 or more employees): Aloha United Way, Mental Health Kokua, and Easter Seals.
Winners will be honored at the 13th annual awards luncheon on April 18 at the Hawaii Prince Hotel.
NATION
Tribune bid at $33 per share
LOS ANGELES » Billionaire investor Sam Zell has presented a $33 per share proposal for
Tribune Co.
, according to a published report.
A special board committee received details of the proposal this week, the Los Angeles Times reported yesterday, citing a person familiar with negotiations who spoke on the condition of anonymity because deliberations are supposed to be confidential.
A $33 per share bid would be a $2.47 premium over Tribune's closing price of $30.53 yesterday on the New York Stock Exchange.
Messages seeking comment were left yesterday evening by the Associated Press for representatives for Tribune and Zell.
Zell declined during an interview with the AP earlier this week to discuss the status of talks with Tribune, but confirmed his proposal calls for an employee stock ownership plan. The real estate mogul also said he does not intend to break up the company.
WORLD
Qantas takeover in doubt
SYDNEY, Australia » A key stakeholder in
Qantas Airways
said yesterday it would not accept a $8.9 billion bid for the airline, throwing into doubt one of Australia's biggest proposed takeovers. Qantas stock sank 3.1 percent on the news.
Airline Partners Australia, the investment group making the bid, immediately announced it was extending the deadline for shareholders to accept their 5.45 Australian dollar-a-share offer by more than two weeks to April 20 and was considering its options.
Balanced Equity Management, an institutional fund which owns about 4 percent of Qantas, said Friday would not accept the bid led by Australia's Macquarie Bank and the Texas Pacific Group at the current price.
The investment group needs to secure 90 percent of shares for the deal to move ahead, but market sentiment has been moving against the bid in recent weeks on speculation that it undervalues the company.
Hyundai units under investigation
SEOUL » Three affiliates of
Hyundai Motor Co.
, South Korea's biggest automaker, are being investigated by the country's tax authority after the conviction of Chairman Chung Mong Koo, a company spokesman said.
National Tax Service officials yesterday visited offices of car-shipping unit Glovis Co., car audio-making unit Hyundai Autonet Co. and construction subsidiary Emco Corp., demanding documents, Hyundai Motor spokesman Jake Jang said today by phone.
Jang was commenting from Seoul after the Dong-A Ilbo newspaper reported today that the tax office had started investigating the three companies. Chung, 69, was sentenced to three years in jail on Feb. 5 after he was found guilty of embezzling company funds and breach of fiduciary duty. Chung remains on bail pending his appeal, which is set to begin on March 27.
A spokesman for the National Tax Office, who declined to be named, said he was unable to comment.
---
BUSINESS PULSE