| | |
| --- | --- |
| | Newswatch |
---
RAISING AWARENESS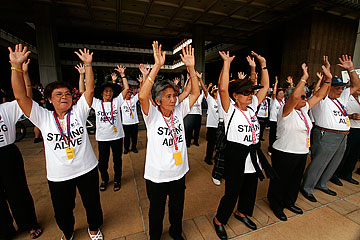 Effluent discharge closes beach
KEKAHA, Kauai » A beach on the Garden Isle was to remain closed today after the state Department of Health found irrigation water had discharged into the ocean.
A large pond of the effluent water had formed on the beach, about three-quarters of a mile from Kikiaola Harbor. It was caused by seepage from catch basins operated by the Syngenta Seed Co., health officials said yesterday.
The ponds apparently leaked into the ocean a few days ago, officials said. High bacteria levels have been found in the area, and signs have been posted warning people to stay out of the ocean until the levels return to normal.
Officials said a complaint prompted a visit to the site.
Not-guilty plea in Waikele case
A Waianae man accused of beating a military couple in the parking lot at Waikele Center pleaded not guilty yesterday in Circuit Court.
Gerald Paakaula, 44, was indicted by an Oahu grand jury a week ago with two counts of second-degree assault and being an accomplice to second-degree assault in the Feb. 19 altercation. The couple sustained facial fractures and concussions.
Andrew and Dawn Dussell, both in their 20s, were pulling into a parking stall next to the Paakaulas when their vehicle struck the Paakaulas' Chevrolet, police said.
Paakaula's son apparently got out and began yelling racial profanities at the driver and kicking the driver-side door, according to witnesses. Dawn Dussell apparently got out of the car and tried to push the teen away from the car and her husband. Paakaula's wife jumped in and began fighting with Dussell. It was then that Paakaula came out of a nearby ice cream store and jumped into the fray, police said.
Trial was set for May 29.
CROSSING THE ISLAND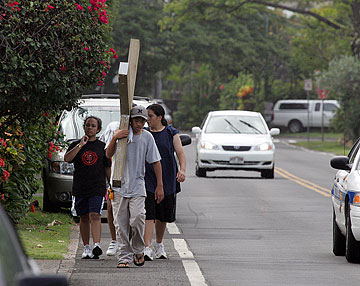 UH Marching Band wins honors
The marching band at the University of Hawaii's Manoa campus is one of five bands chosen for top national honors by the College Band Directors National Association, according to a university news release.
The UH Marching Band was chosen for the honor from among entries across the country. UH entered a tape of its Nov. 11 performance of Latin music and dance staged at the Rainbow Invitational Band Festival at Aloha Stadium.
UH Marching Band Director Brandt Payne will present a videotape of the UH Marching Band at the band directors association national conference at the University of Michigan in Ann Arbor, Mich.
Other selected university bands are from Auburn, Clemson, Middle Tennessee State and Texas State.
Toxic releases decline for 2005
Hawaii had a 1.9 percent decrease in toxic releases in 2005, according to data the U.S. Environmental Protection Agency released yesterday.
In Hawaii, 39 facilities reported 3.1 million pounds of toxic chemical releases in 2005, compared with 3.2 million pounds the year before. The data is from the federal agency's Toxic Release Inventory, which measures toxic releases nationwide.
Out of the 56 states and territories, Hawaii comes in 49th place in total releases. The EPA stresses that elevated levels of toxicity do not mean the facilities are not meeting regulation standards.
The report noted decreases in state land and air releases, but water releases increased by 76 percent, mostly due to the Navy's Pearl Harbor facilities.
The top 10 Hawaii facilities in toxic releases are:
1) Hawaiian Electric Co. Kahe station.
2) Pearl Harbor.
3) Hawaiian Electric Co. Waiau station.
4) Maui Electric Co. Kahului station.
5) Chevron Products Co.'s refinery.
6) Hawaii Electric Light Co. Hill station.
7) AES Hawaii Inc.
8) Tesoro Hawaii Refinery.
9) Hawaii Electric Light Co. Puna station.
10) Maui Electric Co. Maalaea station.
---
Coming this weekend in your Star-Bulletin:
Sunday
Today:
Bill and Ann Bachman and their kids, Lisa and Eric, are what you'd call water rats. They live their lives over, under and around the sea and are faithful volunteers at the Kaneohe Yacht Club.
Also in Sunday's Today section, a new exhibition at the University of Hawaii explores the idea of what music or noise might look like when translated into light and color.
Business: A fistfight between two 70-year-olds, a board meeting conducted in Ilocano to exclude one member, personality tiffs -- parliamentarian Steve Glanstein has seen it all. But he likes his job as a "people calmer" to condominium owners associations. "It makes me think and use my mind a different way," he says.
Travel: People from the East Coast tout New York City's foldable crust pizza as the nation's finest and explore how the Big Apple's slices measure up.
| | |
| --- | --- |
| | Police, Fire, Courts |
---
Inmate survives suicide attempt
A 41-year-old man being held at the Oahu Community Correctional Center attempted suicide yesterday, according to Ed Shimoda, Institutions Division administrator for community correctional centers.
Authorities said another detainee found the man unresponsive in a shower room with a bedsheet tied around his neck at about 12:25 p.m. yesterday. He was taken to a nearby hospital in critical condition and was placed in the intensive care unit, Shimoda said.
Police said a note apologizing to his family was found in his pocket. There were no apparent signs of foul play, police said.
Shimoda said the pretrial detainee was admitted on March 12 for charges of terroristic threatening. However, he displayed no signs of being suicidal or depressed and had not been assigned to a mental health unit, he said.
The detainee has a criminal history, Shimoda said.
---
HONOLULU
Kidnap rap nixed, suspect arrested on burglary charge
Kalihi police arrested a 42-year-old man in what was initially a kidnapping case.
At about 11:10 a.m. Wednesday, a 26-year-old woman was taken from her home on Kamehameha IV Road in Kalihi. She was forced into a waiting vehicle by a man who was carrying a machete.
The victim's 70-year-old grandmother reported the incident.
At about 9 that night, police tracked their leads to a home near Rose and Meyers streets.
The suspect, who was the boyfriend of the victim, was arrested, but the victim withdrew the kidnapping complaint.
The man was booked on a burglary charge.
Traffic stop leads to car theft bust
A traffic stop in Makiki resulted yesterday in the arrest of two men for suspected car theft and a variety of other offenses.
A patrol officer noticed the driver had committed a traffic violation, so he checked the vehicle license plates and found it was stolen.
The officer stopped the driver at about 4:15 a.m.
Police found narcotics, stolen ID cards and a prohibited weapon inside the vehicle.
Police arrested the 37-year-old driver, with no local address, on suspicion of operating a stolen vehicle, drug and weapon offenses, and three counts of unauthorized possession of confidential information.
Police arrested the 31-year-old passenger on suspicion of unauthorized entry into a motor vehicle and drug offenses.
Knife threat leads to youth's arrest
Police arrested a juvenile Wednesday after a 50-year-old man was allegedly threatened with a knife.
The two, who live together in Kalihi, argued at about 10:30 a.m. The juvenile allegedly retrieved a hunting knife from a bedroom and threatened the man, police said.
Officers arrested the juvenile for suspicion of terroristic threatening. Police did not release the age or gender of the suspect.
Suspect surrenders in sex assault case
A 37-year-old man turned himself in at the Kalihi police station yesterday for allegedly sexually assaulting an adult female family member.
Police said the 22-year-old woman was temporarily living at the man's home since December.
The alleged assault occurred at 2:30 a.m. March 13, and the woman reported the assault March 14, police said.
The man turned himself in yesterday and was arrested on suspicion of fourth-degree sexual assault.
LEEWARD OAHU
Man is accused of sexual assault
Police have arrested a 29-year-old man on multiple sexual assault charges. At about 11:30 p.m. Monday, the Waianae man allegedly sexually assaulted a juvenile, according to police. The victim's gender and age were not released.
The suspect fled before police arrived but was located at about 2 p.m. Tuesday.
He was arrested on suspicion of two counts of first-degree sexual assault, three counts of third-degree sexual assault and fourth-degree sexual assault. He is being held on a $150,000 bail.