| | |
| --- | --- |
| | Island Mele |
---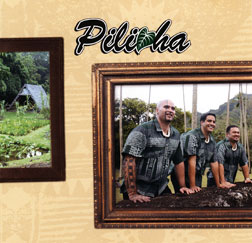 Pilioha
Pilioha
(Pilioha Music PR7138)
Pilioha, winner of the prestigious Ka Himeni Ana acoustic singing contest last year, goes from triumph to triumph with the release of a self-titled debut album. Self-produced and released on the trio's namesake record label, it is an impressive demonstration of their talents as musicians, vocalists and songwriters.
The group's Hawaiian lyric repertoire and three-part falsetto harmonizing are staunchly traditionalist, but a contemporary ambiance is created by Glenn D. Mayeda Jr., who plays an electric bass guitar rather than the usual acoustic stand-up bass.
All three contribute original songs. Listeners fluent in Hawaiian may be able to decrypt some of the kaona (hidden meanings) in Kalehua Krug's lyrics for "Pi'i Ka 'Ula." "'Aina Moloka'i," which they performed at Ka Himeni Ana, shows their skill at interpreting other writers' work and is also a great demonstration of their falsetto harmonizing.
Two other selections also stand out: a switch to English on "Everything," Krug's heartfelt tribute to his mother, and the instrumental "Ghost Riders in the Sky," with guitarist Kamuela Kimokeo featured in a salute to "friend and mentor" Led Kaapana.
---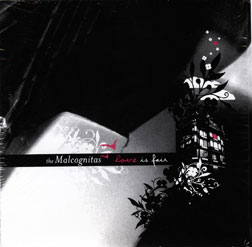 Love Is Fair
The Malcongnitas
(Malcognitas Music)
Modesty is a rare thing in the modern music business, but few groups are as self-effacing as the Malcognitas. The group's self-produced debut album contains neither a photo of the group nor any information about them (a band bio can be found at www.starbulletin.com in Gary C.W. Chun's feature of July 21, 2006).
Modesty aside, the quartet has a tight alt-rock sound that often incorporates the textures of Ara Laylo's voice as a fourth instrument in dark sonic landscapes. Laylo doesn't scat sing, but the effect is sometimes similar, and her voice catches the ear even when it isn't clear what she's singing about.
Yvonne Harada (guitar), Jack Tawil (drums) and Star-Bulletin staffer Lorenzo Trinidad (bass) share credit for the sparse but powerful arrangements. Harada primarily provides sonic filler, but also adds melodic accents. All four write, and although their music is thoroughly modern in style they evoke memories of the light Top 40 hits of the early 1960s with "Dark Doo Wop."
This limited-edition album is sold at the band's gigs and at www.unitycrayons.com.
---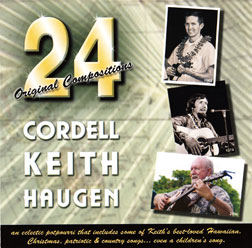 Author! Author! 24 Original Compositions - The Best of Keith Haugen, Volume One
Cordell Keith Haugen
(Island Viking - IVCD 107)
Keith Haugen has been one of Hawaii's most prolific songwriters for several decades. Many of his songs have been recorded by others, but with this 23-song anthology he shares his own vintage versions, and the title of the album suggests they are his favorites. They include Hawaiian-language compositions ("Ka Makana o Pauahi"), modern hapa haole songs ("Brown Skin Woman," "Protea"), and a diverse assortment of others written and performed primarily as contemporary American folk music. Haugen's many fans on the mainland and other parts of the world will find this a convenient overview of his work.
Haugen combines Christmas wishes and a political message with "Cease Fire, a Christmas Song," and recalls America's unwilling involvement in World War II with "We Still Care, the Pearl Harbor Commemorative Song," and "Mokukaua, a Victory Song for the USS Missouri." With "The Lei Maker," he comments on the erosion of traditional Hawaiian culture.
Haugen is also a personable folk singer and includes several examples from that repertoire. "To That Little Girl Who Taught Me Love" is particularly memorable, an earnest account of a youthful relationship that he sums up with the cryptic comment, "our little childhood secrets are just for me and you."
Haugen's voice has the well-worn timbre of a seasoned old-time troubadour, and is the perfect vehicle for conveying the sentiments contained in his heartfelt lyrics.
John Berger
, who has covered the local entertainment scene since 1972, writes reviews of recordings produced by Hawaii artists. See the Star-Bulletin's Today section on Fridays for the latest reviews. Reach John Berger at
jberger@starbulletin.com
.