---
FAST FACTS HAWAII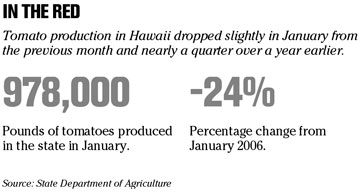 ---
MLP wants to offer more shares
Maui Land & Pineapple Co
. is looking to more than double the number of shares it can offer.
In a proxy filing with the U.S. Securities and Exchange Commission on Tuesday, the company's board requested the authorization of an additional 14 million shares of common stock, bringing the total to 23 million.
Shareholders will vote on the proposed increase at the company's annual meeting May 7.
If the additional shares are approved, MLP has no immediate plans to issue the stock, company spokeswoman Teri Freitas Gorman said.
"The company is just seeking flexibility for future growth, new business transactions, stock option awards, acquisitions, etc.," she said. "We are just purchasing flexibility."
Out of MLP's 9 million current shares of common stock, 8.15 million are outstanding, giving the company a market cap of $244.5 million. Former America Online chief executive officer Stephen Case owns 45.5 percent of the shares, according to the filing.
Pomare exec joins HPU
Kenneth T. Uemura will join Hawaii Pacific University as vice president and chief financial officer, effective April 1, the university said in a news release.
Uemura is currently CFO, treasurer, and corporate secretary of Pomare Ltd., operates the Hilo Hattie stores.
Uemura replaces Lloyd Fujie, who passed away on Dec. 28, 2006.
[ HAWAII INC. ]
NEW HIRES / PROMOTIONS
» Hilton Waikoloa Village has announced the following new hire and promotions:
Jim Russell
has been named director of front office operations. He will oversee functions of the resort's front office, including cost control. He previously served as assistant director of the front office at the Millennium Hilton Hotel in New York City and has more than 20 years of experience in the hospitality industry.
Presly Hart
has been promoted to assistant director of safety and security from security supervisor. He will be responsible for providing a safe environment for guests. He has worked at the resort since 1989.
Keith Fujikawa
has been promoted to hotel assistant manager. He will provide guidance to the rooms division and ensure consistent compliance with hotel policies.
BOARD ELECTIONS
» University of Hawaii at Manoa has hired Virginia Hinshaw as chancellor. She will provide administrative and academic leadership to the UH system's flagship campus. She currently serves as provost and executive vice chancellor of University of California, Davis and will start her new position, effective July 1 for five years.
» TechniScan Medical Systems has elected Dr. John Klock to its board of directors. He is chairman and co-founder of Holistica Hawaii Preventive Medicine, where he is applying modern medical technologies for disease prevention and health screening to develop programs for maintaining optimal health through prevention. He has also served as a developer of biomedical companies for more than 20 years.
---
Palm profits fall, sales climb
SAN JOSE, Calif. »
Palm Inc.
reported a 61 percent drop in its third-quarter profits yesterday as speculation of a buyout continued to swirl.
Sales of the company's Treo smart phones reached record levels, but increased costs, $5.7 million in stock-based compensation, and $3.7 million in acquisition-related charges hurt Palm's bottom line.
For the three months ended March 2, the Sunnyvale-based company said it earned $11.8 million, or 11 cents per share, on revenue of $410.5 million. In the year-ago period, Palm earned $29.9 million, or 28 cents per share, on sales of $388.5 million.
Rumors of a potential Palm sale rose in recent months as its competition stiffened and news of the company hiring Morgan Stanley to explore its strategic options surfaced, but Palm executives refused to discuss them yesterday.
YouTube competitor in works
NEW YORK » NBC Universal and
News Corp.
joined forces yesterday with several major Internet companies to distribute TV shows, video clips and movies online in an effort to better control their programming and counter competition from YouTube.
The new network, which would launch this summer, comes in response to the explosive growth Google Inc.'s YouTube.
The venture is aimed at giving broadcasting companies like NBC and News Corp., which owns the Fox broadcast network and the Twentieth Century Fox movie and TV studio, greater control over how their shows are distributed on the Internet. NBC, a unit of General Electric Co., also owns the Universal film studio and several cable channels including Bravo.
Rather than create one online destination, the shows will be available through a number of Web sites that already receive large amounts of visitors, including Yahoo, Time Warner Inc.'s AOL, Microsoft Corp.'s MSN, and MySpace, which is owned by News Corp.
Mortgage rates edge up slightly
WASHINGTON » Rates on 30-year mortgages edged up slightly this week but still remained near the lowest level for the year.
Mortgage giant Freddie Mac said yesterday 30-year, fixed-rate mortgages averaged 6.16 percent this week.
That was the second-lowest level for the year, up only slightly from the low for this year of 6.14 percent, where 30-year rates had been for the two previous weeks.
That was the lowest for 30-year mortgages since they averaged 6.13 percent the week of Dec. 21.
Rates on 15-year, fixed-rate mortgages, a popular choice for refinancing, edged up slightly this week as well, rising to 5.90 percent, up from 5.88 percent. Five-year adjustable rate mortgages averaged 5.91 percent, up from 5.90 percent last week. One-year adjustable mortgages dipped to 5.40 percent.
---
BUSINESS PULSE