| | |
| --- | --- |
| | Newswatch |
---
SUPPORT FOR TEENS: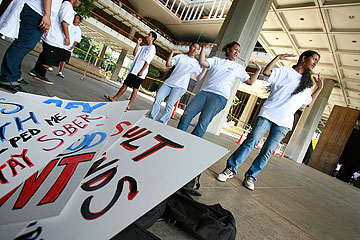 Abuse of girl triggers indictment
A 20-year-old Kalihi man was indicted by an Oahu grand jury yesterday after his girlfriend's daughter was allegedly beaten, bitten and burned last week.
A 3-year-old girl was brought to the Kapiolani Medical Center for Women & Children March 13 for unexplained injuries, including lacerations to her mouth and burns on her buttocks.
On March 14 the mother, 19-year-old Monica Villa, was arrested on a charge of endangering welfare to a minor.
Jim Fulton, spokesman for the Prosecutor's Office, said over the course of a week, Villa's boyfriend Shawn Bangloy hit the girl repeatedly in the mouth and caused second-degree burns on her body.
According to court documents, Bangloy allegedly admitted to striking the child numerous times; grabbing, squeezing and biting her arms; and burning her with a night light.
Bangloy was indicted in Circuit Court yesterday morning on three counts of second-degree assault and abuse of a household member.
Bangloy was charged with second-degree assault in Circuit Court on Saturday, while Villa was charged with endangering the welfare of a minor as a misdemeanor on March 14. Villa has been charged in Family Court for endangering the welfare of a minor.
Bangloy was free on $40,000 bail yesterday. An arraignment date will be set.
Prison begins for violent convict
A Waimanalo man convicted in March 2004 for assaulting a beachgoer who tried to stop him from beating a dog began serving his sentence yesterday.
Circuit Judge Derrick Chan ordered Manuel Kupahu Jr. to begin serving a one-year jail term for first-degree assault and six months for cruelty to animals, to be served concurrently. The move came after the Intermediate Court of Appeals earlier affirmed Kupahu's conviction.
Kupahu was found guilty along with his son and nephew for beating "Steve" Van Lier Ribbink at Waimanalo Beach Park in March 2003. Van Lier Ribbink intervened after observing Kupahu punching and attempting to drown his dog, and the two scuffled.
An acquaintance of the Kupahus fetched Kupahu's son and nephew. Witnesses testified that the younger Kupahu came down to the beach saying "Where's that f--ing haole" and a "f--ing haole is going to die on the beach today."
Kupahu maintained he was only disciplining his dog and cooling it off. The dog later died.
The incident was one of six hate crimes reported Tuesday by the state Attorney General in its annual summary for 2006.
Punchbowl permits Easter flowers
Potted plants and artificial flowers for Easter may be placed at grave sites in the National Memorial Cemetery of the Pacific in Punchbowl beginning April 3.
Prematurely placed items will be removed, and permissible items will be removed on April 16.
Permanent plantings, statues, vigil lights, glass objects, toys and any other types of commemorative items are prohibited.
Decorations may not be secured to headstones or markers, and metal hooks to secure potted plants or other decorations are forbidden.
Spring break extends airport wait
Travelers are being urged to show up at state airports at least 45 minutes earlier during the spring break travel season.
State airports are expected to become increasingly busy this week through the beginning of April.
The state Department of Transportation will make additional parking available at all state airports. However, officials are advising travelers to get dropped off or use taxis, airport shuttles or other means to get to the airports.
---
SHINING STARS
---
pact receiving 5-year grant of $700,000
A group plans to spend a five-year federal grant of more than $700,000 annually to get parents involved in their children's education and raise test scores.
Parents and Children Together is getting more than $700,000 through a grant by the U.S. Department of Education's Office of Innovation and Improvement.
The group is administering the Hawaii Parental Information and Resource Center, which will work with a number of agencies and the state Department of Education to increase parental involvement in schools.
The group will target 21 schools on Kauai, Oahu, Molokai and the Big Island, 13 of which are under federal restructuring because of poor test scores.
---
Maeona Mendelson, adjunct professor of human services at Hawaii Pacific University, has been named Social Worker of the Year in Gerontology by the Hawaii Chapter of the National Association of Social Workers.
Most recently she served as executive director of the Hawaii Intergenerational Network. Mendelson is past president of the state AARP branch and a member of its national board.
---
"Shining Stars" runs Mondays through Thursdays.
| | |
| --- | --- |
| | Police, Fire, Courts |
---
HONOLULU
Fall is suspected in death at lagoon
Authorities recovered the body of a 54-year-old man from the water near Keehi Lagoon Beach Park at about 1:30 p.m. yesterday.
Police were still investigating but said the death might be connected to falling off a boat.
The Medical Examiner's Office did not release the man's name pending notification of next of kin. An autopsy is scheduled for today.
2 men arrested in home disputes
Police arrested two men in separate domestic disputes Tuesday afternoon.
At about 2:55 p.m. a 23-year-old man and a 34-year-old woman who live together got into a verbal argument. The man allegedly threatened her with a knife.
Police responded to a disturbance call to their Kalihi home and arrested the man on a terroristic threatening charge.
At about 2:30 p.m. in Manoa, a 21-year-old man and his 21-year-old girlfriend got into an argument that escalated into a physical fight. The woman alleged that her boyfriend attacked her several times and prevented her from leaving the apartment.
The man was booked on charges of abuse and kidnapping.
Husband accused of e-mail threat
Police arrested a 47-year-old man after he allegedly threatened his family via the Internet.
A 47-year-old woman said she received an e-mail at 10:30 a.m. Monday in which her estranged husband threatened to kill her and their son.
The man was arrested Monday at his Kakaako residence on a charge of first-degree terroristic threatening.
WEST OAHU
Stalled vehicle found to be stolen
A 19-year-old man was arrested Tuesday after the vehicle he was driving stalled on the road in Ewa Beach and police discovered it was stolen.
At 4:13 p.m. a patrol officer responded to a stalled vehicle in a center lane near the intersection of Renton and Fort Weaver roads.
A plate and vehicle check revealed that both had been reported stolen, and the suspect was arrested on a charge of unauthorized control of a propelled vehicle.
WINDWARD OAHU
Woman is arrested in credit card theft
Police arrested a 19-year-old woman Tuesday after she allegedly used an elderly man's credit and charge cards without permission.
She allegedly made purchases on a credit card belonging to a 70-year-old man last month and also allegedly used a charge card afterward.
The woman was arrested at her Kaneohe home on charges of fraudulent use of a credit card, theft, identity theft and unauthorized possession of confidential information.
LATE / BREAKING
Maui police open child abuse investigation
Maui police investigators have opened a child abuse and neglect case after an 8-month old girl was hospitalized with suspicious burn marks, said acting Capt. John Jakubczak.
The child's grandparents took her to the Maui Memorial Medical Center after they noticed strange marks on the girl. She had also been suffering from the flu. A doctor also noticed burn markings on the girl's upper-right arm and faces, Jakubczak said. The doctor also said the girl was dehydrated, he said.
The girl was transferred to the Kapiolani Medical Center for Women and Children, where she is in critical condition. No arrests have been made. The girl lives with her grandparents and mother in Kahului.