Local designer heads East
It'll be a bittersweet occasion when local designer Michele Lau presents her Spring/Summer '07 designs at thirtyninehotel tomorrow night. Fans of her line will be treated to a fun-filled display of playful, colorful jumpers, dresses and tops, but the event will also mark the last such showcase for a while.
On April 17, Lau will leave to further her career in New York City, though her future is open-ended. Without a definite plan, she might combine classes at F.I.T. or Parsons with an internship with one of her favorite designers, among them such youth- and urban-oriented designers as Marc Jacobs, Proenza Schouler, Anna Sui, Zac Posen and up-and-comer Philip Lim.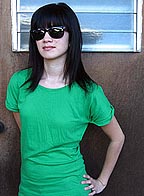 FASHION SHOW
Michele Lau, above, Spring / Summer '07 designs:
» Time: 10 p.m. tomorrow; doors open at 9 p.m.
» Place: thirtyninehotel, at 39 Hotel St.
» Admission: $7; must be 21

THE WOMEN'S CLOSET
Designer fashion, jewelry, accessories and beauty products at up to 75 percent off, with free massages and manicures:
» Time: 10 a.m. to 3 p.m. Sunday
» Place: The O Lounge, 1349 Kapiolani Blvd.
» Admission: $5 donation to benefit YWCA's Dress for Success program
» Call: 944-8436
» Featuring: Designs by Michele Lau, Ginger 13, Roberta Oaks, Melia Conrad and other local designers and boutiques

She's a kindred spirit who'd fit right in with these designers, creating garments for women that reference vintage looks and combine girlie innocence with a sly edge.
For the 16-piece collection Lau will show at thirtyninehotel, she said, "I was very inspired to do lots of volume and height with fun details. I love clothing that can be worn to a casual party or to a club or just going out shopping."
Some pieces include graphic designs created by her brother Michael, a photography student who's drawn to benign monsters. "I've always liked his drawings. Some are just doodles, but they're a huge inspiration to me."
The collection will be available at the Candy Shop in Kakaako as well as at her Web site, www.michelelau.com. She's not certain she'll have the time to continue her line while in New York, although she says she's going to try.
"I love to sew. That's all I do. I hardly go out."
If sewing needles and scissors could be carted onto an airplane, she'd definitely have a couple of pieces completed in the time it takes to fly from Hawaii to New York.
"I really want to bring a sewing machine on the plane. I want it to be with me when I walk off."
Lau's come full circle since the third grade, when her mother encouraged her to sew her own clothes.
"I didn't want to do it. I always wanted stuff from the store," she said. "But in high school I wanted to be an individual. I hated it when I'd see someone wearing the same things as me."
She began to appreciate her grandmother's collection of vintage fabric, including the bright colors of 1960s mod graphic designs. She appreciated color even more after graduating from Honolulu Community College's fashion program in 2000 and moving to Seattle.
"In Seattle everyone was grungy. It was very gloomy," she said, such that coming home to warmth and color, even if her prospects hadn't changed much, felt right. Just as in high school, she started sewing her own warm-weather clothes.
She's not looking forward to more cold winters, but nothing can deter her.
"I'm really scared, but I just feel like, before I die, I want to have that experience of working for some major designers and learn from the best. I don't really want to learn on my own. I want to learn more about the big companies, how they work."