---
FAST FACTS HAWAII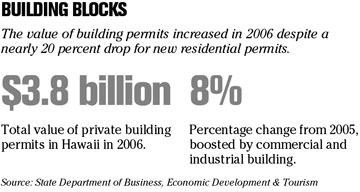 ---
[ HAWAII INC. ]
NEW HIRES / PROMOTIONS
» NetEnterprise inc. has hired
Cory Lindo
as director of the company's sales division. He will institute new sales systems and procedures. He previously developed and managed the Hawaii-Pacific office of LGB & Associates and has worked extensively in sales and business development in the area of information technology.
» The Hawaii Tourism Authority has hired David Uchiyama as marketing director. He will oversee all marketing contracts for leisure and business marketing, including the Hawaii Convention Center and sporting events. He served as regional director of communications for Starwood Hotels & Resorts in Hawaii and French Polynesia for more than 10 years.
» The Japanese Cultural Center of Hawaii has hired Lenny Yajima Andrew as president and executive director effective March 27. She replaces Judge Riki May Amman, who announced her retirement in November. She previously served as an executive neurology specialist with Merck U.S. Human Health and has 17 years of experience in the Honolulu pharmaceutical industry.
» Finance Factors has promoted Aaron Sato to vice president of finance from assistant vice president of its financial administration department. He will oversee the asset/liability function of the company, including managing its investment portfolio, cash and liquidity, deposit administration, interest rate risk management and other related compliance activities. He has worked with the company for three years.
» Central Pacific bank has announced the following assistant vice president promotions: Beth W. Greenhill will oversee planning and coordination of the bank's community events. She joined the bank in 2005 and has more than 15 years experience in event planning. Jay D. Master will develop the bank's collateral and branch merchandising. He joined the bank in 2005 and has eight years of experience in graphic design. Lisa H.J. Nihei will oversee the bank's Web site, www.centralpacificbank.com. She joined the bank in 2004 and has more than seven years of experience in managing Web site design. Jane L. Ratcliffe will manage the bank's commercial documentation department. She is a 40-year industry veteran with more than 25 years in commercial credit. Donna K. Takeda will oversee the planning and coordination of the bank's business events. She joined the bank in 2005 and previously served as an economic development specialist for the State of Hawaii Department of Agriculture.
» Kona Brewing Co. has hired Peter Schauf as vice president of business development. He will lead the company's national marketing and sales efforts. He previously served as director of national accounts for the Gambrinus Co. and has more than 20 years of marketing, sales, people management and international experience within the consumer products industry.
---
FedEx pares back outlook
MEMPHIS, Tenn. »
FedEx Corp.
, the world's largest air-cargo carrier, said yesterday its quarterly profit fell for the first time in three years and cut its earnings forecast.
Net income for the fiscal third quarter fell to $420 million, or $1.35 a share, from $428 million, or $1.38, a year earlier as winter storms damped shipping demand, the company said today in a statement. Revenue rose 7 percent to $8.59 billion.
The shares fell as FedEx pared its outlook for the quarter ending May 31 by 5 cents a share, citing slower economic growth. Slower economic growth is particularly hurting results at FedEx's Express parcel delivery and Freight trucking units, the company said. FedEx hadn't reported a lower year-over-year quarterly profit since November 2003.
"FedEx operates a high fixed-cost business, so when there is a slowdown on the revenue line, the incremental hit on earnings can be disproportionate," said James Gallop, who manages $265 million including FedEx shares at Scotsman Capital Management in New York.
Morgan Stanley wins a round
NEW YORK »
Morgan Stanley Inc.
yesterday won a reversal of a $1.58 billion verdict handed to billionaire Ron Perelman for misleading him in a deal to sell
Coleman Co.
to
Sunbeam Corp.
The Florida Court of Appeal in West Palm Beach ruled that the New York-based investment bank was punished unfairly for destroying e-mails involved in the transaction. The latest decision will be appealed in a case that could end up in the Florida Supreme Court.
Perelman, the chairman of cosmetics giant Revlon Inc., accused Morgan Stanley of conspiring with client Sunbeam to mislead him about the company's financial health. Because of this, he sold camping supplies maker Coleman Co. to Sunbeam in 1988 -- months before Sunbeam restated earnings and ahead of its 2001 bankruptcy.
After the 2-1 vote, Judge Carole Y. Taylor wrote in her opinion that because there was no proof at trial on the correct measure of damages, the final judgment for compensatory damages should be reversed.
Sirius promises more
NEW YORK »
Sirius Satellite Radio Inc.
is promising more programming choices and lower pricing options as part of an effort to convince federal regulators to approve its proposed acquisition of rival
XM Satellite Radio Holdings Inc.
The deal still faces opposition from several consumer groups, however, and what's certain to be a tough regulatory review in Washington by antitrust authorities and the Federal Communications Commission.
In an application submitted to the FCC on Tuesday and disclosed in a regulatory filing on Wednesday, Sirius said that the combined company would allow subscribers greater flexibility in choosing programming options, including a lower price if they elect to receive fewer channels.
Customers of both Sirius and XM already can block out adult-themed channels such as Playboy, adult humor and urban music, but they don't receive any discount for doing so.
Livedoor executives sentenced
TOKYO » A Japanese court sentenced Ryoji Miyauchi, former chief financial officer of scandal-tainted dot-com company
Livedoor
, to 20 months in prison today for inflating earnings reports.
The Tokyo District Court handed down suspended prison terms to three other Livedoor officials.
The rulings came a week after the same court gave a harsh prison term of 2 1/2 years to the company's former chief, Takafumi Horie.
Prosecutors had demanded a 2 1/2-year prison term for Miyauchi, and 1 1/2-year terms for three others -- Fumito Okamoto, Osanari Nakamura and Fumito Kumagai. Miyauchi had pleaded guilty, while the others had pleaded guilty to most of the charges.
Okamoto and Nakamura were each given a 1 1/2-year term with three-year suspended sentences. Kumagai received a year, with a three-year suspended sentence.
Many Japanese view the trials of Livedoor founder Horie and the other former executives as a clear signal that authorities are intent about cracking down on dubious startups and policing new areas of potential securities laws violations.
---
BUSINESS PULSE