| | |
| --- | --- |
| | Newswatch |
---
Illegal modifications and sale of Xboxes puts man in prison
U.S. District Judge Susan Oki Mollway sentenced a 27-year-old Pearl City man Monday to four months in prison for possessing and distributing Microsoft Xboxes illegally modified to store preinstalled games and movies and to play games from other systems.
Don Perreira also must serve four months of home confinement with electronic monitoring and three years of supervised release.
Perreira pleaded guilty to two counts of copyright infringement.
In 2006, John Oroyan, 40, of Waialua, pleaded guilty to one count of copyright infringement. Mollway sentenced him to five years probation, three months of home detention and 300 hours of community service.
Bail set for school custodians
Public school custodians Anna Budinger and boyfriend Scott P. Ishihara will be arraigned in Circuit Court March 29 on charges of selling crystal methamphetamine.
The couple were arrested Friday -- she at Kaimuki High School and he at Nuuanu Elementary -- and charged via information over the weekend with second and third-degree promotion of dangerous drugs, third-degree promotion of a detrimental drug and possession of drug paraphernalia.
Police searched the couple's Kapahulu home and allegedly found crystal methamphetamine. They said they found more drugs and drug paraphernalia in Budinger's car at Kaimuki High.
Bail was set at $20,000 each. Ishihara posted bail and remains free pending arraignment. Budinger remains in custody unable to post bail.
Both were placed on administrative leave.
STATE HOUSE HONORS CHAPMANS: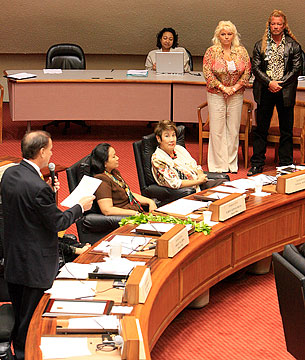 Lingle orders flag at half-staff
Gov. Linda Lingle ordered the state flag flown at half-staff next Thursday in honor of former state Rep. Peter Aduja, who died Feb. 19. Aduja was the first Filipino in Hawaii to be elected to the Territorial House of Representatives.
Flags were flown at half-staff yesterday in honor of former Office of Hawaiian Affairs trustee Thomas Kaulukukui Sr., who died March 9.
The governor's office also said flags will be flown at half-staff in honor of Office of Hawaiian Affairs trustee Linda Dela Cruz on a date to be announced once the family makes funeral arrangements.
Trial set in Kauai animal cruelty
LIHUE » A trial date was set yesterday for the Kauai man charged with animal desertion and animal cruelty for allegedly abandoning his dogs without food or water.
Steve Cummings, 47, of Anahola, was charged in December after Kauai Humane Society officials found three dogs dead and 17 others on his property suffering from dehydration and malnourishment.
He has pleaded not guilty and elected to go with a judge trial, set for May 30.
After being nursed back to health, the surviving dogs were turned over to Cummings' friend, Brian Taniguchi, until the trial is decided.
The dogs continue to gain weight and "are doing OK," said Kauai Humane Society Director Dr. Becky Rhoades yesterday.
---
SHINING STARS
---
DTRIC gives Junior Achievement $5,000
Junior Achievement of Hawaii
has received $5,000 from
DTRIC Insurance Co. Ltd. Hawaii
. JA teaches more than 6,000 students in kindergarten through 12th grade about business, economics and the free enterprise system.
---
The Dowling Co. has donated $10,000 to the Maui Choral Arts Association to produce a concert, "Opera Rocks!" in April at the Maui Arts & Cultural Center.
---
State Rep. Blake Oshiro of the 33rd District (Waimalu, Aiea, Halawa, Red Hill) was appointed co-chairman of the national Council of State Governments. The task force, which meets twice a year, provides a forum for state leaders to address problems in the justice system and public safety.
---
Jacqueline Langley, assistant professor of communication at Hawaii Pacific University, represented Hawaii at the Federation of Indian Chambers of Commerce and Industry Ladies Organization Mission in Delhi and Jaipur, India, this month.
---
"Shining Stars" runs Monday through Thursday.
| | |
| --- | --- |
| | Police, Fire, Courts |
---
Shocked inmates hurt in fall
Two Oahu Community Correctional Center inmates were hospitalized yesterday with injuries received in a fall and possible contact with a live electrical source.
The men, 53 and 41, were in serious condition when transported by ambulance to Queen's Medical Center after the 11:30 a.m. accident. Their injuries were consistent with a fall, said Bryan Cheplic, spokesman for the city Emergency Medical Services.
A prison spokesman said the men were outside on a ladder working on the roof of a module at the Kalihi facility. The spokesman said one or both of the men came in contact with electrified fencing and received a shock, knocking them off the ladder.
The Honolulu Fire Department responded but did not participate at the scene, said Capt. Frank Johnson, department spokesman.
WEST OAHU
Man who eluded cops turns self in
A 21-year-old man turned himself in Monday night after escaping police custody over the weekend.
According to a police report, officers arrested Jordan Simmons at 12:35 a.m. Saturday in Kapolei on two outstanding warrants for arrest on theft charges.
While officers were nearby completing their investigation, Simmons allegedly slipped out of his handcuffs and out the police car window.
He turned himself in at 11 p.m. Monday at the Kapolei station, police said.
LEEWARD OAHU
Man arrested in attack on girlfriend
A 28-year-old man was arrested Monday night after he allegedly assaulted his girlfriend after she found him with another woman.
About 8 p.m. Monday, a 56-year-old Waianae woman let her boyfriend use one of her cars. She later saw the car parked at a Makaha beach with another woman in the passenger's seat.
The victim took the keys out of the ignition. The man demanded the keys back, threatened to punch her and allegedly punched and choked her until she gave the keys back.
She was treated at the hospital. The man was arrested on a charge of second-degree robbery, but police said more charges are pending.
WAIKIKI
Man arrested in choking of woman
Police arrested a 34-year-old man after he allegedly choked a woman he was in a relationship with.
About 2 a.m. Sunday, the suspect and a 22-year-old woman argued in his Pau Street home in Waikiki. The suspect allegedly slammed the woman to the ground and choked her.
The woman fled to a friend's house, where they called police. The suspect was found at his home and arrested for investigation of family abuse.
NEIGHBOR ISLANDS
Hilo work-release fugitive captured
Big Island police have captured a 44-year-old Hilo man wanted for escape for disappearing from a work release program in May 2006.
Detectives arrested Richard Correa yesterday morning at a home in the Kalapana Seaview Estates subdivision in lower Puna. He was taken into custody and charged with escape.
Hawaii Community Correctional Center staff reported the escape to Hilo police Feb. 20. They said Correa was to have returned to the Hawaii Community Correctional Center's Hale Nani Facility from a work release program on May 6, 2006, but failed to do so.
Correa had been sentenced to 120 days in jail for traffic and contempt-of-court convictions.
HONOLULU
Estranged wife says man broke in
A 43-year-old man was arrested after he allegedly entered his estranged wife's home without permission.
The 36-year-old woman has a protective order against her soon-to-be ex-husband, but he entered her Kalihi apartment without permission at 11:30 p.m. Monday, police said.
Once inside, he took a shower and fixed himself something to eat before the two got into an argument. Police later found him near the apartment and arrested him on suspicion of first-degree burglary.