Voyagers to pay homage to chiefs
The crews are sailing to Woleai Atoll, then to Ulithi and Yap
ABOARD THE HOKULE'A » The double-hulled Hawaiian canoes Hokule'a and Alingano Maisu left Satawal yesterday (Hawaii time) en route to Woleai Atoll, as part of a cultural protocol before going to Yap island.
The crews are to meet and deliver gifts to the chiefs of Woleai before going to Ulithi and then to Yap, where higher chiefs are to also be paid homage.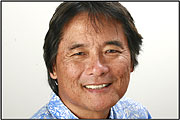 FOLLOW ALONG
» Follow the voyage of Hokule'a at the Polynesian Voyaging Society web site at: www.pvs.hawaii.org

» Star-Bulletin reporter Gary Kubota is sailing with Hokule'a and will respond to selected reader questions from the canoe via satellite hookup, when possible. Email questions to hokulea@starbulletin.com

Hokule'a crew member Max Yaramawai, who was born on Ulithi, said paying respect to the chiefs reinforces their cultural hierarchy and the islands' culture.
"It may not be the American way, but it's their way and we should respect it," Yaramawai said.
The crews are bringing gifts of lava-lavas and coconut sennet.
Before departing, they were given leis and sung songs by the Satawalese.
Hokule'a crew member Keoni Kuoha delivered in Hawaiian a prayer wishing good health to an ailing Mau Piailug, the master navigator who taught native way-finding to the master navigators of the Hokule'a and Alingano Maisu.
Piailug's son Sesario Sewralur is navigating the Alingano Maisu to Yap, where it will be based in a harbor and used to benefit the island of Satawal, making interisland trips for supplies and medical purposes.
The Alingano Maisu was built on the Big Island and brought to Satawal as a gift to Piailug for him teaching way-finding navigation to native Hawaiians.
The crews spent an extra day on Satawal at Piailug's request to be at a family celebration at his home, where they received a buffet of island food including fish, breadfruit, taro and coconut milk.
Several crew members were invited by some people to also drink faluba, an alcoholic beverage made from the flower of the coconut tree.
Some crew members are expected to meet with members of the Hawaii-based Aloha Medical Mission on Ulithi and Yap.
Yaramawai, an official with the nonprofit Oceania Community Health, is working with his brother to build a medical clinic on Ulithi.