| | |
| --- | --- |
| | Newswatch |
---
ADDING SOME COLOR TO CAPITOL PLACE: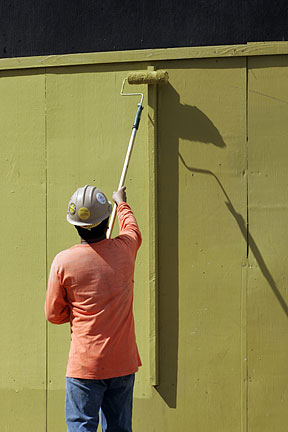 Blaisdell event will attract traffic
Motorists should be advised that traffic will be heavy around Blaisdell Center on Friday due to the heavy attendance expected at the Kamehameha Schools Song Contest that evening.
All gates on King Street and Kapiolani Boulevard will be open for parking after 3 p.m. No left turns are allowed into any Blaisdell parking entrance. Additional parking will be available at McKinley High School.
UH cheers Charter Day on Sunday
A costumed re-enactment of the early years of the University of Hawaii will be part of the Charter Day ceremonies at UH-Manoa on Sunday, marking the 100th anniversary of the signing of the bill by Territorial Gov. George Carter that led to the establishment of the university.
The ceremonies will be part of "High Tea" at Hawaii Hall with Windward Community College theater director and actor Tom Holowach as emcee, members of the university family wearing period costume to play the role of the university's first faculty and a program talking about the early years at UH.
The Royal Hawaiian Band and the ukulele trio Ho'omalie will also perform through the afternoon.
The event is a fundraiser for the grant and scholarship programs operated by the Women's Campus Club. Tickets are $30 per person. Reservations can be made by calling 956-5526 or e-mailing uh100@hawaii.edu.
Caregivers star in Capitol event
The Hawaii Caregiver Coalition is holding a Family Caregiver Day tomorrow to recognize the critical role of caring for frail seniors and the organizations that help support them. The public is invited to attend.
The event will be held on the third floor of the state Capitol from 9 a.m. to 1 p.m. The day's events are part of a monthlong celebration of caregiving.
For further information, contact Tony Lenzer at 261-2095 or tlenzer@hawaii.rr.com; or Percy Ihara at 946-3888, percyihara@hotmail.com.
Andrew leads Japanese Center
Lenny Yajima Andrew is the new president and executive director of the Japanese Cultural Center of Hawaii, replacing retired Judge Riki May Amano.
She starts her position next Tuesday.
Andrew was most recently an executive neurology specialist with Merck U.S. Human Health during her 17 years of working in the Honolulu pharmaceutical industry. She graduated from Harvard University with a bachelor's degree in economics and Japanese studies.
Andrew was general chairwoman for the Honolulu Japanese Junior Chamber of Commerce's 40th Cherry Blossom Festival, and has volunteered for other local groups. She is currently fundraising chairwoman at Hanahauoli School. For more information call 945-7633, e-mail info@jcch.com or visit www.jcch.com.
---
SHINING STARS
---
Filipino-American group gets $8,000
The
Filipino-American Historical Society of Hawaii
received $8,000 from the
Hawaii State Foundation on Culture and the Arts
for the Filipino American National Historical Society Conference last year. It was part of the commemoration of 100 years of Filipino migration to Hawaii. More than 800 people from the United States, the Philippines and Australia attended.
Gabe Baltazar, Domingo Los Banos, Helen Nagtalon-Miller, Rene Paulo
and
Juan C. Dionisio
were honored with Lifetime Achievement Awards.
Jose Bulatao
of Kauai and
Antonia Lambayan
of the Big Island received Community Service awards.
---
Washington Middle School has beaten perennial champions Iolani and Punahou schools to take first place in the 24th Hawaii State MATHCOUNTS competition in March. The award has gone to either private school since the contest began in 1984 in Hawaii. Iolani came in second; Punahou, third; Waiakea Intermediate, fourth; Mililani Middle, fifth; and Parker, sixth, overall. The Washington public school's team consisted of Richard Chang, Julia Chen, Jonathan Huang and Naoki Shigeta; they were coached by Cynthia Ching and Lance Iida. Individual scores showed Richard Chang of Washington, first place; William Gaul of Mililani, second; and Kimo Hon of Parker, third. MATHCOUNTS is a national competition for sixth-, seventh- and eighth-graders.
---
"Shining Stars" runs Mondays through Thursdays.
| | |
| --- | --- |
| | Police, Fire, Courts |
---
CENTRAL OAHU
Man is arrested in assault of roommate
A 46-year-old man was arrested over the weekend for allegedly punching his female roommate, police said.
At about 6:30 p.m. Friday, the suspect and the 43-year-old woman were at a friend's home when he punched her face after he became upset. The woman, who suffered a fractured jaw and was knocked unconscious, reported the assault to police Saturday.
Police in Wahiawa arrested the man later that day for investigation of second-degree assault. -- Star-Bulletin staff