---
FAST FACTS HAWAII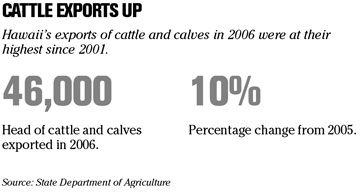 ---
Hiam gets $1.1M to lead HMSA
The chief executive of the Hawaii Medical Service Association earned $1.1 million last year for his work, including bonus.
The state's largest health insurer with $2.1 billion in revenue last year paid CEO Bob Hiam a $620,000 salary and $497,117 performance bonus, or 0.05 percent of annual health plan revenue.
HMSA said Hiam's pay is comparable to that of other large mainland health plans including the $2.18 billion Harvard Pilgrim Health Care, whose CEO earned $1.01 million last year, and Tufts Health Plan, whose chief executive received $900,000.
Hiam joined HMSA in 1970 and became president and CEO in 1995.
Northwest adds Japan flight
Northwest Airlines
announced will increase its daily nonstop schedule from Honolulu to Tokyo to three flights during the peak summer travel season.
While the airline has long offered seasonal frequencies between the destinations in the past, the new flight expands to a third daily flight for the first time, said Jennifer Bagdade, a spokeswoman for Northwest.
The additional flight, which will operate from July 1 to Aug. 31 using Airbus A330 aircraft, is being added to accommodate growing demand for travel between the U.S. and Japan as well as other Asian destinations.
Northwest, which is celebrating its 60th anniversary of service to Asia, has one of the industry's largest Pacific route networks and offers 220 weekly flights from Japan to 19 nonstop destinations.
Longtime Ward store closing
The
Bamboo Barn Ltd.
is closing its doors on the corner of Ward and Kawaiahao Streets next to the Shell gas station after 34 years in business.
The shop, which sells imported bamboo blinds, poles and decorating materials mostly from China, opened in 1973.
Owner Bob Short, 63, says he is retiring from the retail business.
Short also started Teak & Asian Treasures LLC in 2000 with partner Garry Corwin. The business, which sells teak furniture and accessories imported from Indonesia, shares space with the Bamboo Barn. Both businesses will close at the end of April.
---
Enron class action ruled out
NEW ORLEANS » A federal appeals court ruled yesterday that Enron Corp. shareholders cannot proceed with a class-action lawsuit against investment banks for their alleged role in the accounting fraud that led to Enron's collapse.
The 5th U.S. Circuit Court of Appeals opinion reversed a ruling that said shareholders could sue as a class.
Shareholders' attorneys argue that Merrill Lynch & Co., Credit Suisse Group and other investment banks that did business with Enron should be held liable for billions of dollars in damages. The attorneys general supporting the shareholders are from 30 states, including Hawaii.
William Lerach, an attorney for the policyholders, said they are likely to appeal yesterday's ruling to the U.S. Supreme Court.
Sanyo chairwoman resigns
OSAKA »
Sanyo Electric Co.
chairwoman Tomoyo Nonaka resigned today for personal reasons amid an accounting scandal at the struggling electronics firm.
Sanyo has been cooperating with an investigation by securities authorities into suspected window-dressing of earnings. Local media reports have said Sanyo wrote off losses of 190 billion yen at its subsidiaries in 2003, but reported the losses as 50 billion yen.
Sanyo's shares have slid about 35 percent since Nonaka was named chairwoman April 8, 2005.
The company, which expects a third year of losses in the 12 months ending March 31, is trying to revive earnings by getting out of making chips and liquid-crystal displays and focusing on solar panels and batteries.
Sanyo is in position to become the biggest customer of Hawaii-based Hoku Scientific Inc., which last month signed a $370 million contract to provide polysilicon for solar panels to the Japanese company.
---
BUSINESS PULSE