---
FAST FACTS HAWAII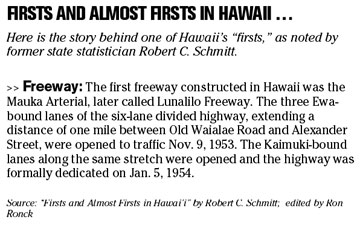 ---
Housing weakens retail sales
As the American housing market boomed in recent years, Americans took billions of dollars out of their homes and used the money to buy other things. When the housing market faltered, an important issue became whether that would drive down other spending, further slowing the economy.
So far, the evidence is that retail spending has weakened, but not by nearly as much as it did in the most recent recession, in 2001.
The February figures, released last week, show a year-over-year gain of 3.6 percent, far below the 9.6 percent increase posted in the summer of 2005, when the housing boom was in full swing, and even further below the 10.9 percent gain in early 2000.
If the decline in growth of consumer spending continues, more retailers may conclude that they need to change the way they are operating. But so far at least, Americans have been willing and able to keep spending at rates that are not recession-inducing.
Fewer employees drugged at work
Chances are better that your cubicle-mate is showing up to work sober. Fewer people are using drugs in the workplace, thanks to employer crackdowns and increased awareness of drug-testing programs.
Workplace drug use hit a new low in 2006, according to the annual Drug Testing Index recently released by Quest Diagnostics Inc., a workplace drug-testing service.
Amphetamine use among federal workers, including pilots, truck drivers and others mandated by the U.S. Department of Transportation for drug testing, fell 20 percent last year, the index reported.
Use of marijuana, the most commonly detected drug, fell 6.3 percent among the general work force, according to Barry Sample, Quest's director of science and technology for the employer solutions division.
More businesses are submitting their employees to drug tests, including the majority of the Fortune 1000 companies, he said. Drugs users seem to have caught on, learning to look for work elsewhere if they aren't ready to kick the habit, he said.
Most women think they're involved
More than half of affluent men, 56 percent, say husbands make financial decisions in the home, but their wives beg to differ, according to a report released by
Spectrem Group
, a consulting firm. Nearly two-thirds of women believe financial decision-making is a joint effort, the report found.
Despite their differing beliefs, men and women pool their money in most affluent households, with just 5 percent of families separating finances.
The report is based on telephone interviews conducted in late 2006 among more than 500 affluent households, which include those with more than $500,000 of investable assets.
---
BUSINESS PULSE