| | |
| --- | --- |
| | Newswatch |
---
RESPECT FOR HAWAIIAN BURIALS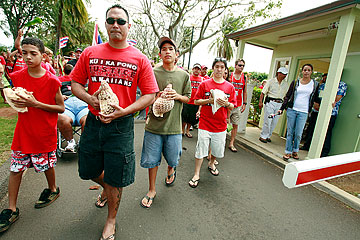 Coast Guard fails to sink carcass
Though 30 rounds from an M-16 rifle failed to sink a floating whale carcass offshore from Hilo on Friday, the Coast Guard wasn't called back yesterday to help, a Coast Guard spokeswoman said yesterday.
Coast Guard personnel from the cutter Kiska had fired into the dead whale's lungs Friday in an attempt to sink it, but it continued to float.
State and federal wildlife officials had asked for Coast Guard assistance at 1 p.m. Friday because as many as 10 large sharks were attracted to the carcass about two miles off shore.
The Coast Guard reported Friday that winds had shifted to the northwest, and it appeared the carcass was moving out to sea.
Potential surf coaches invited
Anyone interested in becoming a coach for a high school surf team can get information at a meeting in Wahiawa tomorrow.
The one-hour meeting at 9 a.m. at Leilehua High School Room HH205 will cover requirements for surf team coaches, advisers and student athletes, said organizer Iris Kahaulelio of Kahuku High School.
Prospective coaches who attend will be able to register for a water safety course April 4 to 7. The cost is $340.
Kahaulelio, who coaches students in the Koolauloa Surf Club, said she expects students will compete in school-sanctioned surf contests beginning in the next school year.
The state Board of Education designated surfing a high school sport in May 2004, but contests have not taken place because of delays in writing rules for the sport.
Kahaulelio can be reached at khsiris@aol.com.
State pothole hot line restored
The state Pothole Hotline has been restored to its original number: 536-7852 (PUKA).
Motorists can use the automated hot line to report potholes on state highways. Callers are asked to provide as much detail as possible, including location, severity and lane or landmark information.
MARCHERS PROTEST WAR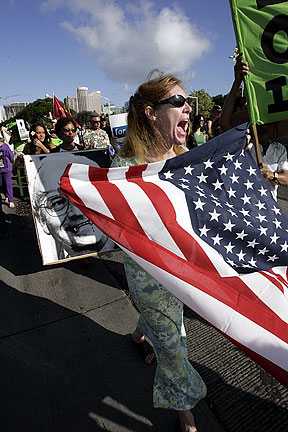 | | |
| --- | --- |
| | Police, Fire, Courts |
---
[ THE COURTS ]
Man sentenced for assault, rape
HILO » A Big island man who pleaded guilty to repeatedly beating and raping his girlfriend over a two-month period has been sentenced to 30 years in prison.
Ernest Horcajo III, 26, must serve a minimum of six years and eight months before he will be eligible for parole.
The sentence imposed last week by Circuit Judge Glen Hara was the result of a plea deal in which an attempted murder charge against Horcajo was dropped in exchange for his guilty plea to seven counts of assault and sexual assault.
Horcajo pleaded no contest to an additional charge of kidnapping. His attorney, William Heflin, said Horcajo felt he had a valid defense against that charge.
A police report said that among his acts, Horcajo beat his girlfriend with a pipe and a golf club, breaking her ribs, jaw and nose and rupturing her spleen and kidney.
Horcajo and the girlfriend were living in a tent in 2004 on a house lot in a rural Ainaloa subdivision south of Hilo until the owner of the property persuaded the girlfriend to escape.
Waikoloa slaying suspect indicted
HILO » Big Island shooting suspect Lito Mateo, 53, of Waikoloa has been indicted on charges of second-degree murder and use of a firearm in the death of Tito Rafo, 38, also of Waikoloa.
Mateo's bail was raised to $1 million from a previous $500,000.
Police responded to the reported shooting March 8 at the Waikoloa Resort, where they found the victim in a parking lot, dead from multiple gunshot wounds.
[ POLICE / FIRE ]
Father finds girl, 3, dead in car
A 3-year-old girl died yesterday after her father apparently left her alone in a vehicle for an undetermined amount of time, the Honolulu Fire Department reported.
A man brought his daughter to the Makiki Fire Station on Wilder Avenue at 11:52 a.m. yesterday, said Fire Capt. Warren Aki.
"By the time the gentleman got here, she was pulseless and not breathing," Aki said, and her body temperature was high.
Firefighters did CPR on the girl until emergency medical services personnel arrived a few minutes later, Aki said. An ambulance took the girl to Kapiolani Hospital, where she was pronounced dead, he said.
The father told firefighters he had left the girl in a car, Aki said, and apparently had carried the girl to the fire station from a nearby apartment building.
Police are investigating the incident as an unattended death, a police spokesman said last night.
---
NEIGHBOR ISLANDS
Fire destroys 2 vacant homes in Honaunau
Big Island firefighters are investigating a blaze that destroyed two houses in Honaunau yesterday.
No one was inside either of the single-story homes, which are 200 feet apart from each other. Firefighters put out the fire at 9 a.m., two hours after receiving an alarm.
No damage estimate was available yesterday. The cause of the fire is under investigation.
300 gallons of fuel leaks from jetliner
Big Island firefighters helped contain a fuel spill at the Hilo Airport Friday night.
At about 8:24 p.m., about 300 gallons of jet fuel spilled from a Boeing 737 airplane onto the tarmac at the airport, due to equipment malfunction.
Firefighters placed an absorbent around the spill to contain it. A state airport crash crew secured the area while the airport's clean-up contractor cleaned the area.
WINDWARD OAHU
Pair fools helper, takes off with car
Police are looking for a man and woman who allegedly stole a teenager's car under the guise that they needed roadside help.
At about 3:15 a.m. Friday, an 18-year-old man was driving home from a friend's house through the Wilson Tunnel on Likelike Highway, police said. At the tunnel's exit, the victim saw a car stopped in the side of the road with its hood up, and a woman waving for help.
According to police, when the victim stopped to help, the woman walked up to the passenger's side of the victim's car and asked for assistance, then walked back to her car, put the hood down and drove off.
In the meantime, a man opened the victim's driver-side door and pulled out a handgun, police said. The driver was told to lie on the ground with his shirt over his head. The suspect then drove off with the victim's car.
The suspects' car is described as a black Honda Prelude. The victim's car is a gold 1999 Honda Accord.
HONOLULU
Bus rider attempts to carry off laptop
A 26-year-old man was arrested after he allegedly snatched a laptop from a man's lap while riding the bus Friday night.
At about 9:45 p.m., a 31-year-old man had his laptop snatched from him as he rode the Kalihi Express E-bus, police said. The suspect left the bus and the victim chased him.
A good Samaritan helped detain the suspect before police arrived. The laptop was intact, and the suspect was arrested on a second-degree theft charge, according to police.
WAIKIKI
Guards arrested after 4-man fight
Two hotel security guards were arrested after a four-way brawl outside the Ohia Student Suites on Kuhio Avenue.
At about 4:30 a.m. Friday, a 24-year-old man approached the two guards outside the building and allegedly hit one of them, a 21-year-old man, in the face with a pipe, police said.
The injured guard chased the initial suspect and fought with him, according to police. The second guard, an 18-year-old man, tackled the initial suspect. The first guard allegedly hit the 24-year-old in the face with a pipe, according to police.
A fourth person allegedly kicked the 24-year-old in the head. The man was hospitalized in serious condition with head injuries.
Both security guards were arrested on a second-degree assault charge. The 24-year-old has not yet been arrested pending release from treatment, police said. The fourth suspect also has not been arrested yet, police said.
Youth's joyride leads to arrest
A juvenile was arrested after he allegedly went joyriding with a city golf cart at Kapiolani Park.
The minor allegedly climbed over a locked gate at the park at about 8:40 p.m. Friday, and went into the city nursery.
The juvenile allegedly drove an electric golf cart utility vehicle around until a passerby reported the incident, police said. The juvenile was arrested on unauthorized control of a vehicle and criminal trespassing.