Train, higher taxes en route?
The
March 8 Star-Bulletin story
about the mayor's plan to proceed with construction on the mass transit project without either the Federal Transportation Administration's record of decision or full funding agreement makes one wonder what all the urgency is about.
The city has chosen a route but hasn't yet picked the type of system it plans to buy. Depending upon the method chosen, there is going to be a lot of design work performed and then reviewed before any work can be done. And land will have to be acquired. I suppose they could save some time by skipping the review process and then hand out some generous change orders as the project progresses.
I hope the city isn't planning to enter into any contracts it can't pay for. From some of the comments made by City Council members in the article it sounds as if they are ready to borrow money against the grant they are expecting from the feds. But no one knows how much the feds will give. That could conceivably leave the taxpayer holding the bag again. Could they be laying the groundwork for an additional increase to the general excise tax?
Bill Nelson
Haleiwa
---
STARBULLETIN.COM BIRTHDAY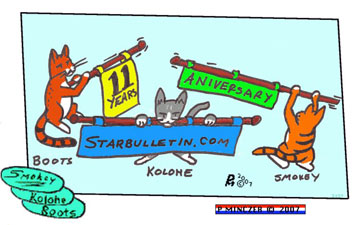 Drug test a start to ending welfare fraud
I am thankful for my public service job, which requires me to take a random drug test. I agree, the drug test is a must.
Donald G. Micco ("First the urine test, then a welfare check," Letters, Feb. 22) has an excellent idea. I think requiring welfare recipients to pass a drug test is a beginning to exhaust another avenue of public assistance check abuse.
If we are serious about dealing with our island problems, we must attain a mentality of intervention at all levels of income and act on it.
Kathleen Bago
Waialua
Hawaii ignores reality of racial discord
The fact that the Waikele Center beatings are being prosecuted as simple assault rather than a racially motivated crime is another example of Hawaii trying to hide this unpleasant facet of island life for the sake of the tourist industry.
It was a decision motivated by politics and business, not by the facts of the case.
As long as Hawaii buries its head in the sand regarding local-haole relations, the violence will continue to get worse.
William Moake
Honolulu
Think about words used in front of kids
Regarding the Waikele assault case: Whether or not the Paakaulas committed a hate crime, one thing is for certain. Hawaii's dirty secret of institutionalized racism has been exposed for all to see.
Perhaps it's time for the parents of Hawaii to take this moment to think about the words they use and teach their children. It's long overdue for the "H" word to go the way of the "N" word. Just substitute the "N" word next time you hear someone use the "H" word and you'll get an idea of how it sounds to those to whom it's directed.
Wayne Kilthau
San Jose, Calif.
Hawaii native
Hawaii justice will let the accused off easy
So the bullies who are accused of beating the couple senseless in Waikele are sorry (
Star-Bulletin, March 16
)?
Sorry might cut it if you accidentally cause harm to somebody, but not if you beat a woman unconscious and kick a defenseless, unconscious man's teeth in. But just watch, all it will take is a tearful apology in court with the defendants surrounded by a bunch of weeping relatives and our gutless judicial system will let them walk.
Alan Fentriss
Honolulu
Make all port users treat environment right
Your
March 15 "Big Q" survey on the Hawaii Superferry
asks the wrong question. It ought to ask "Should an environmental study be a condition for the operation of any heavy ships using Hawaii's ports?"
To such a question I would vote "yes." Hawaii's environmental health is paramount to both the happiness of its residents and visitors, and the health of its tourism-based economy. Recent events such as the sewage spill last year and the ongoing development rush make such legal safeguards imperative for conserving Hawaii's natural resources -- the very reason people choose to vacation and live here.
However, the bill before the state Legislature, to which this poll refers, currently singles out Hawaii Superferry only for a potentially costly, last-minute environmental study. This appears to be more of a delaying technique being cynically used by the Superferry's enemies than a legitimate law designed to protect Hawaii's environment. For that reason I must vote "no," even though I do believe that Superferry, and all other heavy port users, should be required to submit periodic environmental studies as a condition of continuing operations here.
Byron Gibson
Honolulu
Waikiki should not be friendly to dogs
Honolulu is going to the dogs, on the grass at Waikiki Beach where the tourist sunbathe. Its time for me to leave.
Dogs belong home in the back yard, not in a tourist metropolis such as Honolulu. Do not ruin a good thing.
Etta Dorf
Brooklyn, N.Y.
Crossing the Line