Hawaiian way-finders to join exclusive club
Hokule'a navigators to be named Pwo, or masters
SATAWAL, Micronesia » Sitting near a canoe house on Satawal island, Big Island resident Chadd Paishon and several other native Hawaiians prepare for induction into a select group of Pacific seafarers who have mastered the art of way-finding navigation -- the first time that non-Micronesians are receiving the honor.
"It's something that we never looked to get. For all of us, we're almost feeling not worthy because it's theirs," Paishon said.
5 WILL BE HONORED AS MASTER NAVIGATORS
At a ceremony this weekend on a tiny island in Micronesia, Nainoa Thompson and four other native Hawaiians will be bestowed the title of Pwo, or master navigator.

The honor is among the ceremonies on Satawal as the voyaging canoes Hokule'a and Alingano Maisu complete their mission of honoring that island's master navigator, Mau Piailug.

The induction ceremony will include the ritual of putting medicinal herbs to the hearts and heads of inductees, symbolizing the requirement that they have the right hearts and minds as master navigators.

Paishon and several others -- including Hawaii residents Nainoa Thompson, Shorty Bertelmann, Bruce Blankenfeld and Chad Babayan -- are scheduled tomorrow (today in Hawaii) to receive the designation of Pwo, or master navigator. They will be in the same school as Mau Piailug, known for his 1976 Hawaii-Tahiti navigation that supported the assertion Polynesians were capable of making ocean voyages centuries before Europeans.
As part of the preparation before the Pwo ceremony, the inductees, including Piailug's son, Sesario Sewralur, are to be sequestered overnight in the men's house, a structure constructed of thatched coconut leaves and 40-foot-long breadfruit tree beams resting on concrete pillars.
A feast of turtle, fish, taro and breadfruit is being prepared, some on an "umu," or above-ground oven with fired coral stones covered with breadfruit leaves.
The induction is through the Pulap-founded Weriyeng School of Navigation, where Piailug learned his native way-finding, reading the signs of nature to find pathways to different islands, including knowledge of the movement of stars, the moon, the sun, waves, currents, clouds and birds.
During the ceremony this weekend, crews of the double-hulled canoes Alingano Maisu and Hokule'a will present gifts to the chiefs and Piailug. The ceremonies also include the presentation of the Alingano Maisu to Piailug, a culmination of his dream to see Satawalese take up deep-ocean voyaging one day through the help of native Hawaiians.
Piailug's home island of Satawal, where the ceremony will take place, is about a mile long and a half-mile wide, with an average elevation of 8 feet. The closest island, Pulap, is about 140 miles away.
The isolation and vulnerability of Satawal to storms, including typhoons, and tsunamis present a challenge to its 600 inhabitants and has bred an atmosphere for way-finding navigators.
A supply ship stops on the island about once a month, and any additional travel has to be provided by their use of oceangoing vessels.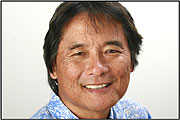 FOLLOW ALONG
» Follow the voyage of Hokule'a at the Polynesian Voyaging Society web site at: www.pvs.hawaii.org

» Star-Bulletin reporter Gary Kubota is sailing with Hokule'a and will respond to selected reader questions from the canoe via satellite hookup, when possible. Email questions to hokulea@starbulletin.com

In 1972 the frequency of supply ships was once every three months, when a young Piailug sailed more than 700 miles north to Saipan through typhoon-frequented seas.
Piailug was familiar with ancestral chants describing Satawalese migration to Saipan, and wanted to reaffirm that migration was possible -- a situation similar to the reason behind the Hawaii-Tahiti voyage in 1976.
Pwo navigator Lambert N. Lokopwe, in charge of advising cultural protocols, said Piailug will be in charge of the induction, including the ritual of putting medicinal herbs to the hearts and heads of inductees, symbolizing the requirement that they have the right hearts and minds as master navigators.
Lokopwe said the master navigators are also ambassadors to other islands.
"Navigation is a life of service, and to serve, you must be able to have the qualities of respect, humility, leadership and courage and carry the light of knowledge," he said.
Lokopwe said Piailug has been serving the community for many years, helping to bring supplies to the island as well as fish and turtles.
Lokopwe said the designation of Pwo is difficult to achieve, and he feels happy that native Hawaiians are achieving the status, because it represents the spirit of sharing based on ability and the qualities of good navigators.