| | |
| --- | --- |
| | Newswatch |
---
ARE WE HAVING FUNNEL YET?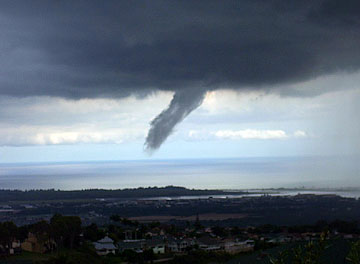 Kamehameha wants request nixed
Kamehameha Schools asked the U.S. Supreme Court yesterday to deny a lawyer's request to have the court review whether the school's admission policy of giving preference to native Hawaiians is legal.
The school's filing came two weeks after attorneys for a non-Hawaiian student asked the high court to review an appeals court ruling upholding the century-old practice.
Kamehameha defended its policy by writing to the court that it was created to help native Hawaiians who have suffered economically and socially since the U.S.-backed overthrow of their kingdom in 1893.
Earlier this month, Eric Grant, a Sacramento, Calif., attorney representing the non-Hawaiian student who was denied admission to Kamehameha, asked the Supreme Court to reconsider a ruling on the case by a 15-judge panel of the 9th U.S. Circuit Court of Appeals. The panel voted 8-7 in December to affirm U.S. District Judge Alan Kay's 2003 ruling that found Kamehameha's admission policy does not violate federal civil rights laws.
Grant has said he expects the Supreme Court to decide whether to take up the case sometime before the summer recess in June. If the court agrees to the petition, the case could be heard as early as October, he said.
Fallon controls Central Command
The United States is ready to defend its interests in the Middle East for decades to come, even though the Iraq war has been tougher than expected, Defense Secretary Robert Gates said yesterday.
Gates appeared at a change-of-command ceremony where Navy Adm. William Fallon was installed as the new head of U.S. Central Command. "The situation in Iraq is critical, and time is of the essence," Fallon declared.
Fallon, who left the Hawaii-based U.S. Pacific Command earlier this week, is now in charge of American forces in the Middle East and Central Asia.
Fallon replaced Gen. John Abizaid, who led Central Command since 2003 but is leaving as part of President Bush's reshuffling of Mideast military commanders. Besides Iraq, Fallon will also oversee the war in Afghanistan, where Gates is pushing for a coalition offensive to counter the expected increase in Taliban attacks as the weather warms this spring. The United States has already increased forces there.
Fallon, 62, takes over the job in the midst of a raging congressional debate over the administration's strategy in Iraq, even as more U.S. troops pour into Baghdad as part of Bush's plan to bring security and stability to the country.
Speaking directly to Fallon, Gates said, "We need you again. You are one of the best strategic thinkers in uniform today. You are exactly the right person for this post."
"Much work is in front of us," Fallon said in brief remarks after accepting the flag of command from Abizaid in a rainy-day ceremony steeped in military symbolism.
---
Star-Bulletin staff and Associated Press
| | |
| --- | --- |
| | Police, Fire, Courts |
---
Spanking attempt leads to arrest
A 38-year-old mother was arrested after she allegedly bruised her daughter's arm as she tried to spank the girl.
At about 5:10 p.m. Thursday, a Kailua mother and 14-year-old daughter argued about coming home late and doing chores, police said. The mother tried to spank the daughter on her behind, but the daughter raised her left arm to block it, according to police. Her arm was slightly bruised.
The mother told the daughter to leave the house so they could both cool down. The daughter went to a nearby mall to meet her sister, where they called police. The mother was arrested for investigation of assault and endangering the welfare of a minor.
The case has been reclassified as a misdemeanor, and the mother will be required to appear in Family Court.
---
WEST OAHU
Man allegedly uses weapon on police
Police arrested a 43-year-old man after he allegedly attacked patrol officers with nunchucks.
At about 9:30 a.m. yesterday, a patrol officer was investigating a domestic-argument call in Ewa Beach when the suspect tried to strike the officer with his fists, police said.
The officer used a taser gun with no effect on the suspect, according to police. The man allegedly reached for nunchucks lying nearby and struck the officer on the left forearm. Other officers responded and arrested the man on suspicion of assault against a law enforcement officer.
The officer sustained contusions and pain on his arm, and was treated. The suspect had head abrasions and also was treated.
HONOLULU
Labor office gets fall investigation
Honolulu police have turned over the investigation into the fatal fall Wednesday of a construction worker from the Moana Pacific Building to the state Labor Department.
The medical examiner said 52-year-old Frank Montayre Jr. died from injuries suffered when he fell from a 46th-floor balcony. He was not wearing a safety belt, police said.
The Hawaii Occupational Safety and Health Division will look at whether there was a failure in an employer safety plan or whether the employee did not follow safety regulations, said James Hardway, a spokesman for the Department of Labor. Montayre was an employee of Hawaiian Dredging.
NORTH SHORE
Coconut is thrown at moving vehicle
A 21-year-old man was arrested yesterday morning after he allegedly threw a coconut at a moving car in Haleiwa.
At about 12:15 a.m. a 25-year-old man was driving on Kamehameha Highway when the suspect, hiding in the bushes, allegedly threw a coconut, shattering the victim's windshield.
Police arrested the suspect on suspicion of criminal property damage.
NEIGHBOR ISLANDS
Victim is identified in single-car crash
Police have identified the victim of a single-car accident in Kau on New Year's Eve as Chad Waite of Ocean View.
At about 10:20 p.m. on Dec. 31, Waite, 33, was driving a 1993 Saturn four-door sedan that ran off the left side of the road at Palm Parkway, according to police. The car caught fire, and a body was found after the fire was extinguished.
Waite was taken to Kona Community Hospital and pronounced dead on Jan. 1. Big Island police had the Honolulu Police Department conduct DNA tests to positively identify the victim.