---
FAST FACTS HAWAII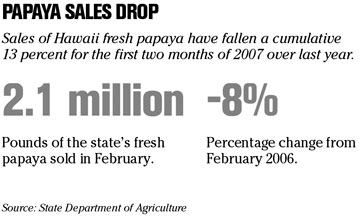 ---
Cyanotech back in line
Cyanotech Corp.
, which earlier this week completed catching up on its delayed financial filings with the Securities and Exchange Commission, said yesterday it has regained compliance with all Nasdaq Stock Market rules and will remain listed on the Nasdaq SmallCap Market.
The Kona-based maker of nutritional products out of microalgae had been threatened with delisting after delaying several financial reports following a company investigation into its historical treatment of certain inventory-related costs.
The company restated three years of earnings last month and on Wednesday filed its fiscal third-quarter financial statement, for the period ended Dec. 31. It was the last financial statement that Cyanotech needed to file to become current with the SEC.
Last year, Cyanotech avoided being delisted for another Nasdaq violation when the company brought its stock price over the required $1 threshold with a 1-for-4 reverse stock split.
Royal Hawaiian building leased
The first of three buildings at the Royal Hawaiian Shopping Center's multimillion-dollar redevelopment is now fully leased, with 31 tenants including eight new retailers and restaurants.
The last of the new tenants is expected to open by the year's end. The new tenants are P.F. Chang's China Bistro, Starbucks Café, Senor Frog's Restaurant and Bar, Borders Express, the Walking Company, Lids, Shining Star and Sunglass Icon.
Renovations of the two other buildings are expected to be completed next year. The total construction cost is now expected to exceed the 2005 estimate of $84 million because of extra elements added to the project, landowner Kamehameha Schools said.
Since 2005 the center has added a new entertainment show, Waikiki Nei, that is requiring raising the ceiling for a 21,000-square-foot showroom. It also is leasing space for Hilo Hattie's flagship 30,000-square-foot store, an addition that wasn't in initial plans.
---
Google buys game-ad provider
MOUNTAIN VIEW, Calif. »
Google Inc.
, seeking to extend its advertising software into new markets, said yesterday it has bought Adscape Media Inc., a privately held company that sells ads in video games.
Terms of the purchase weren't disclosed.
The acquisition gives Google a new kind of ad revenue and a way to expand beyond the Web. U.S. sales of ads in video games will grow to $732 million by 2010 from $56 million in 2005, said Mike Goodman, an analyst at Yankee Group Research.
The acquisition is more about buying Adscape's technology than the company itself, Goodman said. Adscape is smaller than market leaders Massive Inc., Double Fusion Inc. and IGA Worldwide, he said.
Adscape, based in San Francisco, has developed a way to place ads in games that are suited to players' ages or sex, where they live and the time of the day. Game publishers get a commission when the ads are featured in their games.
The purchase follows Microsoft Corp.'s acquisition of in-game advertising company Massive Inc. in May.
Costco subpoenaed over options
ISSAQUAH, Wash. »
Costco Wholesale Corp.
, the largest U.S. warehouse club, received a federal grand jury subpoena yesterday seeking information about stock option grants.
Costco received the request from the U.S. Attorney for the Western District of Washington, the company said today in a statement. Costco is confident in the results of an internal probe that found no evidence of fraud, the company said.
At least 200 companies have disclosed investigations into whether they inflated the value of options granted to employees by timing the grants to coincide with low stock prices. More than 50 companies have received subpoenas from the U.S. Department of Justice.
Costco representatives couldn't be reached for comment late yesterday.
Nissan CEO gives up some duties
TOKYO »
Nissan Motor Co.
Chief Executive Officer Carlos Ghosn will give up daily oversight of North American operations after Japan's third-largest carmaker missed its profit forecast for the first time in seven years.
Ghosn, who heads both Nissan and Renault SA, will hand over responsibility for operations in the Americas to Executive Vice President Hiroto Saikawa, who is also in charge of purchasing, the carmaker said in a statement.
The change will give Ghosn, 53, more time to focus on a plan to be announced next month that will tackle what he's called a "crisis" at Tokyo-based Nissan. Ghosn, who became Renault's CEO in 2005, is simultaneously trying to double the French carmaker's operating margin to 6 percent in 2009.
Nissan last month cut its earnings forecast for the current year due to weaker-than-expected sales in the U.S. and Japan.
---
BUSINESS PULSE