| | |
| --- | --- |
| | Newswatch |
---
A ROOF OVER THEIR HEADS: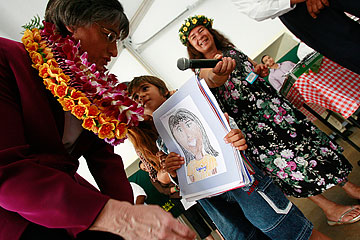 Utility fine will fund school power
As part of a recent settlement with the U.S. Environmental Protection Agency over federal Clean Air Act violations, Hamakua Energy Partners will fund an environmental project valued at nearly $125,000 to generate energy at a nearby school.
The company also will pay an additional $34,335 in fines, the EPA said in a news release.
The company had failed to meet state and federal Clean Air Act permit requirements, including emission limits and emission monitoring requirements, at its 46-megawatt power plant facility in Haina. Recent quarterly reports submitted to the EPA show the facility now complies with the regulations, the agency said.
The company will purchase and install a 10-kilowatt direct-current photovoltaic system to generate electricity at Honokaa High and Intermediate School. The system and all electricity generated will be donated to the school for its own use or to sell back to the local utility grid.
"The project will reduce air pollution on the Big Island by cutting demand for electricity from power plants," said Deborah Jordan, Air Division director for the EPA Pacific Southwest Region, in the release. "We are pleased that Hamakua Energy has worked cooperatively with us to resolve the violations and undertake this project."
School board named for dishonor
HILO » The Big Island Press Club has presented its annual dishonorable Lava Tube Award to the state Board of Education for defying legal advice that it should release information on the firing of state charters schools director Jim Shon in September.
The state Office of Information Practices had told the board to release minutes of a closed-door meeting in which it fired Shon and to release a tape recording of the meeting.
The board eventually released the minutes, but not until after the November ballot, in which several board members were seeking re-election.
"The audio tape of the meeting is still being withheld by the board, despite repeated notices that its refusal to release the tape is illegal," the club said.
The board offered to provide part of the tape if citizen requester Larry Geller would pay $880. As recently as March 8, the OIP told the board that charging for the tape is illegal.
The lava tube represents a place where sunlight does not shine.
The club also gave an honorable Torch of Light award to the West Hawaii Today newspaper for uncovering a previously secret case in the Judiciary involving a Big Island law firm. A judge had ordered information about the case closed.
The Big Island club gives the awards every March 16, which is both Freedom of Information Day and the birthday of U.S. founding father and openness advocate James Madison.
Coming this weekend in your Star-Bulletin:
Saturday
Keeping Faith:
Following on the heels of tomorrow's celebration of the great Christian missionary St. Patrick is a day when some still celebrate the accomplishments of the pagans he converted.
Sunday
Today:
Bust out those shades to protect eyes from the glints of silver and metal emanating from spring's shiny wardrobes.
Business: Big Island developer Brian Anderson and his 26-year-old twin sons, Brad and Cord, have joined forces in a family business that got its start from Anderson's father, former politician and business man D.G. "Andy" Anderson. Their biggest challenge to date is the $60 million redevelopment of the Ilikai Hotel. Also in Sunday's business section, some employers are cracking down on NCAA basketball fans tuning in at work, due to decreased productivity on the job. Corporate America is likely to lose $1.2 billion in productivity from the tournament, according to one professional services firm.
| | |
| --- | --- |
| | Police, Fire, Courts |
---
Search for swimmer is halted
The Coast Guard and the Maui Fire Department suspended their search yesterday for a 75-year-old swimmer who disappeared Wednesday night.
The swimmer, from Los Angeles, was reported missing at about 8:30 p.m. Wednesday from Keawakapu Beach. The search was suspended at 3:30 p.m.
Coast Guard spokesman Michael De Nyse said the search will remain suspended pending any new developments relating to the swimmer.
The Coast Guard's HH-65 Dolphin helicopter, cutter Galveston and other rescue boats searched throughout the night and continued their search yesterday.
Officials concentrated in a 100-square-mile area focusing in the vicinity of the Kihei coastline between Molokini Island and Maalaea Harbor.
Search efforts were focused about seven miles along the coastline and nine miles out to sea.
---
LEEWARD OAHU
2 hungry suspects caught in home
Police arrested an 18-year-old man and a juvenile who allegedly broke into an Ewa Beach home and helped themselves to food and drink.
Police said that at about 9 a.m. yesterday, the suspects broke into the home of a friend and started eating and drinking. When the homeowner, a 50-year-old woman, discovered them, she called police.
Alleged forgery leads to arrest
A 40-year-old woman was arrested yesterday after allegedly trying to cash a forged money order.
At about 1:43 p.m. the woman allegedly tried to cash the forged money order at a Waianae business. She was booked on a forgery charge.
WINDWARD OAHU
Neighbor accused of assaulting man
Police arrested a 40-year-old Kailua man who allegedly punched his neighbor.
Police said that at about 8:30 a.m. Tuesday, the victim, a 40-year-old man, was lying in bed. The suspect, an acquaintance, punched the victim in the face numerous times, fracturing several facial bones, police said.
Officers found the suspect at his home nearby and arrested him for investigation of assault.
HONOLULU
3 arrested in failed theft of mo-ped
Two juveniles and an 18-year-old man were arrested after a failed attempt at allegedly stealing a mo-ped in Makiki.
At about 1:50 a.m. Wednesday, three witnesses saw a juvenile and the 18-year-old taking a mo-ped on Heulu Street while the third suspect acted as lookout across the street.
Police chased down the three suspects and arrested them on a theft charge.
Missing woman found in Mililani
A 43-year-old Foster Village woman who was reported missing last week was located Wednesday in Mililani.
Stacey Vida was last seen by friends shortly after midnight on March 3. After attending a gathering at a friend's house in Salt Lake, she was seen getting into a dark pickup truck driven by a man. Police said Vida was located in the Mililani area at 6:30 p.m. Wednesday.
NEIGHBOR ISLANDS
Big Island man missing for a week
Big Island police are asking for the public's help in locating a missing Hilo man.
Rexford McFarland, 51, was last seen March 8 at the Ainaola Drive home of his sister, where he was living. McFarland recently moved to the Big Island from Oahu.
He is described as 6 feet 7 inches tall, about 222 pounds, with brown hair, brown eyes and no facial hair.
Anyone with information on McFarland's whereabouts is asked to call Officer Grant K. Todd at 961-2213 or the Police Department's nonemergency number at 935-3311.