---
FAST FACTS HAWAII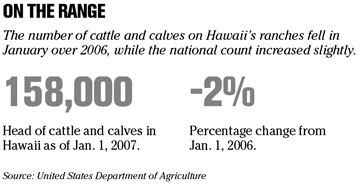 ---
Mesa lowers fares to mark launch
Mesa Air Group
's go! said yesterday it is lowering its one-way interisland fares to $19 again to mark the launch of newly created go!Express.
The previously announced code-share venture with Kona-based Mokulele Airlines will begin service on April 16 with 12 flights a day between Kona and Kahului, Kahului and Kapalua, and Kapalua and Honolulu. Go!Express will fly nine-seat, turbprop Cessna Grand Caravan aircraft.
The $19 fare is available through next Friday on tickets for travel through April 23. Mesa also will offer the $19 fares on its on its CRJ 200 jets.
Hawaiian Airlines and Aloha Airlines both said yesterday they will match the new fares.
Meanwhile, Kahului-based Pacific Wings, which flies the same type of aircraft as go!Express, is adding new routes. Starting in May, the carrier will fly to Kona from both Honolulu and Kahului under its discount PW Express brand, which offers $29 one-way flights
---
30-year rates lowest in 3 months
WASHINGTON » Rates on 30-year mortgages remained at the lowest level since mid-December as investors waited for more concrete information on the direction of the economy.
Mortgage giant Freddie Mac reported yesterday that 30-year, fixed-rate mortgages averaged 6.14 percent this week, unchanged from last week.
Rates on 15-year, fixed-rate mortgages, a popular choice for refinancing, edged up slightly this week to 5.88 percent, compared to 5.86 percent last week. Five-year adjustable rate mortgages were unchanged at 5.90 percent, the same as last week. One-year ARMs dipped to 5.42 percent, down from 5.47 percent last week.
A year ago, rates on 30-year mortgages stood at 6.34 percent while 15-year mortgages were at 5.98 percent, five-year adjustable rate mortgages averaged 5.93 percent and one-year ARMs were at 5.37 percent.
ICE bids $9.9B for Board of Trade
CHICAGO » The 159-year-old Chicago Board of Trade found itself the target of a possible bidding war yesterday when electronic futures market
IntercontinentalExchange Inc.
made a surprise $9.9 billion all-stock bid, threatening its deal to merge with the crosstown Merc.
Investors pushed the shares of parent CBOT Holdings Inc. to a record high in anticipation of a sweetened offer by Chicago Mercantile Exchange Holdings Inc.
The unsolicited bid by Atlanta-based ICE, a relative upstart in the futures and commodities industry, comes less than three weeks before CBOT shareholders are scheduled to vote April 4 on an all-Chicago deal. The Merc's parent company and its century-long rival agreed last October to unite and form the world's largest futures exchange, with CME paying $8 billion.
CBOT declined to comment on the offer, while CME issued a terse statement voicing confidence in its merger effort.
Philippine Air orders long-range jets
SEATTLE »
Philippine Airlines
has ordered two Boeing Co. 777-300 jets and reserved purchase rights for two more, the companies said yesterday.
The extended-range 777-300s allow the airline to expand its direct service between the Philippines and the United States, airline President Jaime J. Bautista said.
The two firm orders are worth about $500 million at list prices, although airlines can negotiate substantial discounts. The orders and purchase rights are for extended-range versions of the 777-300, a twin-aisle, twin-engine passenger jet.
Boeing said Philippine Airlines also plans to lease two more extended-range 777-300s from GE Commercial Aviation Services.
FBI searches ANA office
LOS ANGELES » FBI agents raided the North American headquarters of Japan's
All Nippon Airways
yesterday, authorities said.
Agents executed a federal search warrant at ANA's customer relations and services office in Torrance early yesterday, FBI spokeswoman Laura Eimiller said. She declined to say why the office was under investigation because the search warrant was under seal.
In a statement issued by ANA's headquarters in Tokyo, the company said it had not yet confirmed the reason for the investigation.
The center resumed operating late in the afternoon.
---
BUSINESS PULSE