| | |
| --- | --- |
| | Newswatch |
---
Honolulu No. 6 on energy list
Honolulu made the Top 10 list of the nation's most energetic cities in a survey for Tahitian Noni International Hiro, a global company that develops and markets noni-based and other products -- including Hiro, a new beverage line.
The survey looked at availability of resources for surfing, windsurfing, rock climbing, biking, running, skiing, marathons and triathlons, according to a news release from the company.
The West Coast had a more energetic lifestyle than the East Coast, and the San Francisco Bay Area led the country for the highest percentage of people who walk, bike or get other daily exercise.
The overall quality of health, including data on Body Mass Index and emotional well-being, also were considered in the survey. Washington, D.C., ranked highest in this category, with Austin, Texas, and Honolulu behind.
Following San Francisco as the most energetic cities were San Diego; Boston; Sacramento, Calif.; Denver; Honolulu; Seattle; Portland, Ore.; Los Angeles; and Washington, D.C.
Kaneohe sewer main break fixed
Crews from the city Environmental Services Department completed repair of a ruptured Kaneohe sewer main at about 6 p.m. yesterday, city spokesman Mark Matsunaga said.
City crews discovered the break in an 8-inch pressurized sewer line fronting 45-007 Ka Hanahou Place at 8:30 a.m. yesterday, a release from the city said.
An estimated 3,150 gallons of waste water entered nearby Kaneohe Bay before workers were able to contain the spill.
Tanker trucks were used to divert and haul waste water from the area while it was under repair.
Warning signs were posted and water samples collected. People are advised to heed the warning signs and stay away from affected areas, the city release said.
The state Health Department has been notified.
ROLLIN', ROLLIN', ROLLIN'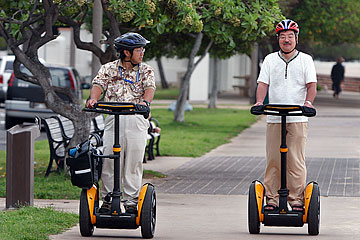 ---
SHINING STARS
---
4 school teams will compete in Japan
Teams from
Hanalani Schools, Konawaena High School, Leilehua High School
and
Saint Andrew's Priory
won trips to Japan this summer for the Japan Wizards Competition. The Japan-American Society of Hawaii sponsored the statewide contest to develop lifelong skills in research, teamwork, responsibility and operating under pressure. Each team includes three students with an adviser.
---
Brenda Cartwright, associate professor for the Department of Counselor Education at the University of Hawaii, was named Rehabilitation Educator of the Year. The National Council on Rehabilitation Education gave her the award for excellence in teaching research and service in her field.
---
The Make-A-Wish Foundation of Hawaii elected as its president for 2007 to 2008 Cynthia D. Quinn, director of communications and external relations at the William S. Richardson School of Law at the University of Hawaii.
Vice president is Kirk S. Barth of New England Financial; secretary, Michelle M. Shin of Damon Key Leong Kupchak Hastert; and treasurer, Tracey A. Keahi, tax manager of Accuity LLP.
Directors include Glenda Bradford, Robert Q. Bruhl, Brandt G. Farias, Leslie Kondo, Lori L. Lee, Michael P. Loo, Alan R. Mattson, Marie Milks and Henry Kapono.
---
"Shining Stars" runs Monday through Thursday.
| | |
| --- | --- |
| | Police, Fire, Courts |
---
Girl's injuries lead to Dad's arrest
Police arrested a 20-year-old man after he allegedly assaulted his 3-year-old daughter.
Hospital staff at Kapiolani Medical Center for Women and Children reported unexplained facial and head injuries on the toddler to police yesterday.
The assault is believed to have occurred at a Kalihi home on Fernandez Street. Police said the toddler is from Kaneohe. Child Protective Services was contacted.
The 20-year-old man was arrested on suspicion of first-degree assault. Charges are pending.
LEEWARD OAHU
Motorcyclist dies a day after crash
A 62-year-old man injured in a motorcycle crash Sunday died Monday.
Cyrus Haleamau of Wahiawa was riding on his motorcycle with a 42-year-old woman while traveling town-bound on Farrington Highway near Makua.
Haleamau lost control, drifted off the right shoulder of the road and into a dirt mound, police said. Both riders were ejected from the blue Harley-Davidson Softtail bike. They were not wearing helmets, police said.
The woman was in serious condition. Police said both speed and alcohol were apparent factors in the crash.
Haleamau is the 21st traffic fatality so far this year on Oahu, compared with 16 at this time last year.
Volkwagen's driver sought in accident
CrimeStoppers and Honolulu police are asking for the public's help in identifying and locating the driver of an old, red Volkswagen bug with a large sticker in the rear window.
About 3:10 p.m. Feb. 11, the Volkswagen and a motorcycle were both heading south on Makakilo Drive in the right lane prior to the H-1 eastbound onramp.
Police said the Volkswagen stopped abruptly, causing the motorcyclist to lose control of the bike. The motorcyclist suffered a broken shoulder and multiple abrasions.
Anyone with information about the incident is asked to call CrimeStoppers at 955-8300.
WINDWARD OAHU
Sea Life Park fire due to salt buildup
A fire that severely damaged a room at Sea Life Park's Reef Tank pavilion early Sunday was caused by excessive salt buildup in an electrical outlet, according to the Honolulu Fire Department.
The fire caused $100,000 in damage, the department said. Fire crews were called to the marine park at 3:13 a.m. and found a fire in a changing room at the pavilion. No one was hurt.
Witnesses catch purse-snatcher
Police arrested a 25-year-old man after he allegedly snatched a woman's purse in Kailua.
Police said that at 10:14 p.m. Monday, a 21-year-old woman was depositing funds into an automated teller machine when her purse was snatched by the suspect.
Police said witnesses intervened and detained the suspect for officers, who then arrested him for investigation of second-degree robbery.
CENTRAL OAHU
Man is arrested in double assault
Police arrested a 27-year-old man who allegedly assaulted his ex-girlfriend and a police officer.
Wahiawa police said they received a call about 10:50 p.m. Monday that the suspect had squeezed his 22-year-old ex-girlfriend's jaw, causing her mouth to bleed, and also pulled her hair. Officers arrested the suspect on suspicion of abuse and took him to the police station, where his speech began to slur, police said.
Officers were then taking the suspect to a nearby hospital when he allegedly bit one officer on the arm, breaking the skin.
He was later arrested for investigation of assault on a law enforcement officer.
WAIKIKI
Homeless man accused of threats
Police arrested a 31-year-old homeless man after he allegedly threatened a maintenance worker at Neal Blaisdell Park in Pearl City.
About 8:55 a.m., police said, a worker with the Department of Parks and Recreation was recovering his tools from under a nearby bridge.
At that time, the suspect brandished a martial arts-type weapon and threatened the worker.
Officers from the Crime Reduction Unit located the suspect. The 31-year-old man was arrested on suspicion of first- degree terroristic threatening.
NORTH SHORE
Tandem skydivers blown off-course
Two skydivers landed in the ocean off Mokuleia yesterday due to gusty winds.
About 9:20 a.m. yesterday, a male instructor and a female passenger landed in the ocean off of the Mokuleia Polo Grounds after doing a tandem jump.
It was the first scheduled tandem jump conducted by Skydive Hawaii yesterday morning, said Frank Hinshaw, the firm's president.
Both were able to swim to shore safely. Jumps were canceled by Skydive Hawaii for the rest of the day, Hinshaw said.
WEST OAHU
Boy, 12, arrested in scissors threat
Police arrested a 12-year-old boy at Pearl City Highlands after he allegedly threatened a 23-year-old special education teacher with a pair of scissors.
The incident happened at 8:15 a.m. yesterday.
The boy was arrested on suspicion of first-degree terroristic threatening. He was released pending investigation.