---
FAST FACTS HAWAII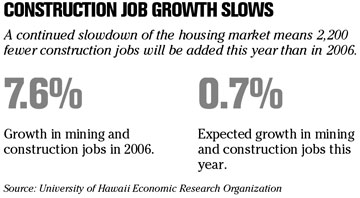 ---
[ HAWAII INC. ]
NEW HIRES / PROMOTIONS
» ALM Management Services, an affiliate of Outrigger Enterprises Group, has hired
Grant James
as general manager. He will be responsible for hotel operations, rental program owner satisfaction and Association of Apartment Owners on-site management. He has more than 28 years of hospitality and retail management experience.
Ron Takayama
has been named assistant general manager. He will oversee the rooms division departments in addition to providing support to James. He has more than 30 years of experience in the hospitality industry.
» Maui Land & Pineapple Co. has promoted Ryan Churchill to senior vice president of corporate development from vice president of planning and development. He will be responsible for planning and executing strategic transactions, and will continue to oversee real estate development projects. He joined the company in 2000 as a development manager.
» Office Pavilion has promoted Bruce C. Shewalter to president from vice president of sales and marketing. He will be responsible for all company operations. He joined the company in 1993.
» Sheraton Moana Surfrider has named Shaun Ono as director of guest relations. He will be responsible for planning and executing events and initiatives; developing a program for the hotel's repeat guests; and overseeing various departments, including concierge, beach and pool, and the Moana Memories Lounge. He was guest services manager for Sheraton Waikiki and the Royal Hawaiian.
» Griffith Construction Consultants Inc. has hired Kyle Pang as project manager. He will oversee construction developments in Kona and on Oahu. He previously served as project manager for Charles Pankow Builders Ltd. on the Royal Hawaiian Shopping Center renovation, and has 11 years of general contracting experience in Hawaii.
» The Fairmont Orchid, Hawaii has hired Rick Nagaoka as director of group sales. He will oversee a five-person sales team and the area of Southern California, Washington and Oregon. He previously served as director of sales and marketing at Mauna Kea Resort and has more than 15 years of Hawaii hospitality experience.
» Commercial Roofing and Waterproofing Hawaii Inc. has promoted Larry Young to vice president of project management and the estimating division. He will oversee the development of the commercial, industrial, public works and federal sectors. He has worked at the company since 1995.
AWARDS
»
The Bank of Hawaii Charitable Foundation
has granted the Contemporary Museum $100,000 in support of its "Contemporary Campaign." The pledge will support the establishment of a new museum wing, community-gathering and education spaces, an expanded library and dedicated gallery areas for exhibiting the museum's permanent collections.
---
Delta expands alliance with Mesa
ATLANTA »
Delta Air Lines Inc.
, the third-largest U.S. airline, is expanding its partnership with
Mesa Air Group Inc.
and reducing its joint operations with R
epublic Airways Holdings
.
Mesa -- which separately operates go! in Hawaii -- will have 50 aircraft flying for Delta, including 14 CRJ-900s owned by Delta and operated by Mesa and 36 ERJ-145s, Mesa said. The 10-year agreement begins in September. Mesa also will have an unsecured claim of $35 million against Delta in its bankruptcy proceedings.
Republic, which currently has about 30 percent of its fleet operating for Delta, will begin removing all 15 of the E135 aircraft operated by its Chautauqua Airlines unit from Delta operations beginning in September 2008, Republic said today in a statement.
The moves are part of Delta's restructuring efforts and must be approved by the bankruptcy court.
Hertz plans more job cuts
NEWARK, N.J. »
Hertz Global Holdings Inc.
, the world's largest rental-car company, said it plans to eliminate more jobs as it seeks to boost profit.
Chief Executive Officer Mark Frissora wouldn't say how many jobs would be cut. He made the comments on a conference call with analysts and investors yesterday.
Hertz has already disclosed plans to cut 1,550 jobs in New Jersey and Oklahoma and countries including Canada and Brazil. The company expects to save $125 million a year by firing workers and changing the way work is done. Hertz yesterday reported a $39.8 million fourth-quarter profit in its first earnings announcement since going public in November.
Monster in deal with newspapers
NEW YORK »
Monster Worldwide Inc.
, a leading job-search Web site, is taking its latest step to forge partnerships with traditional media by linking with a technology company that runs the online help-wanted sites for more than 200 newspapers.
Monster has already signed up 55 newspapers as partners and is hoping to reach deals with many more through a wide-ranging alliance it announced yesterday with Adicio Inc., of Carlsbad, Calif.
Under the deal, newspapers using Adicio's service will have several options to increase their ties with Monster, including having their own employment ads co-listed in Monster's database and giving online advertisers an easy way to buy print ads in the paper. Financial terms weren't disclosed.
China approves $2.5B Intel plant
BEIJING >>
Intel Corp.
has received approval to build a $2.5 billion chip plant in China amid booming Chinese demand for chips used in personal computers and mobile phones, the government said yesterday.
The factory is planned for the northeastern city of Dalian, the cabinet's National Development and Reform Commission, said on its Web site.
Intel, the world's largest semiconductor maker, has not revealed plans to build a chip plant in Dalian. Intel officials in Beijing and the chipmaker's headquarters in Santa Clara, Calif., declined to comment, saying the company has not made a formal announcement.
---
BUSINESS PULSE