RAINBOW BASEBALL
Rodrigues more finesse-oriented
The Rainbow lefty went from a hard thrower to a pitcher
Back when Mark Rodrigues relied purely on power, he might not have been able to stifle a hard-hitting lineup the way he did Saturday.
The Hawaii left-hander said he didn't have his best stuff going in. But he changed speeds and used location to hold Arizona to three hits and no walks in seven innings, striking out four. Tyler Davis finished up the three-hit shutout, and the Rainbows won 4-0. (The Wildcats won the series' two other games.)
Rodrigues (5-1, 2.58 ERA), a senior from Koloa, Kauai, was announced as winner of the Western Athletic Conference Pitcher of the Week award yesterday. UH's Ian Harrington won it last week.
Prior to Tommy John elbow surgery in 2004, Rodrigues was more of a strikeout pitcher.
MAKING HIS BEST PITCH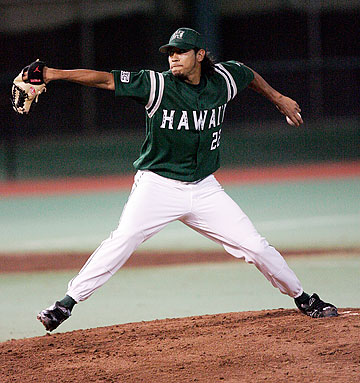 "Before the injury he was straight-up power. Fastball, slider," UH coach
Mike Trapasso
said. "His first fall with us he was 92-93 mph from the left. Guys change with injuries and surgeries. I saw some maturity (Saturday) in that he was able to make adjustments and pitch. Maybe a month, six weeks ago, he might have tried to fight against it and stay with trying to overpower the hitters."
Trapasso's philosophy is to force contact within three pitches and let the defense do the work. Many hard throwers have a hard time developing such a mind-set, but Rodrigues has adapted.
"Coach is there for a reason, to teach you. So whatever comes out of his mouth, I will take it seriously," said Rodrigues, who added that the injury helped in that regard. "After I got hurt and started to come back, my velocity wasn't there. I had to be more finesse and couldn't think just blow the ball by everybody."
Trapasso said Rodrigues can still hit 90 mph on a good day, but on Saturday he was mostly in the low-to-mid 80s.
"The impressive thing about his outing is he forgot about that and didn't worry about velocity," Trapasso said. "He knows command is the most important thing."
STREAKING SHORTSTOP
Eli Christensen
has hit safely in six consecutive games. The Rainbows shortstop went 6-for-9 with three walks against Arizona and was nominated for WAC Hitter of the Week. Louisiana Tech outfielder
Brian Rikes
, who belted three homers in five games, won the award.
UH freshman Vinnie Catricala has a five-game hitting streak going.
Sunday's 3-1 loss was just the third game this season in which Rainbows third baseman Justin Frash did not reach base at least once by hit or walk. He is also the only UH player to have appeared in all 23 games.
ONE MORE ARM NEEDED
Trapasso said he will go with the regular rotation of Harrington, Rodrigues and
Josh Schneider
in the first three home games this week against Wisconsin-Milwaukee (single game Friday and doubleheader Saturday).
He will decide on Sunday's starter depending on how things go earlier in the series. Cam Wheeler is a possibility. The junior right-hander allowed two runs in 4 2/3 innings in his only start, March 2 against Chicago State.
OLSEN WORKS OFF MOUND
Senior right-hander
Rich Olsen
continues to progress in his comeback from arm surgery last year.
"He's pitching from elevation now, from the mound," Trapasso said. "It's still a long shot at best that he'll pitch this year and we'll know in a couple weeks. It's not a situation where we're depending on him for this year."
Olsen has already had a redshirt season, but he can petition the NCAA for another year because of the injury.
SHORT HOPS
Trapasso is in Seattle recruiting. ... Wisconsin-Milwaukee is 0-9, including six losses to ranked teams Kentucky and Arkansas. ... Second baseman
Jesse Hart
leads the Panthers' hitters at .342. ... The team ERA is 10.25.
Rob Michalkiewicz
(0-2, 4.67) has been the most effective starter.