Diet aboard Hokule'a moves toward healthier fare
ABOARD THE HOKULE'A » Without easy access to fresh meats and vegetables, the challenge to the Hokule'a crew and many living on remote Micronesian islands is finding nonrefrigerated foods that are tasty, low-cost and nutritious.
When it left Hawaii for Micronesia, the Hokule'a carried 57 pounds each of brown and white rice, along with dehydrated vegetables, peas, mushrooms and onions.
One of the highest number of units of food aboard the vessel was the 66 boxes of tofu, made from soybean and high in protein.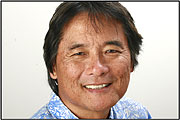 FOLLOW ALONG
» Follow the voyage of Hokule'a at the Polynesian Voyaging Society web site at: www.pvs.hawaii.org

» Star-Bulletin reporter Gary Kubota is sailing with Hokule'a and will respond to selected reader questions from the canoe via satellite hookup, when possible. Email questions to hokulea@starbulletin.com

"If you're getting a higher proportions of tofu than canned meats, you're definitely choosing a better option," said Catherine Fekete, a dietitian with Maui Medical Group.
"It's an excellent protein. It's shown in studies to reduce cholesterol."
In addition to the 290 gallons of water, the crew consumes soy drinks.
On different days the menu features oatmeal, shiitake mushrooms, canned salmon, canned chicken, nori, capers, sun-dried tomatoes, saimin and miso soup extract.
The hopeful mainstay for dinner is freshly caught fish, high in protein and low in salt, carbohydrates and sugar.
Dr. Ben Tamura, who has traveled on several voyages with the Hokule'a, said the menu aboard the vessel has evolved toward a healthier diet.
"Many aboard the canoe, young and old, male and female, are very much health-conscious," he said.
The result is a diet that has gone toward less fat, sugar and salt and is higher in protein and fiber.
Lita Blankenfeld, who along with her friend Mary Fern selects the food provisions for the Hokule'a, said to develop a healthier menu, the voyaging society consulted with some health experts in 1999, including Dr. Terry Shintani, who has written several books on diet in Hawaii.
Shintani recalled he suggested that the crew switch from white rice to brown rice because of its greater nutritional value, including thiamin.
Shintani said people who eat brown rice become full quickly because it is higher in fiber than white rice.
The crew does indulge in sweets.
About once a day, they have a snack. The snacks include dried apricots, prunes, strawberries, blueberries, macadamia nut shortbread, trail mix, Famous Amos cookies, chocolate pudding in a cup, and granola nut-and-honey bars.
They eat peanut butter and jelly on crackers at all times of the day and drink water or powdered drinks like Tang, Gatorade, coffee and cocoa.
Blankenfeld said the food items are a kind of reflection of what people want, what is healthy and what the Hokule'a can afford.
"Some people really want Spam. We don't really want to change them. They can hopefully pick through what's comfortable with them," she said.
One item on the menu remains the main fare throughout the voyage, if the vessel is lucky.
"All the recipes are geared toward catching fish," she said.