---
FAST FACTS HAWAII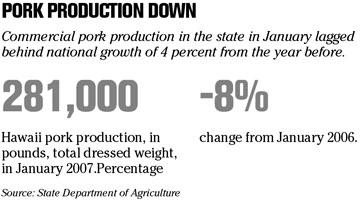 ---
Hawaiian Air load factor slips
Hawaiian Airlines
said yesterday its load factor decreased in February from a year earlier despite carrying more passengers on its flights.
The carrier, which increased trans-Pacific and interisland service from February 2006, said the percentage of seats filled fell 0.4 points to 87.3 percent from 87.7 percent a year earlier, although the number of passengers it carried increased 12.8 percent to 518,840 from 459,980.
Revenue passenger miles, or the total miles flown by paying passengers, rose 12.2 percent to 576.9 million last month from 514.4 million a year ago, while available seat miles rose 12.7 percent to 661.1 million from 586.7 million.
The airline reports only its systemwide numbers and does not break out figures for its interisland and trans-Pacific routes.
Kapolei Marketplace off market
Owners of the Marketplace at Kapolei, which has been for sale since last August, have decided to pull it off the market and instead refinance the property for $22.5 million.
"We had at least 20 different offers but decided not to go forward with the sales transaction," said Sam Siam, one of the partners of Kapolei Marketplace LLC.
He added that there are no plans to redevelop the property: "(Kapolei is) growing, it's new, it's a great area and there's a lot of potential."
The property had been listed for $25.9 million, but Kapolei Marketplace, made up of a group of California investors, has decided to keep the existing Kapolei center while shopping for other Hawaii properties. Siam declined to disclose the other properties the company is looking to purchase.
The California-based company paid $19.2 million for the Kapolei center's leasehold interest in 2005, or more than double the $10 million it cost to develop the 64,000-square-foot center in 2002. The property is fully occupied with 39 tenants.
---
Morgans to expand Hard Rock casino
LAS VEGAS » Boutique hotel developer
Morgans Hotel Group Co.
and
DLJ Merchant Banking Partners
said yesterday they would begin a $750 million expansion of the iconic Hard Rock Hotel & Casino in Las Vegas, more than doubling the number of rooms and adding casino, retail and meeting space.
The overhaul will add 550 hotel rooms and 400 suites in two separate towers, as well as a new spa and health club, pool area, several restaurants and bars, and a new nightclub. When it is complete in mid-2009, the Hard Rock, about a mile east of the Las Vegas Strip, will have about 1,500 rooms and more new elements than exist currently. It is also increasing the size of its concert venue, the Joint.
Japan growth revised to 5.5%
TOKYO » Japan revised upward its economic growth figures for the fourth quarter yesterday to an annual pace of 5.5 percent, the strongest growth in three years, as companies invested more in factories and equipment than first thought.
That marks the eighth straight quarter of expansion, highlighting the Japan's steady emergence from a decade of stagnation amid growing corporate profits, lower bad loans and increasing capital spending.
Ford raising cash
Cash-strapped Ford Motor Co. has sold a controlling stake in the Aston Martin brand, raising $848 million to help fund its turnaround plan. Aston Martin now will be run by a consortium of investors, including racing mogul David Richards, car collector John Sinders and Kuwaiti firms of Investment Dar and Adeem Investment Co.
---
BUSINESS PULSE