---
FAST FACTS HAWAII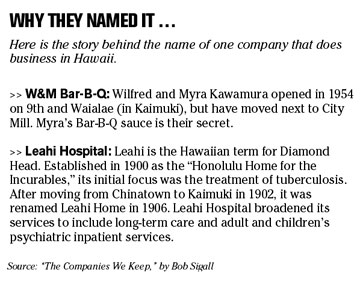 ---
Feel the power of power naps
If you feel like you're dragging at work, try grabbing a pillow instead of a gulping down a latte.
Catching some Z's at the office might seem like the worst thing to do when you're behind, but napping can actually improve worker productivity, according to sleep scientist Sara C. Mednick, a professor at University of California, San Diego and author of "Take a Nap! Change Your Life."
That daily 20-minute run to the coffee house would be better spent either catching up on missed sleep or supplementing the eight hours you got the night before. Research shows performance on memory tasks improves more following a nap than after a dose of caffeine, which provides only a short-term buzz, Mednick said.
"Most people are not sleeping well," she said. "The average is about 6.7 hours a night."
Well-rested employees get along better with co-workers and feel more energized at the end of the day, plus sleep better at night, Mednick said.
But don't count too many sheep while you're on the clock. After about half an hour you'll fall into a deep sleep that will leave you groggy -- and your boss grumpy -- when you wake up.
New job means new work habits
You finally landed a coveted leadership position, the job that's sure to earn your colleagues' respect and send your career skyrocketing.
Now just don't blow it.
Many new managers make the same mistakes, assuming that their past work habits will continue to make them successful in a new position, according to Michael Watkins, a former Harvard Business School professor and author of "The First 90 Days: Critical Success Strategies for New Leaders At All Levels."
A common faux pas is failing to understand and adapt to your boss' communication style, which can lead to misunderstandings about expectations and work time frames, Watkins said.
Then there's your new employees, complete with strong performers, bad eggs and built-in office politics. Don't saddle yourself expecting to lead a historically unproductive bunch to high-performing glory, Watkins said.
"It's just so crippling to have a couple of toxic people," he said. "One of the hardest things managers do is manage people out because it affects people's lives in a really deep way."
How you manage your team will be an early barometer of your performance in that well-earned new position.
"You're being tested every day," Watkins said.
Toy firms hope for burger bonanza
Two small toy companies hope the small hands digging through
Burger King Corp.
's Kids Meal bag this month will remember the toys they find inside -- and bug their parents to buy more in stores long after the burgers and fries are gone.
In the current promotional television spot for Burger King Kids Meal, toy cars and tiny dolls share the spotlight, representing an unprecedented marketing and branding opportunity for Jada Toys Inc. and Manhattan Toy Co.
Jada Toys of City of Industry, Calif., makes collectible car toys and sells an urban line called Chub City aimed at boys ages four to 12. Minneapolis-based Manhattan Toy sells Groovy Girls, a line of soft dolls for preteen girls.
Both companies got a big boost with licensing deals when fast-food giant Burger King decided to feature miniaturized plastic versions of their products in its global Kids Meal program, which started Feb. 12 and runs through March 18.
The branding bonanza also includes outdoor advertising, downloads of screensavers and wallpaper, and in-restaurant merchandising, including tray liners.
Burger King says close to 18 million of the toys will reach kids' hands in about 7,000 North American restaurants and 3,000 abroad.
The deals, a year in the making, represented a major coup for the two small businesses, because most fast-food chains typically work with movie studios, television networks or large toy companies to promote characters and items from popular movies like "Spider-Man," television's "Pokemon" or Mattel Inc.'s Barbie doll.
---
BUSINESS PULSE