Health woes hit Micronesia
Reliance on canned food is leading to diabetes and other problems
WENO, Chuuk » Renowned Micronesian navigator Mau Piailug is suffering from life-threatening diabetes, and a growing number of the 400 residents on his home island of Satawal are facing similar medical problems, said his son Sesario.
"I think it's really growing fast on our island," Sesario said. "Here we have canned foods like corned beef. It's low grade, a little bit above dog food. People buy it because one can of corned beef can feed the family."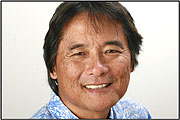 FOLLOW ALONG
» Follow the voyage of Hokule'a at the Polynesian Voyaging Society web site at: www.pvs.hawaii.org

» Star-Bulletin reporter Gary Kubota is sailing with Hokule'a and will respond to selected reader questions from the canoe via satellite hookup, when possible. Email questions to hokulea@starbulletin.com

As the crews of double-hulled canoes Hokule'a and Alingano Maisu travel to honor Piailug, they have seen Micronesians having difficulty steering way from a diet that can lead to an early death.
"People in Micronesia seemed to import the worst of Western-style diet," said Dr. Steven Auerbach, who has conducted health studies in the Pacific. "You also see it in Hawaiians."
Auerbach, who did a health study in 1991 to 1994 in Micronesia, said obesity is more pronounced among some Pacific islanders, including Hawaiians and Micronesians.
Auerbach said children in Micronesia face malnutrition from eating junk food, while adults have the problem of "over-malnutrition," or too many calories in and not enough calories out.
Popular food items in Micronesia include white rice, Spam, Vienna sausages, processed corned beef, soda, beer and canned turkey tails.
Some physicians note that like native Hawaiians, obesity is increasing in younger Micronesians.
Max Yarawamai, a Micronesian who is helping to build a health clinic and a member of the Hokule'a crew, said part of the reason for the canned diet is a lack of electricity and refrigeration.
But changing eating habits is difficult because certain foods carry with them a sense of prestige, even though they're not as healthy as fresh produce from the islands, he said.
Some observers refer to the phenomenon as the "Cargo Culture," a remnant of a colonial mentality that regards imported goods as better than those made locally.
"We're forgetting what's really good for us," Yarawamai said. "It's really sad."
Yarawamai, 47, an organizer of Oceania Community Health, said as a child growing up in Ulithi atoll, when he had cookies, he felt he was special and didn't realize the consequences of a high-sugar diet.
"I lost all my teeth with sugar. They're all rotten," he said. "I was eating the wrong stuff."
Yarawamai sees the Alingano Maisu and the Hokule'a as a means to help people improve their health.
He said youths interested in sailing on the voyaging canoes will learn they have to be in good health and not smoke cigarettes.
Pomai Bertelmann, whose family helped guide the building of the Alingano Maisu, said the Maisu can be used to bring medical care to the people of Satawal and other remote islands.
Micronesian Paulina Yourupi, a crew member on the Hokule'a, said weight problems are more visible in urban areas, but are starting to spread. Yourupi, an East-West Center student at the University of Hawaii and a "Teacher of the Year" in the Federated States, said on her island of Pulap, people tend to be thinner. The men fish and climb trees to gather coconuts, and the women turn the soil in taro fields.
But Yourupi said Micronesians are increasingly turning away from traditional diets and relying upon imported foods. "Lots of kids, they cry if they don't have rice," she said.
Sesario said while Satawal islanders grow vegetables, taro, breadfruit, papayas and sweet potatoes, they find canned foods more convenient.
"It's easier than going to the taro patch. It takes a day to prepare taro or breadfruit," he said.
He said many islanders resist a change in their diet and look upon it as their fate. "All they say is, 'We do not care. We going to die.'"
'Thifty genes' linked to obesity
Some geneticists have attributed obesity in part to what they call "thrifty genes" inherited by people who were hunters and gatherers not so very long ago.
Medical experts say Pacific islanders have a body genetically designed to be lean and efficient and capable of processing foods slowly for maximum energy.
Micronesians who live a sedentary life may be more prone to obesity, a leading cause of diabetes and heart disease, researchers said.
A combination of factors contribute to whether the thrifty genes are triggered and lead to difficulty in weight loss.
"You can have the thrifty genes for diabetes and the genes never express themselves," said Anne Leake, a registered nurse and an assistant professor from the University of Hawaii's School of Nursing and Dental Hygiene.
Leake, who is traveling with the Hokule'a, plans to conduct a preliminary test for diabetes while on Satawal to determine who might be at risk for the disease.
Micronesians live to about 60
Life expectancy in Micronesia is 62 years for males and 64 for females, but medical experts say about half of the findings of deaths go unreported and the real numbers are probably in the mid-50s for men and early 60s for women.
Annual death rates due to heart disease in the Federated States of Micronesia were more than 300 percent higher than the United States for ages 25 to 34 and more than 100 percent higher for ages 35 to 44, according to studies in 1986 to 1991.
The number of Micronesians ages 55 to 64 that die of a stroke is more than 200 percent higher than the United States.
The prevalence of obesity was higher in Micronesia, where well over 60 percent of the population on the island of Pohnpei ages 35 to 44 was overweight, compared to the United States, where the numbers were less than 37 percent, according to a 1998 study.
Diabetes is also considerably higher for most parts of Micronesia, compared to the United States.