---
Survival guide for kids
Artist Nanci Hersh turned her experience with breast cancer into a children's book, "Butterfly Kisses and Wishes on Wings." Subtitled "When Someone You Love has Cancer ... A Hopeful, Helpful Book for Kids," the story is meant to help children cope when a loved one is stricken.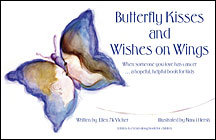 Hersh, who managed the Pegge Hopper Gallery for 10 years, illustrated the book, which was written by Ellen McVicker of Aurora, Colo.
It is based on a story McVicker wrote for her friend when Hersch was first diagnosed with cancer four years ago and was struggling to explain the situation to her 3- and 5-year old boys.
The book also contains tips on how children can help someone with cancer, therefore empowering the child.
A portion of sales of the book will be donated to support cancer research and education.
Hersh, who now lives in New Jersey, will sign copies of "Butterfly Kisses" from 5:30 to 7:30 p.m. Thursday at the Pegge Hopper Gallery. Call 524-1160.
» www.butterflykissesbook.com.
RESTAURANT REPORT
Lobster mania
If lobster is your idea of luxury, Village Steak & Seafood Restaurant will let you wallow in it, with lobster appetizer, soup, salad and entree specials during a lobster promotion that runs all month.
Chef Andrew Yagami's menu includes a Seafood Paaina platter for two with two poached lobster tails, king crab legs, poached jumbo shrimps and fresh oysters for $75.
Also available: lobster in bisque or in Caesar salad. For the main event, choose Maine lobster broiled, steamed, baked and stuffed, or with filet mignon. Entree prices are $63.
The restaurant, in the Hilton Hawaiian Village, is closed Wednesdays and Thursdays.
Special events
Brasserie Du Vin:
Wines of Burgundy, France, will be showcased in a dinner at 6:30 p.m. tomorrow.
The wines: Delbeck Bouzy Grand Cru Brut, Clos Le Vigneau Vouvray and Les Seringas Premier Cru Chablis. Chef Scott Nelson's menu includes Oysters Rockefeller; Salt Spring Mussels, Prawns and White Fish in Broth; and a Warm Caramelized Sweet Onion. Cost is $65. Call 545-1115.
Alan Wong's Restaurant: Thursday's Next Generation Dinner with chef Wade Ueoka features "Soup and Crackers" (avocado soup with tuna crackers), Seafood Salad, Parmesan-Crusted Shrimp and Maui Cattle Co. Beef Trio. Cost is $75, $105 with wine pairings. Call 949-2526.
E&O Trading Co.: Monthly Marketplace Brunch features foods of Burma, Malaysia, the Philippines and Vietnam, 10 a.m. to 2 p.m. Sunday. Tickets are $30, to benefit the Pacific Gateway Center. Call 591-9555.