ON ASSIGNMENT
Chuuk last stop before closing historic circle
The voyaging canoes finish their Polynesian pilgrimage in Satawal
CHUUK, Federated States of Micronesia » With drums beating and several hundred people on the shoreline, the Hawaiian double-hulled canoes Alingano Maisu and Hokule'a arrived today (Chuuk time) at Weno Harbor. It is the last stop before completing a pilgrimage to Satawal, the home of renowned navigator Mau Piailug.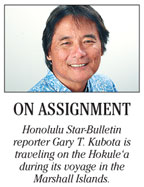 Native Hawaiians are delivering the Alingano Maisu to Mau as a gift for teaching Pacific way-finding navigation to them some 30 years ago and inspiring a renaissance in sailing canoe voyaging in Hawaii and other parts of Polynesia.
Chuuk Gov. Wesley Simina said bringing the Alingano Maisu as a gift to Mau was one of the greatest gestures made between cultures.
"We're very happy this knowledge is being shared and utilized," Simina said. "I'm proud that it is being shared all over the Pacific."
The crews are scheduled to leave Chuuk on Monday and begin a 250-mile, two-day journey to Satawal, an island of about 400 people that is about a mile long and a half-mile wide.
The voyage to Satawal is also a reunion for several members of the Hokule'a who sailed the historic Hawaii-Tahiti voyage in 1976, the trip supported the assertion that native Hawaiians were capable of navigating on long ocean voyages centuries before European sailors.
Some of those on the voyage to Satawal include 1976 Hokule'a sailors Abraham "Snake" Ah Hee, John Kruse and Billy Richards.
"It's awesome. I've been looking forward to this for a long time," said Ah Hee, of Lahaina.
Seven crew members on the Alingano Maisu are from Satawal, including Mau's son Sesario, and will be helping to operate the vessel once it is given to Mau.
Joakim "Jojo" Peter, director of the College of Micronesia-FSM Chuuk Campus, said this voyage is special because it includes people who are crew members from Micronesia, and he has noticed a growing interest in voyaging canoes especially among students at Chuuk High School.
Peter said the students have been following the voyage of the Hokule'a and Alingano Maisu in social studies classes since the beginning of the year, and plan to meet with the crew members Monday.
"The students have pictures of the Hokule'a and Alingano Maisu in the class. They are more up to date about the voyage than anybody else in the state of Chuuk," Peter said.
Through the passion for navigation embraced by the students, he said, teachers have been able to integrate other issues, such as global warming.
Hokule'a navigator Nainoa Thompson said the voyage completes a circle for some crew members but also is a beginning for many other people.
"It's such an epic voyage," he said. "It's many rings in that circle. It's returning the gift. It's making the circle of education because there is so much training going on on these two canoes."
Thompson said the voyage is also about relationships and sustaining them Pacific-wide.
The voyaging canoes are working with the Hawaii-based Aloha Medical Mission, and medical practitioners are conducting free examinations and treatment to remote islands, including Satawal.