Steering is difficult when hydraulics quit
Controlling the craft is "like lifting weights" when the system fails
The hydraulic failure reported by the pilot of the Heli USA tour helicopter minutes before it crashed is similar to losing power steering in a car, making it difficult -- but not impossible -- to fly the aircraft, according to pilots and industry officials.
The hydraulic system helps the pilot -- through two main control sticks -- maneuver a helicopter that can weigh as much as 4,630 pounds.
But controlling it during a failure, which can be caused by a crack or fluid leak from the helicopter's sole, half-gallon hydraulic tank, would be like "lifting weights," said Richard Schuman, president of Makani Kai helicopters on Oahu.
"You can lift a 10-pound weight, but after you do it, approaching a hundred reps, your muscles get tired," he said. "You can maneuver that helicopter, you can fly it ... theoretically until your muscles fatigue."
A pilot experiencing such failure would feel a sudden stiffening of the sticks that move the aircraft from left to right and control its speed, said Rhett Flater, executive director of American Helicopter Society International, a Virgina-based industry group promoting flight technology.
Flater said that hydraulics issues are rare in the A-Star helicopter, the type that crashed Thursday.
A cockpit light would then signal the problem, followed by an alarm, said Schuman, prompting the pilot to begin a "hydraulics-off" emergency landing. The procedure instructs the pilot to adjust airspeed to between 40 and 60 knots and carry out a shallow landing, similar to what an airplane does, Schuman said, referring to a manual by Texas-based American Eurocopter, which manufactures the A-Star 350BA.
---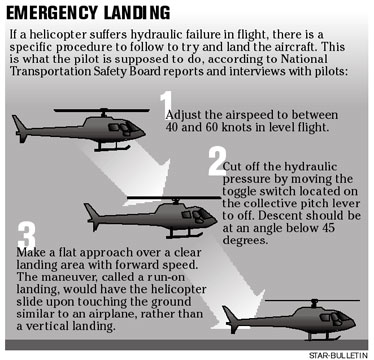 ---
Schuman said the helicopter should enter a runway or landing site at an angle below 45 degrees. Eurocopter offers island pilots training on hydraulics issues each year and recommends changing the belt that runs the hydraulics pump after between 500 and 600 flight hours, he said.
Unlike a traditional landing, in which the helicopter descends straight up and down, the "run-on," sliding approach reduces chances that the aircraft could tilt sideways and require a last-minute corrective maneuver, said Mike Iven, a helicopter flight instructor and president of A&P Service Honolulu.
"It is awfully hard to steer. They really become hard to maneuver" without hydraulics, he said. "You don't want to try to hover."
Schuman said one of the factors investigators might look at is the orange inflatable pontoons that could be seen under the crashed helicopter. The pontoons are supposed to help the helicopter stay afloat in an emergency water landing.
Investigators will want to know whether they were inflated before the helicopter landed and if that influenced how the aircraft came down, or if the pontoons inflated upon impact, Schuman said.
The pilot in Thursday's accident, Joe Sulak, radioed that he had a hydraulic failure about two miles from Princeville. He returned to the airport but crashed some 200 yards from the normal landing pad.
If investigators determine faulty hydraulics contributed to Thursday's accident, it would mark at least the second time in less than five years a Heli USA helicopter crashed because of trouble with the system.
According to National Transportation Safety Board records, a company helicopter crashed in 2002 while making a precautionary landing at the Grand Canyon West Airport after a hydraulic system failure, but no one was seriously hurt. Heli USA also was fined $3,300 for maintenance problems in 2005 and received other citations in 1999 and 2004, Federal Aviation Administration records show.
Nigel Turner, the Las Vegas-based company's chief executive officer, told the Associated Press yesterday that Heli USA has "flown over a million people safely. That's a lot of people when you're flying six at a time."