Matson heiress puts her Kohala estate on market
Bernice Spalding's family is eager to "move on and do other things"
A Big Island estate built by Matson Navigation Co. heiress Lurline Matson Roth is being offered for sale at a reduced price -- of $31.5 million.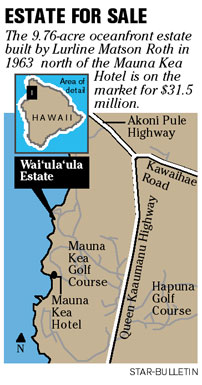 The 9.76-acre estate, named Waiulaula after a stream flowing through the property, is surrounded by a white-sand beach next to the Mauna Kea Beach Resort, built by Roth's friend Laurence Rockefeller.
The Kohala Coast property has been privately marketed for the past year and is now listed by MacArthur & Co./Sotheby's International Realty.
The home was originally listed for $35 million, but the price was dropped a week ago to attract potential buyers.
The property has had multiple offers, but so far none approaching the new asking price. It is being sold by San Francisco Bay Area resident Bernice Spalding, the now 86-year-old daughter of Roth, who built the estate in 1963, six months before the Mauna Kea Beach Resort was completed.
"The reason why we're selling is I have other siblings that have other places they've made as their own Waiulaula," said Elena Grant, Spalding's daughter. "We would prefer to move on and do other things."
Roth hired architect Joe Esherick to design five Asian-inspired bedrooms, totaling 4,755 square feet, with tall ceilings, pillars and Koa panels, and a 1,110 square-foot caretaker's cottage.
Roth, the only child of Matson founder Captain William Matson, inherited the business in 1917. Matson was a Swedish sailor who in 1882 sailed his three-masted boat from San Francisco to Hilo carrying food, plantation supplies and general merchandise.
He later built a diversified business primarily focused on shipping services between the Pacific Coast and Hawaii.
Roth's husband, former Honolulu attorney William Roth, took over management of the company and later became president of Matson from 1927 through 1945. Matson has had five ships in its history named Lurline. The family sold Matson to Alexander & Baldwin Inc. in 1969.