---
FAST FACTS HAWAII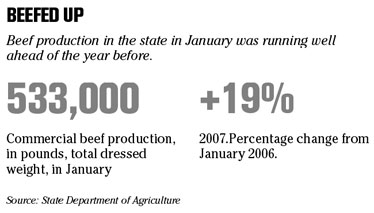 ---
HAWAII
Oceanic plans rate changes
Oceanic Time Warner Cable
will increase the price for its standard service by $1.90 to $43.60 a month beginning on April 1.
The cost for basic service will decrease by 31 cents to $11.82 a month at the same time.
Nate Smith, president of Oceanic, said the reason the price adjustments went in different directions is because each service is calculated differently. He said the price for basic service is determined by a Federal Communications Commission formula based on inflation.
The standard service cost, Smith said, is a reflection of the price increases that Oceanic gets from its programmers.
"Actually, the (standard service) rate that we raised it to doesn't cover the cost of the increased programming," Smith said. "But we aren't comfortable passing along the total amount. So we passed along a portion of it with the hope that we can attract new subscribers to make up the difference."
---
YOUNG BROTHERS' NEW BARGE DEBUTS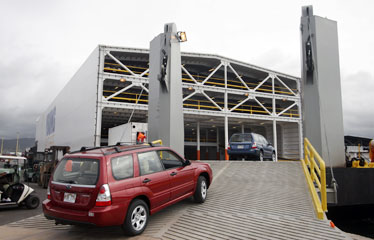 ---
MAINLAND
HP faces another investigation
SAN FRANCISCO » Still grappling with the fallout from a boardroom spying scandal,
Hewlett-Packard Co.
is now facing a Senate investigation into a stock option debacle that it inherited last year with its $4.9 billion acquisition of software maker Mercury Interactive Corp.
HP has been asked for more information about Mercury's alleged mishandling of stock options in a request received Feb. 26 from an investigative arm of the U.S. Senate Committee on Homeland Security and Governmental Affairs, according to a regulatory filing yesterday.
The Palo Alto, Calif.-based based computer and printer maker said it intends to cooperate with the investigation.
The Senate's interest in Mercury threatens to create more legal headaches for HP, which has spent much of the past six months trying to make amends for a company-approved investigation that obtained personal information under false pretenses about more than a dozen HP directors, journalists and their families.
Judge dismisses Intel claims
PALO ALTO, Calif. » A federal judge has limited the scope of a class-action lawsuit filed against
Intel Corp.
, which alleges that the company raised computer prices through anticompetitive conduct.
According to the order from U.S. District Court Judge Joseph Farnan released Thursday, buyers of computers represented in the class-action suit can only seek damages for sales that took place in the United States.
Farnan's decision mirrors a ruling he made in September in a companion case against the company filed by chip rival Advanced Micro Devices Inc. of Sunnyvale.
In his more recent ruling, Farnan said he lacked jurisdiction on claims for damages that took place abroad.
The decision, however, does permit plaintiffs in the case -- as well as AMD -- to seek documents and evidence worldwide.
Funds must disclose holdings
MINNEAPOLIS » A bankruptcy judge yesterday ordered several hedge funds to disclose their stock and debt holdings in
Northwest Airlines Corp.
, in a closely watched decision that some have said could chill trading in the claims of bankrupt companies.
U.S. Bankruptcy Judge Allan Gropper rejected a request by the hedge funds to file the information under seal. He ordered them to file it publicly within three business days.
A group calling itself the ad hoc committee of equity holders has been claiming in court filings that Northwest might have enough money to pay current shareholders if it would merge with another airline. Northwest has said its existing shares will be canceled when it emerges from bankruptcy as a standalone carrier in the middle of this year.
The fight between Northwest and hedge funds has been bitter, with Northwest asking that the hedge funds be found in contempt of court last month. Gropper turned that request down, but yesterday he gave Northwest what it wanted by ordering the hedge funds to document their holdings in the airline, including the dates they bought their shares and debt, and how much they paid for it.
WORLD
Yukos' auditing firm raided
MOSCOW » Russian prosecutors and Interior Ministry officers searched the Moscow office of the auditing firm
PricewaterhouseCoopers
yesterday in connection with its work with Yukos, the bankrupt oil company, and with PricewaterhouseCoopers's own tax filings.
Russian officials have compared the Yukos affair to the Enron scandal in the United States, with ominous implications for the auditor.
A lawsuit filed by the Russian tax service last year questions PricewaterhouseCoopers's work on Yukos' tax filings, accusing the auditors of helping Yukos disguise profits.
The tax service is seeking about $500,000 in fines; PricewaterhouseCoopers has denied any wrongdoing.
The press officials of the prosecutor general's office and the Interior Ministry declined to comment on the inspections.
---
BUSINESS PULSE